A NORTH Wales housing association does more than put a roof over people's heads – it also provides many of them with jobs.
Cartrefi Conwy and its subsidiary Creating Enterprise have revealed that 30 of their staff – more than 15 per cent of the overall workforce – are also tenants.
It's believed the percentage of tenants they employ is "incredibly rare" and much higher than any other housing association in the UK.
Roles range from painters and plumbers to community workers, admin and finance jobs.

Among the tenants they employ is single mother of two Clare Murphy, 47, from Llandudno, who's been working as a Community Development Coordinator since last September.
Clare, who's been a tenant for 25 years, endured the nightmare of being made redundant from her job in catering during lockdown two years ago.
But the Creating Futures Employment Academy at Creating Enterprise came to the rescue and helped her find a new career with Cartrefi.
She said: "Being made redundant was very difficult and I ended up on Universal Credit.

"There were issues with my rent so I spoke to my housing officer who referred me to the employment academy.
"My employability mentor helped me apply for jobs and it was a case of third time lucky.
"It was a very worrying time but luckily I got a six month contract and that six months has now turned into two years.
"I'm constantly learning and improving my skills and my knowledge and obviously getting to know the different departments within Cartrefi Conwy. We all work together and we all learn from each other, so it's brilliant.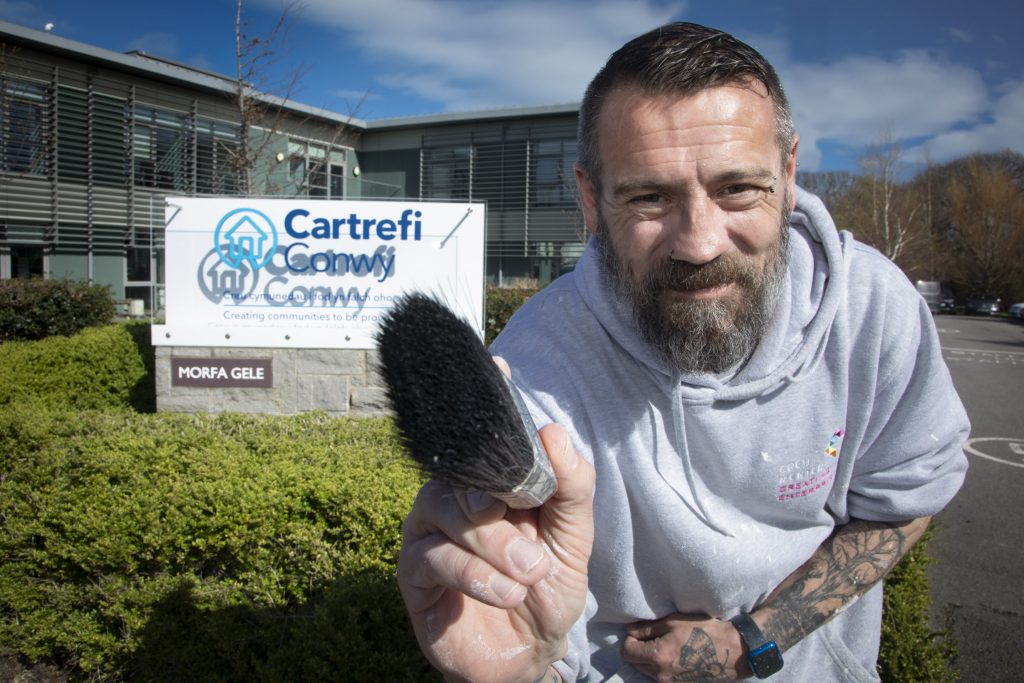 "Being a tenant myself gives me an insight, especially with the role I'm doing now. I find that people find me a bit more approachable because they understand I've been in their shoes and I empathise with them and understand what they're going through and their circumstances."
"A lot of tenants will come in about housing issues – I've been through those issues myself. I've been there, done that and I've got the T-shirt."
Another tenant who has found work and a new purpose thanks to Creating Enterprise, is father-of-four Jarred Lampkin, 43, from Abergele, who had previously been a stay-at-home dad for nearly 20 years.
After enrolling in the Creating Futures academy, he has now secured a job as a painter with the property maintenance team.
Jarred said: "The kids getting older meant I could start looking for work and the support I've had from the employment academy has been fantastic.
"I had a mentor in the office and people on site, teaching me this, that and the other.
"It's a great company to work for and I love the job."
Creating Enterprise was established as a community interest company in 2015.
It was named as the fastest growing firm in Wales at the 2020 Wales Fast Growth 50 awards, expanding by 664% between 2017 and 2019.
As well as maintaining Cartrefi's 4,000 properties, it also builds wood-framed modular homes.
Its commercial profits are reinvested into the highly successful employment academy that's helped a total of more than 500 people find new jobs.
Community and Social Impact Manager Sioned Wyn Williams is proud that Cartrefi and Creating Enterprise employ so many tenants.
She said: I think traditionally there's maybe the stigma of having tenants directly involved in service delivery but the inclusive ethos here has helped break down those barriers.
"We are seeing real benefits of having tenants, not only volunteering or on a work placement with our teams, but also actually integrated into the workforce as part of the business, so they are involved in delivering those services themselves.
"Being a housing association is about more than putting a roof over people's heads, it's about enhancing and improving the quality of life of our tenants.
"To be able to confidently encourage people to better themselves or to go for opportunities that they thought were out of reach is an absolute privilege.
"It's very rare where you get the opportunity in your day to day work to see so many people do things way beyond what they would have dreamed they were able to do."
Group Chief Executive Andrew Bowden added: "We want to do more than look after our tenants and provide great accommodation which is safe and secure. We want to be properly embedded in the community and provide added value.
"This record of employing 30 of our own tenants is something that makes us stand out amongst our peers of actually being a great anchor organisation, a community based organisation that is making a real difference.
"This is about building the confidence of our tenants who are often among those furthest from the job market, giving them the opportunity to get a great job and to work with a great organisation.
"Essentially, this is about changing people's lives for the better and that makes me incredibly proud."