A miner's son who became a globe-trotting sales director has revealed how he became friends with comedy king Sir Ken Dodd who gave him two of his famous tickling sticks.
During his long career Geoff Williams, raised in Llay near Wrexham and now living in Southport, also rubbed shoulders with stellar names like singing superstar Sir Tom Jones, Hollywood actors Richard Burton and Jack Nicholson and Kop hero Bill Shankly.
Another claim to fame was that the 88-year old persuaded Leeds United to allow the FA Cup to go on show at the British Legion in Llay.
Now he has put pen to paper about his extraordinary life in his newly-published autobiography Made in Wales: From Nowhere to Everywhere.
Running through the heart of the book is Geoff's love of football and especially his lifelong support for Wrexham AFC.
The tech-savvy octogenarian has regularly watched Wrexham matches online during the Covid-19 pandemic, with his affections for the club as strong as ever.
"Wrexham are my club and always will be," said Geoff, who in recent times was regularly invited to watch games from the directors' box at the Racecourse Ground.
"Once things get back to normal, I look forward to going to the Racecourse Ground again."
Geoff is proud of being a Welsh miner's son and has fond memories of growing up in Llay, which at the time was a strong mining community.
His gift of the gab led to a hugely successful career as a cable salesman with Pyrotenax and BICC.
His work would lead to encounters with a number of star names, including Ken Dodd, with the pair developing a close friendship after meeting through Geoff's colleague Jim Markey.
The ensuing bond was such that the comic visited Geoff's Southport home and presented him with a couple of his famed tickling sticks.
"I really treasure those two tickling sticks. They mean a lot to me," said Geoff.
"They had been used when he appeared on stage and he gave one to me and one to my late wife Becky. It was a nice and thoughtful gesture, but that was typical of Ken.
"He was the most generous and kind man I ever met and I miss him a lot.
"As time went on, I got to know him so well. I loved the guy and I loved watching him perform," he said.
"I admired the way he could keep going for so long and he had so many talents.
"He was always so friendly and would welcome us into his dressing room.
"When he came round to my house you wouldn't have known he was a major star, as he was such a nice and kind man. I saw for myself exactly how generous he was.
An area of common ground between the pair was a love of dogs. Geoff's late partner Gillian Wallace – with whom he found happiness after the death of his beloved second wife Becky – was an artist who specialised in portraits of canines, even being commissioned to paint the Queen's corgis.
"I believe that the painting Gillian produced is still on display in Buckingham Palace," said Geoff.
"Ken was a dog lover, so naturally he was very interested in Gillian's work.
"They would happily chat away about dogs."
Geoff and Ken would also compare notes on their careers, with the Knotty Ash funnyman recognising their respective roles were more similar than may have obviously appeared.
"Ken would tell me that being a salesman wasn't too different to being a comic. You were part of a performance, you had to put over your story directly, be friendly and show respect for your audience," said Geoff.
"He told me I was a storyteller, just as he was. I believe he was absolutely right."
Geoff is still in touch with Gill's daughter, Suzanne Silcock and her husband, Tim, who used to run The Little Chilli Shop in Beaumaris and are now trading online.
Although his first footballing love will always be Wrexham AFC, Geoff has enjoyed a number of links with Liverpool FC.
His grandfather was a Liverpool fan who would take Geoff to Anfield as a treat as a youngster.
Geoff would later strike up a friendship with coaching staff member Roy Evans, who went on to manage the club in the 1990s.
This association allowed Geoff to become the envy of many Kopites by being invited into the revered Anfield boot room in the early 1970s, experiencing first-hand the wit and wisdom of manager Bill Shankly.
"I'm proud of the fact that I went in the boot room. I think every fan would have liked to go in there," Geoff said. "It was a long space with an open fireplace."
Shankly was not the first great footballing name on Merseyside that Geoff had met, as he had been introduced to Dixie Dean when the Everton legend was running The Dublin Packet pub in Chester.
Geoff was based in Yorkshire during the Leeds United glory years.
He became friends with managerial great Don Revie and played a prominent role in bringing undersoil heating to Elland Road in the late 1960s.
The visionary Revie anticipated the benefits of installing the new system and Geoff persuaded the Leeds boss to let his company, Pyrotenax, oversee the project.
"I became friendly with a lot of the players, especially Jack Charlton who was such a nice guy."
The relationship Geoff had built with the Yorkshire giants would pay dividends, as it allowed him to take the FA Cup out of Yorkshire and back to his home village in North Wales – 1972 had been a good footballing year for Geoff, with Wrexham winning the Welsh Cup and Leeds lifting the FA Cup.
His friend Greville Williams, who for many years was the Llay village correspondent for the Leader newspaper, suggested they could try and bring the two trophies together at Llay Royal British Legion.
Applying his powers of persuasion, Geoff approached Leeds chairman Manny Cussins about whether it was possible to take the FA Cup to Llay after Revie told him the decision was not up to him.
"He said he'd never heard of the place," Geoff recalled.
"I told him I was a big Wrexham fan as well as Leeds and it would be a good idea to have the two trophies on show together.
"To my surprise he agreed and saw it as a good idea, although he insisted people came with me from Leeds to keep an eye on the FA Cup.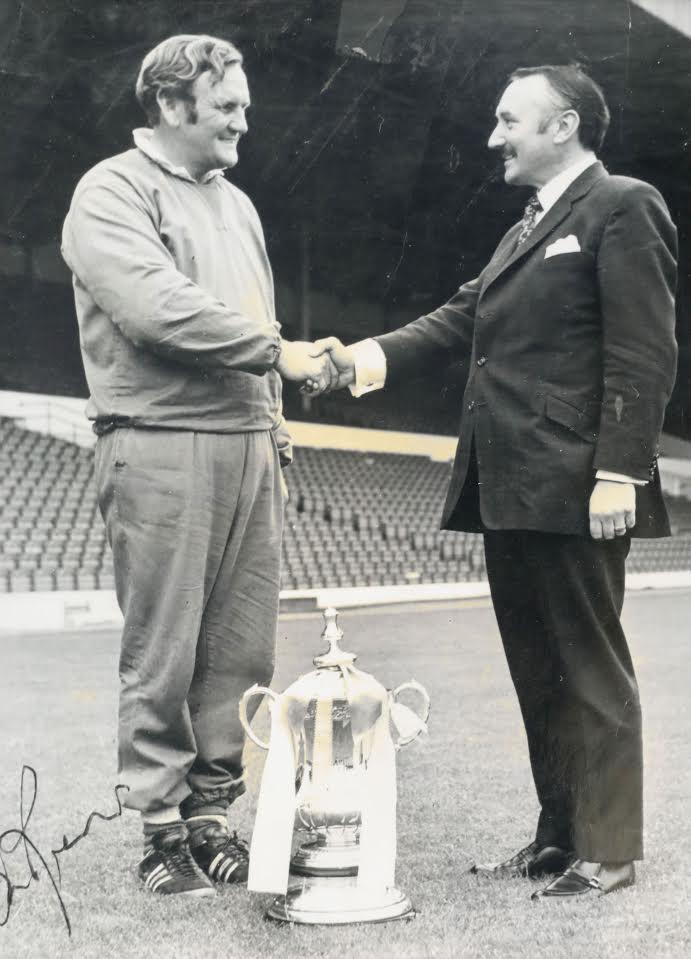 "We took it to the British Legion and the place was absolutely packed. Everyone there wanted their pictures taken with the two cups.
"I believe it is the only time that the English and Welsh cups have been together like that."
Geoff has never forgotten his roots and would proudly tell anyone in the world that he hailed from Wrexham, including a couple of the most famous Welshmen there's ever been.
Legendary singer Sir Tom Jones would share some Welsh banter with Geoff, as the great American actor Jack Nicholson watched on during a chance meeting at a hotel in Beverly Hills.
Another Welsh legend who Geoff met was Richard Burton in Vienna, when the star was filming Wagner.
He was also friendly with comedians Les Dawson and Bernard Manning but the only time he felt truly starstruck was when he met Welsh football giant John Charles, the greatest ever footballer to play for Wales.
Last year he decided to write his life story, paying for the privilege of having his autobiography published.
Working in collaboration with experienced memoir writer Caroline Brannigan for several months, Geoff's efforts have now resulted in seeing the final edition published.
Made in Wales: From Nowhere to Everywhere is published by Caroline Brannigan and priced £15 plus postage. For details email [email protected] or visit www.carolinebrannigan.com