SCHOOLCHILDREN and care home residents in Gwynedd are working hand in hand to produce artwork which will go on show at the National Eisteddfod this summer.
Youngsters from Ysgol y Gelli in Caernarfon have been visiting Pendine Park's Bryn Seiont Newydd care home on the outskirts of the town as part of an innovative programme designed to bridge the gap between generations.
A class of nearly 30 eight and nine-year olds have been interacting with residents via arts and crafts activities and firm friendships are being built up between the two age groups.
Their artistic efforts will form part of an eye-catching display at the 2023 Llŷn and Eifionydd National Eisteddfod that's being held at Boduan, near Pwllheli, between Saturday, August 5, and Saturday, August 12.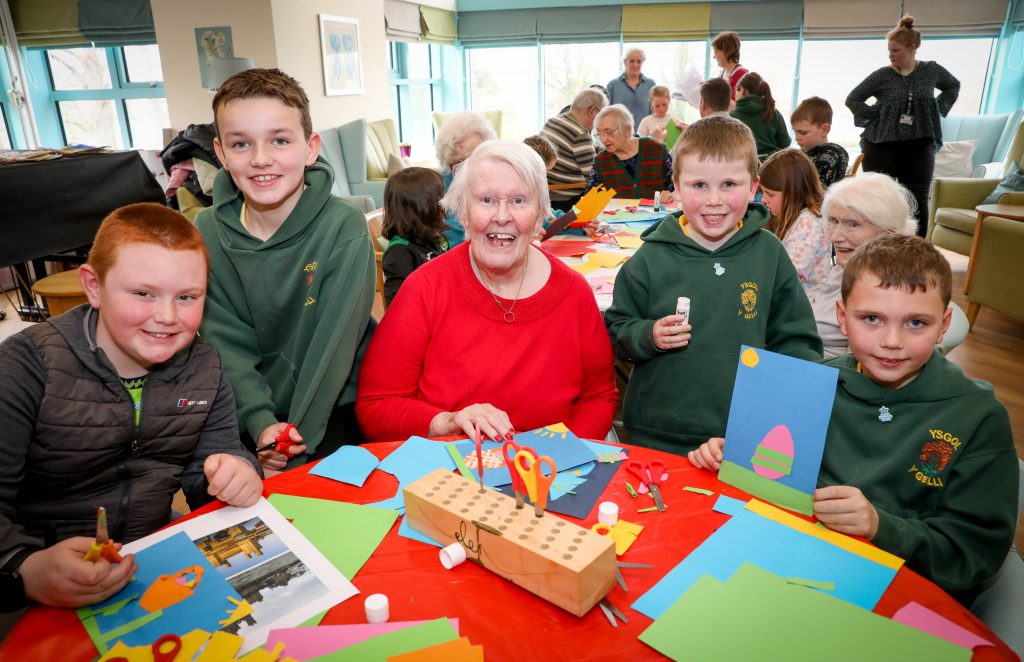 Nia Davies Williams, Pendine Park's musician in residence, who specialises in enriching the lives of residents at the dementia centre, said bringing the different generations together was a high priority for Pendine.
She said: "We were doing projects like this before the Covid-19 pandemic brought a halt to all such activities. Since the restrictions eased we have been able to bring music and arts and crafts back into Bryn Seiont Newydd and welcoming youngsters to take part in these activities was the final part.
"Groups of children from Ysgol y Gelli have been visiting Bryn Seiont Newydd since February this year and it is so lovely to see them interact with the residents.
"Some of the residents and the children might be a little reticent at the start but the barriers are soon broken down and it is wonderful to see the relationship between them blossom as the initial shyness gives way to hugs as the children head off back to their school. It's beautiful to see."
Mirain Llwyd Roberts, Gwynedd Council's Age Friendly Coordinator, said the children have been helping residents produce an array of postcard sized artworks which will be part of the display at the National Eisteddfod.
"The idea is to create artwork which will represent how we are trying to build intergenerational links between the older generation and children.
"Having the pupils from Ysgol y Gelli visit Bryn Seiont Newydd has been a real joy. The residents have become great friends with the pupils in a very short time and it is a pleasure to see the children talking so freely to the residents, helping them with arts and crafts and being so kind and patient," she said.
Mirain added the artwork being produced at Bryn Seiont Newydd was part of a wider project which involves children at Ysgol Abererch near Pwllheli interacting with patients at nearby Ysbyty Bryn Beryl and children at a Bala school taking part in meeting older people over a cuppa.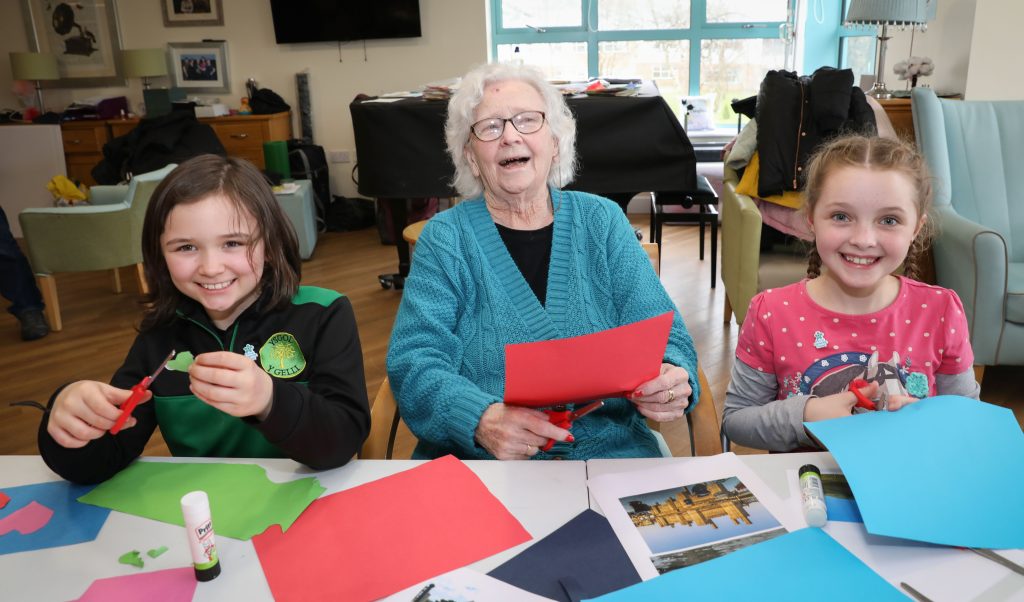 Ysgol y Gelli class teacher Sharon Hughes said the children looked forward to the visits to Bryn Seiont Newydd.
"It is a class of 29 children in year four and we have split them into two groups with one visiting Bryn Seiont Newydd at a time. The children have reacted magnificently to the challenge of meeting new people they did not know previously.

"In doing so they have developed new skills and have done so carefully and with empathy. Coming here these past few weeks have certainly been an eye opener for them."
Mirain said all the children had had a 45-minute lesson in dementia awareness before their visit to Bryn Seiont Newydd and all were wearing a small button badge during their visit.
"We've tried to explain to them what dementia is and how it affects the people they meet here. They have taken that on board," she added.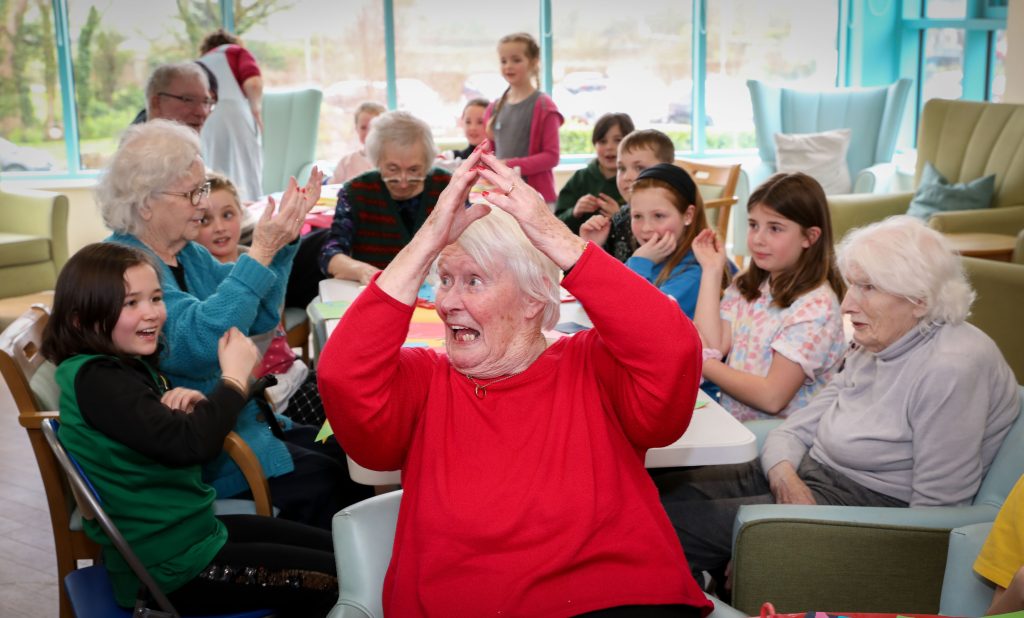 Artist Ellen Williams, from Bethesda, led the activity asking the children and residents to cut up small pieces of coloured paper into shapes and glueing them onto another, postcard sized piece of card.
"I'm asking them to create lots of colourful patterns and to help each other as much as they can. It's a very special experience for the children and the older residents are helping them as much as they can," she said.
Emyr Gibson, Bryn Seiont Newydd's creative practitioner, also took part in the art session. Both his daughters attend Ysgol y Gelli and knew some of the children who were visiting.
"My daughters are both younger than this group but experiences such as this are important for both the residents and the children.
"It's lovely to see them here and working alongside each other, chatting and helping each other."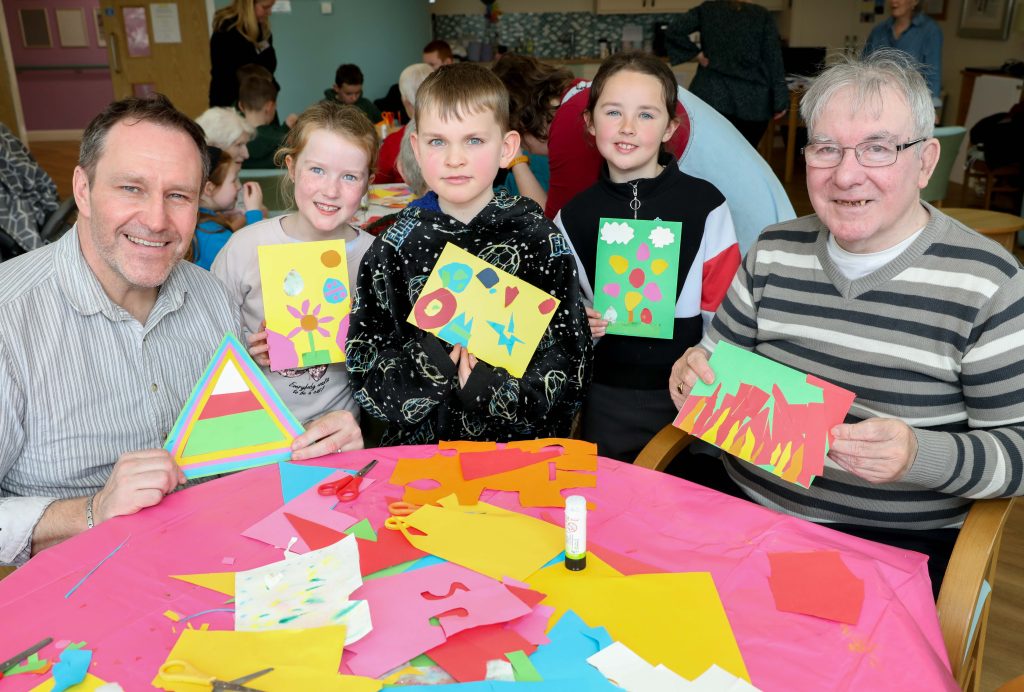 Bryn Seiont Newydd resident Ethna Williams, 89 and who hails from County Dublin, said she always enjoyed visits by the children: "It's been great to talk to the children and hear about their lives and what they have been doing in school.
"And I'm already looking forward to their next visit."
Ethna worked alongside Erin Wyn Hughes and Evie Mair Potter on a colourful collage.
Erin, eight, said she had enjoyed working with Ethna. "We all love to come here. Everyone is different and I enjoy working with the residents."
Evie, nine, agreed it had been an enjoyable afternoon which had ended in a sing-song with the residents. "It's great to meet other people and to make some artwork with them," she said.
Proudly holding her artwork, another Bryn Seiont Newydd resident, Margaret Rotheram, added: " This afternoon has been a breath of fresh air, it's just lovely working with the children.