Having a "positive influence" on town projects is the aim of Caernarfon's new mayor.
Councillor Cai Larson was inaugurated at the Caernarfon Royal Town Council ceremony along with his deputy Councillor Dewi Wyn Jones on Thursday evening.
At 26, the newly installed deputy is also believed to be the youngest to hold the office.
Politicians, VIPs and dignitaries attended the special mayor making event held at the Caernarfon Institute.
The ancient chain of office was handed over by the former mayor town Councillor Maria Sarnacki.
Councillor Sarnacki, contrary to the usual one year term of office, had carried out her duties for two years due to the pandemic.
"It is a great honour," said Councillor Cai Larsen who also chairs Plaid Cymru's Gwynedd group of councillors for Cyngor Gwynedd.
"This town and its people are now an integral part of me and representing the Canol Dre ward in Caernarfon is an extremely rewarding job," he said.
"I'm looking forward to the new duties that come with the role of mayor and I hope that I will be able to positively influence the town's projects and represent the people of Caernarfon wherever I go.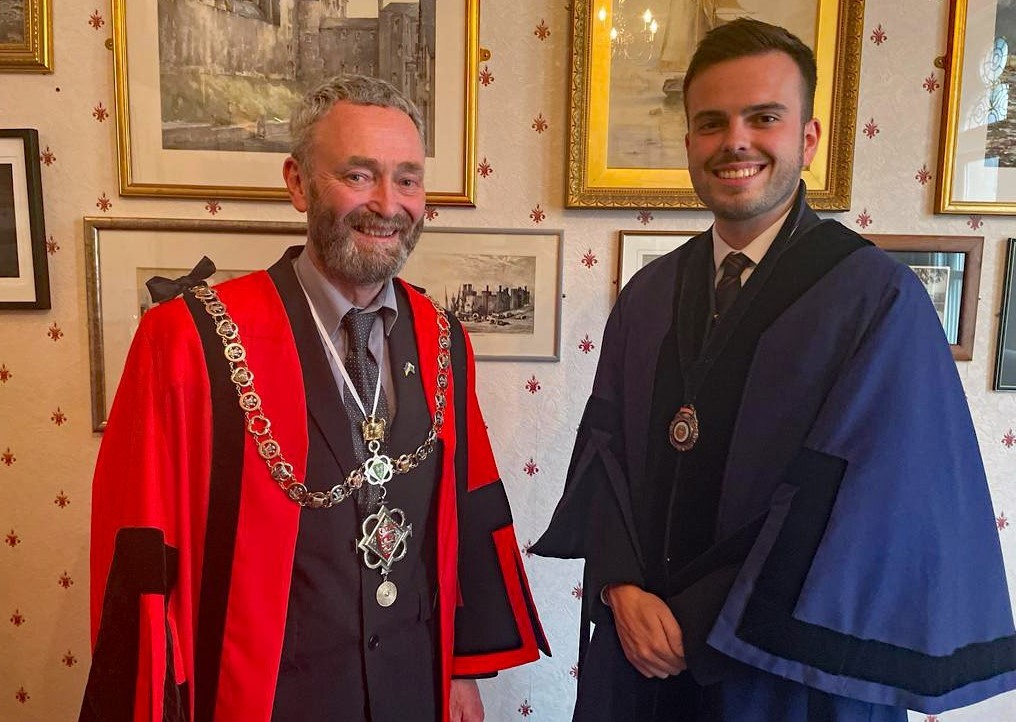 "A huge thank you to Councillor Maria Sarnacki for all her work, I definitely have big shoes to fill!"
Cllr Larsen's wife Lynne Larsen will support him in the consort role as he begins his duties representing the town council and the people of Caernarfon for the coming year.
Cllr Larsen already works as a volunteer with the Porthi Dre scheme in the town.
He is also chairman of the Cwmni Dre board and sits on the management board of housing association Adra.
He has also spent his career within the education sector before he retired as head of a primary school in 2017, when he was then elected as a county councillor for Canol Tref Caernarfon.
Keen to learn from the new mayor, is his young deputy, Councillor Dewi Wyn Jones, who is described as "a Cofi through and through".
He is a part-time teacher at Ysgol Glan Clwyd, St Asaph, and was elected as deputy at the same ceremony as Councillor Larsen.
One of the town's former mayors, Councillor Ioan Thomas said: "Dewi is an astute politician, he is very comfortable in his role and is an enthusiastic councillor working hard on behalf of his electors.
He has a bright future ahead of him in the political arena but he remains very true to his locality. I wish both Cai and Dewi well in their new roles."
Following the ceremony the Mayor's Night was celebrated at the Celtic Royal Hotel, Caernarfon.
In attendance was MP for Arfon, Hywel Williams and Siân Gwenllian the Senedd Member for Arfon.
Welsh army representatives and the mayors of other North Wales walled towns were also there.
Lord Dafydd Wigley also congratulated Cllr Larsen on his appointment via a video message.