The WRITING is on the wall for the future of a  Gwynedd library after a £60,000 makeover has brought it bang up to date.
When you visit Penygroes Library, you can not only get a book, but you can also borrow anything from a tent, a toy to a tool!
The library has seen a significant investment by Cyngor Gwynedd's Libraries Service, thanks to a Welsh Government's Library Transformation Capital Fund.
The council says the library has now become an "attractive, modern and comfortable space."
Changes have been made to its IT facilities which now provide new virtual reality technology, including a 360 degree camera, headsets and screen.
The children's section has been transformed, with extracts and images by prominent local artist Angharad Tomos children's stories, the Rwdlan series, on the wall.
And, a new object lending scheme; 'The Library of Things' has been  been launched.
The library was already popular with residents in Dyffryn Nantlle, more than 14,000 book loans were made in 2021/2022.
But the funding has helped create an improved area to display books and has seen the public computer section move.
Cyngor Gwynedd Deputy Leader and Cabinet member with responsibility for the Library Service Councillor Nia Jeffreys, said: "The new library will be able to offer a number of new experiences, namely a regular weekly story time for children and VR sessions to introduce young people and adults to the potential of virtual technology.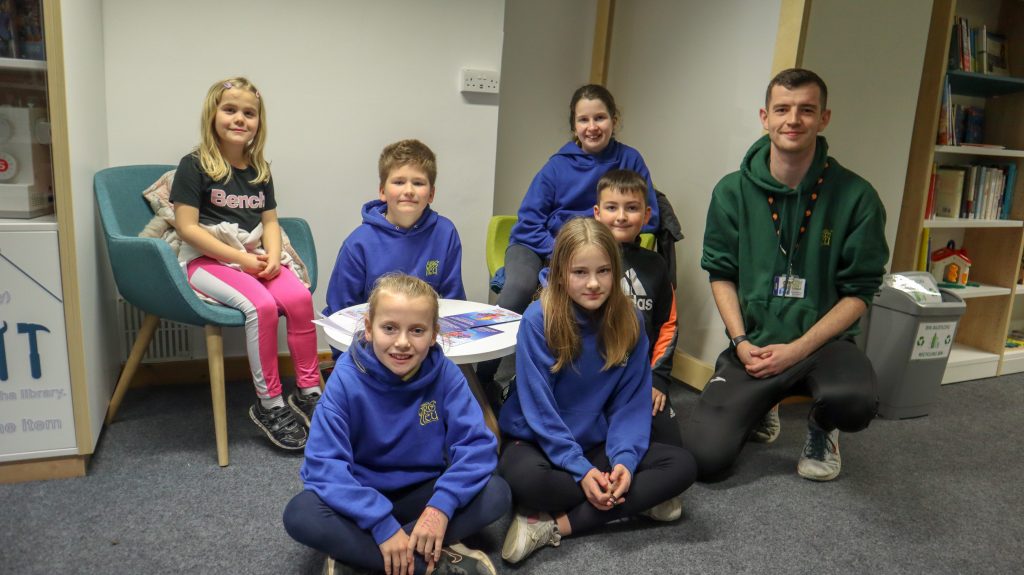 "A screen, headsets and a 360 camera have been purchased as part of the grant, to introduce digital virtual technology.
"I'm delighted to see these improvements, the Penygroes Library service is well used and appreciated by the residents of Dyffryn Nantlle."

The Petha Penygroes service, introduced at the library,  aims to establish the Library of Things, in Dyffryn Nantlle, Dyffryn Ogwen and Bro Ffestiniog.
The scheme saves  people money,  space in the home, reduces waste and carbon footprints, by allowing people to borrow everyday items rather than buy.
It is a joint project between Benthyg Cymru, Dolan and Cyngor Gwynedd, following a successful application to the Welsh Government Circular Economy Fund.
Catrin Wager, North and West Wales Development Officer for Benthyg said: "Benthyg Cymru is a national organisation that supports communities to establish a 'library of things.'
"We are very proud to see the second Petha library led by Dolan, opening in Penygroes.
"Petha is an innovative project as it co-locates the Library of Things in a traditional library, showing how Local Authorities can partner with communities to act for residents, and our planet."
Meleri Davies from Patrneriaeth Ogwen, a Dolan member, said: "Petha offers toys on loan for free and everyday items for a small fee for members."
Items include DIY tools, a  sewing machine and camping equipment.
"It's those useful things that people want to use, but don't need in their home all the time." She added.
"Partneriaeth Ogwen, as part of Dolan, is very proud to be part of an exciting and timely project which contributes to the sustainability agenda and tackling poverty."
Ben Gregory from Yr Orsaf, Penygroes added: "We are delighted to be part of the Petha project, it  fits in very well with other projects, such as the repair cafes, which focus on living in an environmentally responsible manner."