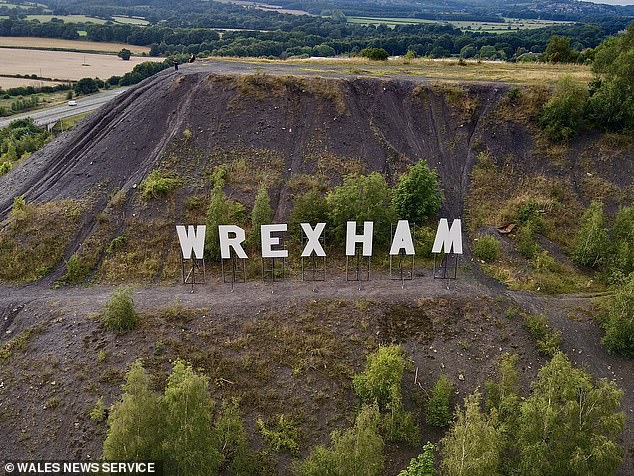 ANOTHER touch of Hollywood has appeared in Wrexham with the creation of a large Hollywood-style sign.
The sign comes as the football club and the wider town continue their association with cinema giants Ryan Reynolds and Rob McElhenney, following their takeover of Wrexham AFC.
Locals had spotted scaffolding and a large "W" in Rhostyllen recently. Photos taken Aug 15 shows that the sign has finally been uncovered in all of its glory.
It is placed over an old coal slagheap, welcoming motorists travelling along the A483 into Johnstown.
The reason behind the sign has yet to be confirmed, however locals suspect that Ryan Reynolds and Rob McElhenney are behind it.
Actor Ryan Reynolds is a known prankster who has interesting links to Wrexham. 
The pair bought the club earlier this year and had planned to make a documentary about their first two seasons, but have not yet been able to visit the area due to Covid restrictions.
Reynolds and his friend Rob McElhenney, creator and star of It's Always Sunny in Philadelphia, took 100% control of the Welsh club, known as the Red Dragons, from the Wrexham Supporters Trust (WST) in Feb 2021 after the bid was approved by fans. They have invested £2m as part of the deal.
Reynolds has said that the project was as much about investing in the community of Wrexham itself as much as the club.
Posting on social media on the day the takeover was announced, the Canadian actor shared a photo of himself in a club hoodie bearing his initials. "And away we go…" read the caption on Instagram, followed by the hashtag #UpTheTown. "Can't get to the Racecourse Ground fast enough. Game on," he wrote on Twitter.
Wrexham AFC has also said it has enjoyed a considerable bounce in season ticket sales, with demand at "unprecedented" levels.
It comes just days after Reynolds treated some of Wrexham's charity and frontline emergency workers to a screening of his latest film Free Guy.
The Herald has contacted Ryan Reynolds to see if he is behind the sign's appearance. We are waiting for a response.
Related posts