THE AVERAGE price of a property coming onto the UK market jumped by nearly £6,000 in the past month, according to new data from Rightmove, but house prices are growing at a faster rate in Wales than any other region of the UK, new figures reveal.
A rise of 1.8% from April to May put the asking price of a UK home at a new record of £333,564 – a third of a million pounds.
But, unlike previous house price booms which are generally powered by London and the south east, other parts of the UK are now leading the charge.
Property prices in Wales have soared since the pandemic's first lockdown in spring 2020, registering a double-digit increases of 10.5%.
By contrast, London house prices have remained broadly flat over the same period, increasing by just 0.2%.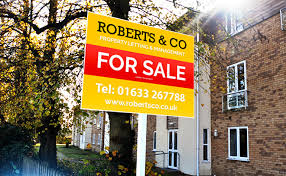 The emerging 'new order' is due to a 'greater focus on the home' and a surge in demand for property in rural and suburban areas away from the south, according to Rightmove.
It's meant that, while average prices in London are still 2.9 times higher than those in the north, the ratio is now at its smallest since 2013 when the property portal began collecting data.
Tim Bannister, Rightmove's director of property data, said: "Last year's unexpected mini-boom is rolling on into 2021, with new price and market activity records again defying many predictions.
"Buyer affordability is increasingly stretched, but there's obviously some elasticity left to stretch a bit more as many buyers are squeezing their way into higher price bands."
He added that family homes with three bedrooms or more are like 'gold dust' in many areas of the country, especially in parts of the north, which is serving to drive up prices.
Becky Munday, managing director at London-based Munday's Estate Agents, said. "People are now prepared to go even further in their race for space, with many more no longer chained to traditional commuter barriers or southern cities."
Here in Wales, most estate agents agree that the effect of the coronavirus pandemic has been the main driver behind this huge influx of buyers overwhelming the supply of available and affordable property.
People are bringing their dream move to the country, coast or village forward in their plans, with the opportunity to work from home as well as access to open spaces being the number one cause.
Estate agents are seeing some people skip a rung on the property ladder to get further up, and many current home owners are re-evaluating what is important to their current living arrangements, such as a garden, space, a thriving community or a view, and acting accordingly.
And the pandemic has just made some ex-pats long for a return to their homeland, willing to give in to their homesickness and get back to their roots.

Across Wales, prices of detached, semi-detached and terraced homes are 10% or higher than the same time in 2020, but flat prices continue to languish.
Estimated sales in Q1 were up 40% on the same period last year, albeit with a clear demarcation between house and flat sales. According to monthly data from HMRC, there were 3,880 sales in January, 4,610 in February and 8,170 in March – clear evidence of the incentive effects of the Land Transaction Tax holiday.
Eight local authorities saw new record highs during Q1, in Bridgend (£191,810), Cardiff (£269,826), Carmarthenshire (£196,422), Denbighshire (£201,091), Newport (£228,876), Swansea (£213,819), Vale of Glamorgan (£303,807), and Wrexham (£198,944).
House prices rose at the fastest rate in Swansea, with an annual increase of 16.1%. Anglesey (14.6%), Vale of Glamorgan (14.6%), and Carmarthenshire (14.2%) followed closely behind, highlighting the COVID-induced "race for space" with these being popular choices for city dwellers from Wales or England.
Tom Denman, Chief Financial Officer at Principality Building Society, said: "The bounce-back of the housing market during the pandemic has been stronger than some had anticipated, and if that momentum is maintained, it may be that the strong housing market recovery will continue through the rest of the year and into 2022. Pent-up demand due to a shortage of houses on the market, continuing low-interest rates, wage growth for those in work, plus the incentive of the Land Transaction Tax, has led to this new record peak of average house prices.
"Looking further forward this growth could be impacted by the end of the LTT holiday and the furlough scheme, but much will depend on the overall recovery on the economy."
Russell Galley, Managing Director, Halifax, said: "House prices in April eclipsed the record high set the month before as the market continued to maintain its recent momentum. The average property is now worth £258,204, up 1.4% month on month and 8.2% annually, the highest annual growth rate in 5 years. In cash terms, almost £20,000 has been added to the value of the average home since the market had essentially come to a standstill in April 2020.
"The stamp duty holiday continues to add impetus to an extremely active market, magnifying the current shortage of available homes as buyers aim to take advantage of the Government scheme. The influence of the stamp duty holiday will fade gradually over the coming months as it's tapered out but low stock levels, low interest rates and continued demand is likely to continue to underpin prices in the market.
"However, we do expect recent levels of activity to be sustained over the short-term as buyers continue to search for homes with more space and potentially better suited for their new working patterns. Savings built up over the months in lockdown have given some buyers even more cash to invest in their dream properties, while the new mortgage guarantee scheme may have eased deposit constraints for some prospective homebuyers who previously thought their first step on the housing ladder was a few years away.
"There is growing optimism in the long-term outlook of the UK economy as the vaccination programme continues at pace, yet we remain cautious about the medium-term prospects of the housing market. As we said in March, the current levels of uncertainty and potential for higher unemployment as furlough support ends leads us to believe that house price growth will slow to the end of the year."
James Thomas, director at estate agent MGY, says: "This the craziest six months in Wales we have experienced in a long time, with a huge increase in best and final bids. All price ranges are selling well at the moment, even the high-end, and it's obvious to all that there is a demand increase for semi-rural properties and people moving west."
Richard Golten from Purple Bricks says: "The market is particularly busy in Cardiff at mid-range value, especially family homes up to the value of around £400,000, although the whole market is affected.
"There are many factors affecting the Welsh market currently with the stamp duty incentive contributing but fundamentally people are looking for bigger homes as they are spending so much more time there, with home office space becoming essential along with plenty of space for the family and a large garden to keep everyone entertained."
Rightmove's average annual regional price increase and last month's % increase:
Wales – 13% annual, +2% last month
North West – 11.1% annual, +2.1% last month
Yorks & Humber – 10.5% annual, +1.2% last month
South West – 9.2% annual, +2.2% last month
West Midlands – 9.1% annual, +2.1% last month
East Midlands – 9.1% annual, +1.1% last month
South East England – 7.9% annual, +1.8% last month
East of England – 7.3% annual, +2.0% last month
Scotland – 7.2% annual, +0.6% last month
North East – 6.7% annual, +1.3% last month
London – 0.2% annual, +0.8% last month