A MUM of three from Gwynedd whose youngest son battled cancer has vowed to lose weight and get fit in case he needs her help in the future.
Little Ifan Gwilym was diagnosed with the condition when he was just two years old after doctors found he had tumours on both his kidneys and spent months being treated in hospital.
Now aged four and doing well, his mum Linette is keen to turn her attention to improving her and her husband Iolo's health.
Knowing that Ifan only has one kidney, she wants to be in the best possible shape if she or Iolo need to give him one of her own.
She jumped at the chance of being a health leader on S4C's popular FFIT Cymru series, made by Caernarfon-based production company Cwmni Da and presented by Lisa Gwilym, with the programme being shown at 9pm on Tuesday evenings.
The 33-year-old social worker, who lives with Ifan and husband Iolo, a theatre technician, and their two other sons, Gruff, nine, and Owain, live in Llanrug near Caernarfon, considers herself a very positive person but has lost confidence.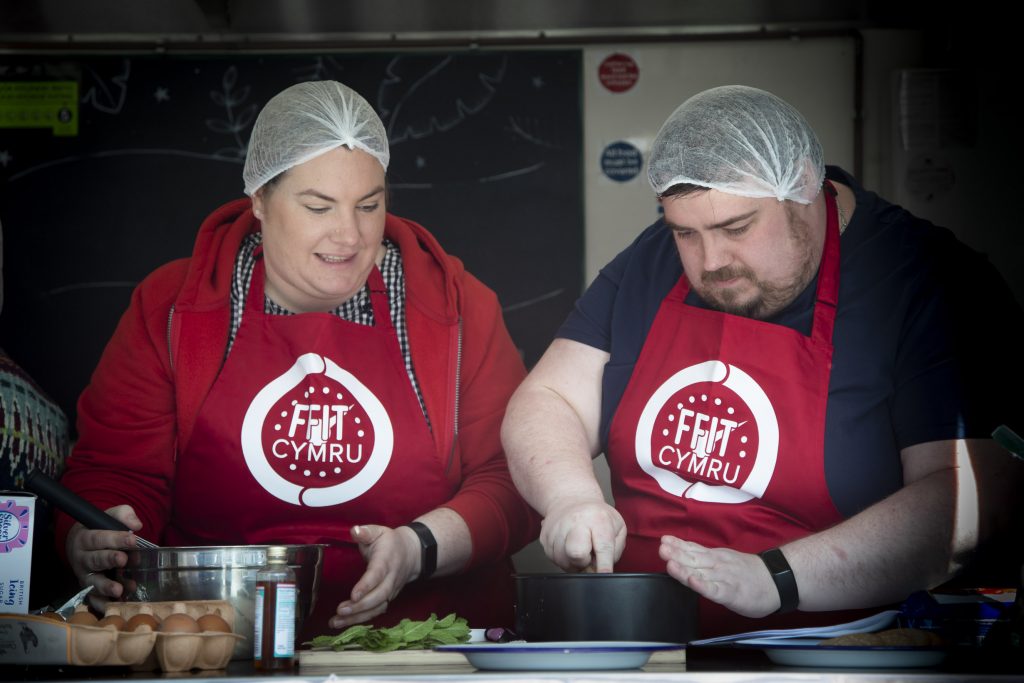 But over a two-month period Linette and the four other leaders from all over Wales are aiming to transform their health by following bespoke fitness and food plans set by the programme's four experts, including former Love Island contestant and fitness coach Connagh Howard.
Linette has been joined in the programme by Kelly O'Donnell, 41, a teaching assistant from Bethel near Caernarfon; Andrea Davies-Tuthill, 52, a hospital theatre nurse from Merthyr Tydfil; Matthew Rees, 46, butcher from Carmarthen and chapel minister Dylan Parry, 34, originally from Caernarfon but now living in Bridgend in South Wales.
At the start of the programme's third week Linette, travelled with the others to the Llaeth y Llan dairy in Llannefydd, near Denbigh, and created two new recipes for the successful company's online cookbook, using the fat free yogurts recently introduced by the family business.
According to Linette, Ifan's illness had made her and Iolo much more appreciative of their own health.
"It was a nightmare. The only comfort came from eating some food or having a drink.
"Ifan had tumours on both kidneys. What if he needed a kidney from one of us. Both of us realised we weren't healthy enough. What if they told us we couldn't be donors because of our weight. You want to make sure you're there for them. You realise you can't take things for granted.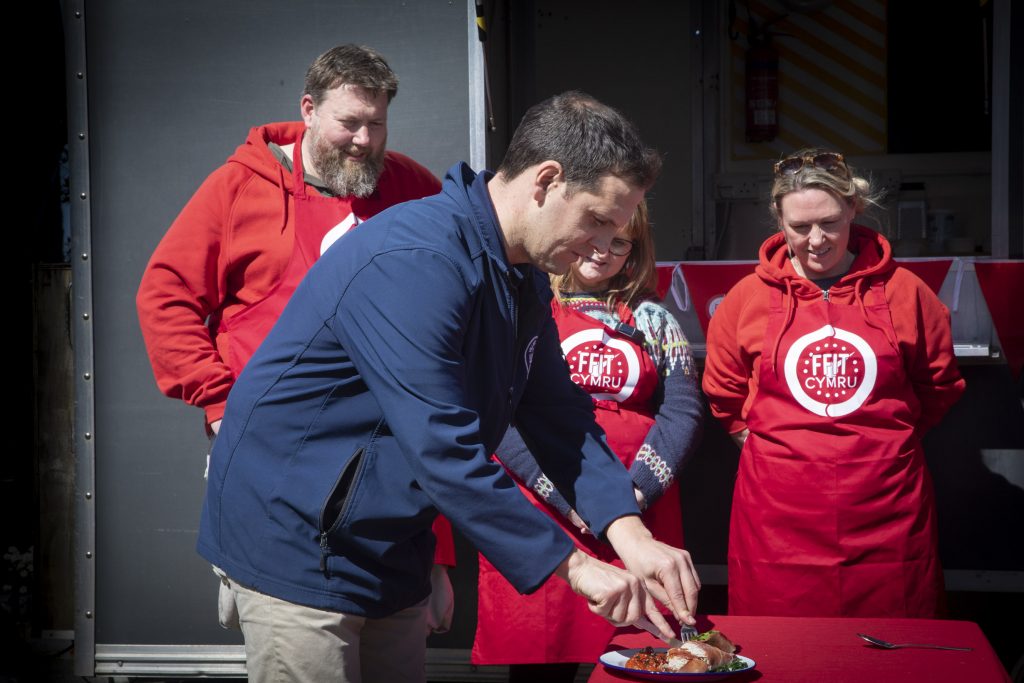 "I used to swim eight times a week until I was about 15 years old. Then beer and men! There's always an excuse – I'm a new mum or whatever. The more children you have the less time you have for yourself.
"It's like a cycle of self-loathing. You feel bad if you have a glass of wine or some chocolate. It's like a snowball effect. A lack of organisation, life being so busy.
Linette, who also suffers from anxiety, added: "I just want to be happy, healthy and positive. I haven't been like that for a long time. I just want the old me back."
Fellow health leader Kelly O'Donnell, 41, a mum of four from Bethel near Caernarfon, who suffered the tragic loss of her husband, Rory, from cancer, is hoping the health gains will "make her feel happy inside".
As a busy mother, Kelly, who works as a teaching assistant, finds it difficult to find the time to stay active.
She taught dance at 'Angylion Kelly' (Kelly's Angels) in Caernarfon for 24 years but gave it up last year when her youngest son Eban was born. Kelly has also run the Snowdon Race and the Cardiff Half Marathon in the past.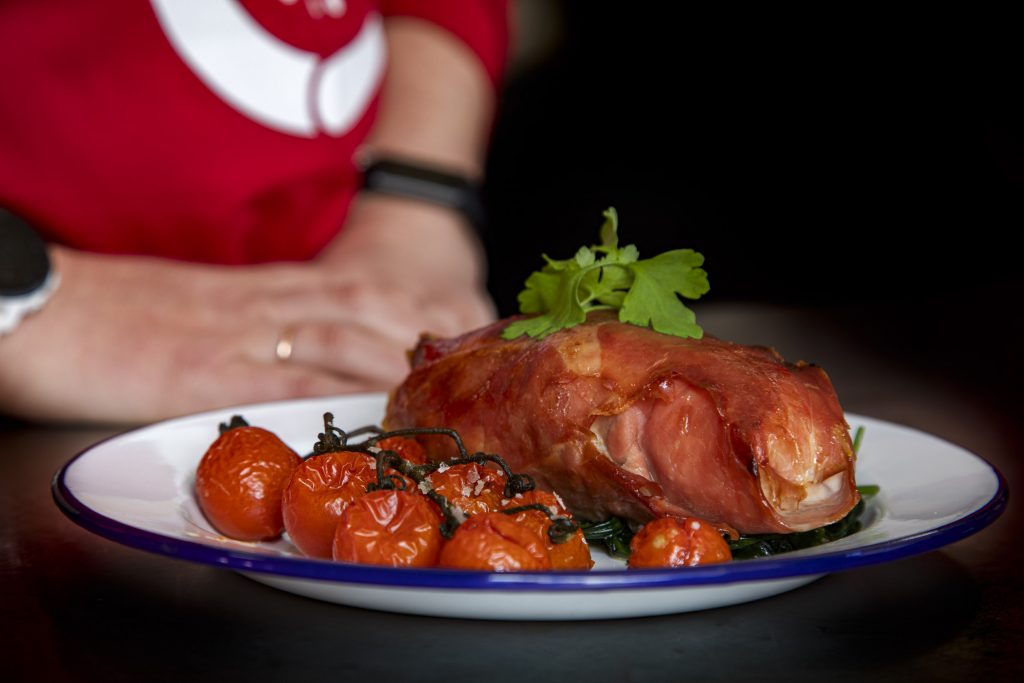 She said: "I think other people think I'm happy because I'm always smiling. I'm just tired of always acting happy in front of other people but not being happy inside.
"I love to binge. I'll go to the cupboard and ear four KitKats one after another. Sometimes I'll keep on eating, even if I'm full.
"About seven years ago my husband Rory and I got married then six months later we found out he had cancer. Eighteen months later he died. I've been there for the boys all the time. I've tried to be strong for them, be a mother and a father.
Reflecting on the first two weeks of FFIT Cymru, Kelly said: "It's going quite well. I think the majority of people could do with losing two stone in weight. If I come out of it having lost two stone and will have influenced anyone else to do the same that is going to make me feel terrific."
The latest step in the journey took the health leaders to Llaeth y Llan where director Owain Roberts said the company was responding to the demand for healthy foods and changing eating trends by making a fat free Greek-style yogurt.
"It is a fairly new product and has been a success for the company. And we now offer interesting recipes that include yogurt as one of the main ingredients, and the task for the leaders was to create a two course meal using yogurt as one of the main ingredients.
Matthew, Kelly and Andrea stuffed a chicken fillet with cream-cheese, garlic and Llaeth y Llan yogurt and wrapped it in Carmarthen Ham and served with sauteed spinach and roasted tomatoes on the vine. Made by Matthew's family for generations he said the meat, which his family proudly sell on their stall in Carmarthen Market, is first salted for five to six weeks and then hung for up to nine months. He had brought it with him to Llannefydd especially for the programme.
He claimed when the Romans visited the town hundreds of years ago they had taken the recipe back to Italy and from it Parma Ham emerged.
"It's a story my grandfather often told and some believe him and others don't," he smiled.
Linette linked up with Dylan to make a baked cheesecake garnished with strawberries, rasperries, blueberries and mint.
Owain Roberts gave the thumbs up to both recipes which will soon be available the Llaeth y Llan website, www.villagedairy.co.uk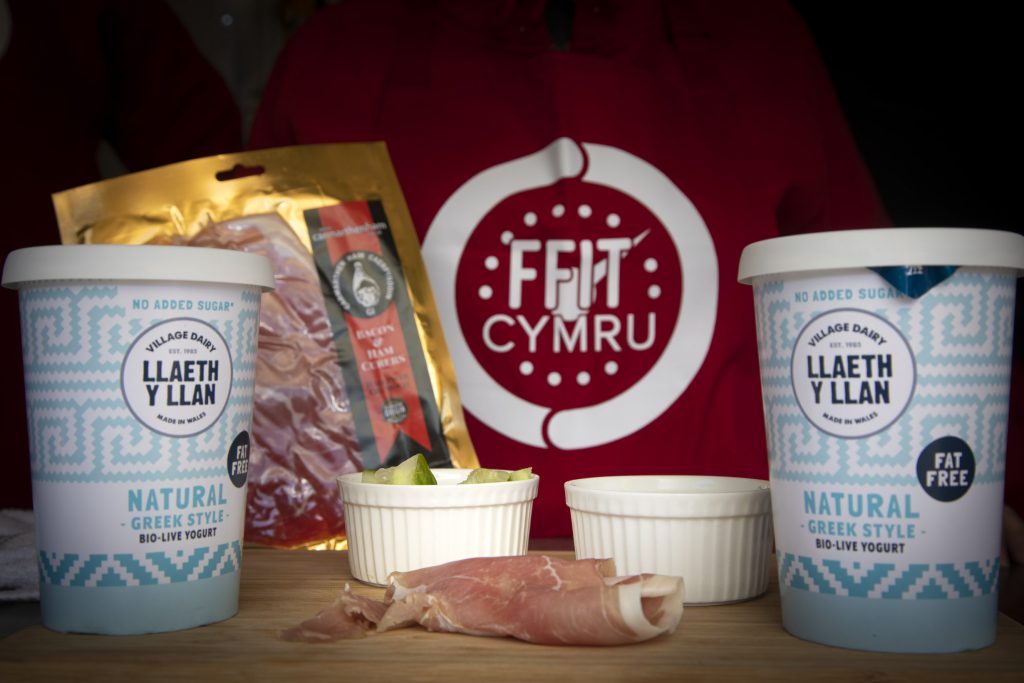 Connagh Howard, who hail from Cardiff, is responsible for setting and supervising the weekly challenges which feature in the programme.
"Fitness is something that has always been a big part of my life and having the opportunity to help others with that is such an incredible experience and I'm just really proud to be able to help people," he said.
The other experts include personal trainer Rae Carpenter, psychologist Dr Ioan Rees, and dietician and former Great British Bake Off star Beca Lyne-Pirkis.
Series producer Siwan Haf said: "FFIT Cymru is essentially about taking a group of people who want to transform their lives and showing them how they can improve through healthy eating, improved fitness and improved mental health.
"It's a unique multimedia platform that can offer guidance and a practical helping hand.
"Viewers can take part at home too by following the special food and fitness plans online on the FFIT Cymru website, www.s4c.cymru/fitcymru, and on social media @ffitcymru for free.
FFIT Cymru is broadcast on S4C on Tuesday evenings at 9pm. English subtitles are available. The programme can be seen on demand at S4C Clic, BBC iPlayer and other streaming platforms.