THERE are around 250 thousand Latin Americans living in the UK, however, they are yet to be recognised by politicians, the national census, and the media. In response to this, Film Locos came to be, creating amazing content and opportunities for the Latin Community.
Earlier this year, Andrea Perez, from Caracas, Venezuela, joined the social audio app "Clubhouse", where she was introduced to a group of filmmakers all across the UK who are from Latin America.
The group discussed how the UK film industry lacks the portrayal of the increasing influence of the latinx community in the UK, and created a plan to change this.
In the past, Film Locos has created and produced Drama Series, Monologues, short films, as well as serving as a platform to showcase content created by Latinos within the UK.
Currently, Film Locos is showcasing a series of Latin American Shorts: Season 1, that were developed and produced into 6 short films.
The films have been showcased in several locations in London, and have received very positive feedback.
One member of the public who attended the October 6th screening said: "The project is amazing, the production, the scripts and all the talents that were involved"
Film Locos has now managed to obtain a grant from Arts Council Wales "Sharing together", and has organized a very special event with Pontio Arts and Innovation Centre called "Latin-American Film takeover!" that will take place on the 23rd of October 2021 at 7pm.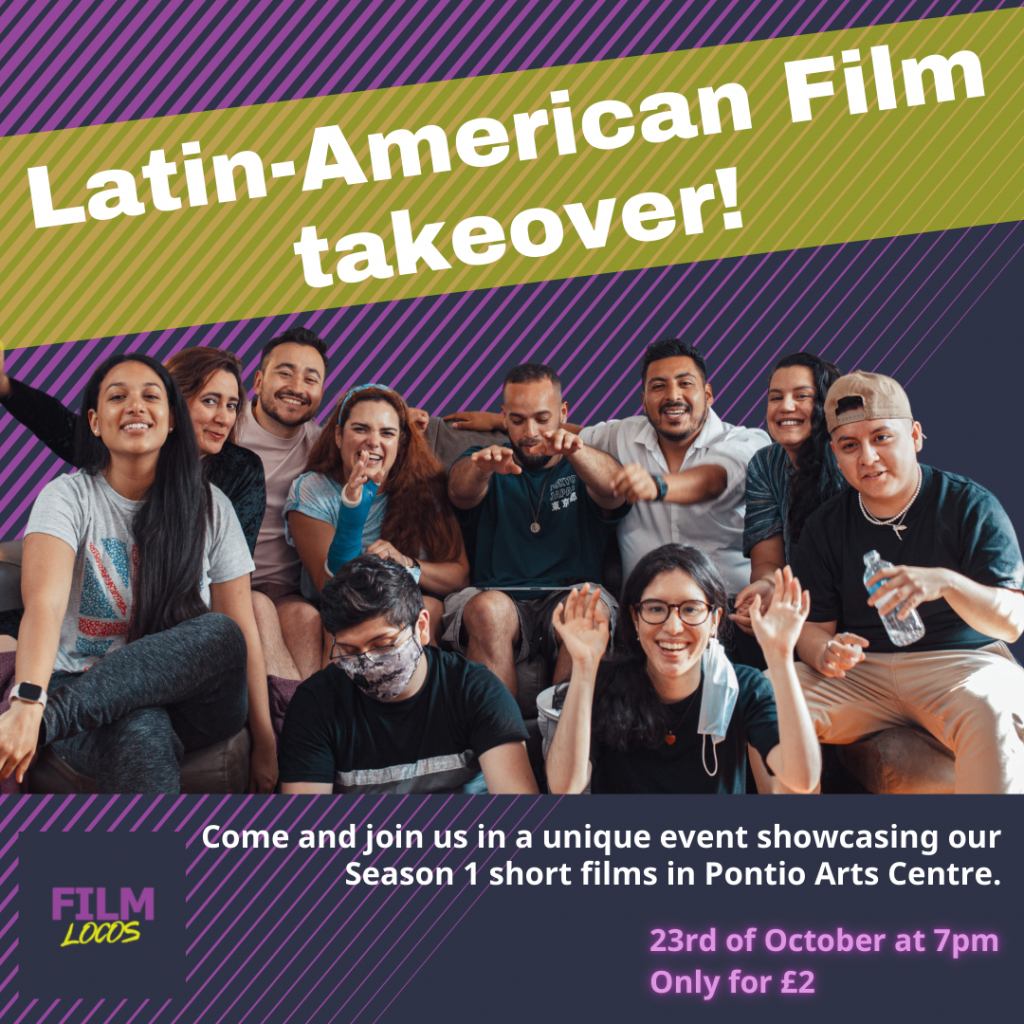 This event is expected to be very exciting because it's an evening of watching the 6 original latin/british short films Film Locos created, as well as interviews and talks examining film representation and diversity.
Andrea Perez, the producer of SEASON 1 of Film Locos, graduated from Bangor University in 2019 and has always wanted to give something back to the community.
Andrea has worked alongside:
Victor Ríos the CEO/Founder of Film Locos, originally from Bolivia. He's also one of the Producers and editors of this Season 1.

Raquel Arraes, a professional actor with over 20 years of experience, award winning director from Brazil,  and Producer of Film Locos also.
"We want to show the world that our stories as Latinos matter. It's also crucial to bring an open mind and diversity of cast and storytelling to the equation. Nothing by accident" says Victor Ríos the CEO/Founder of Film Locos.
Andrea produced six short films, which all include a diverse Latin American cast, including members of the LGBT, Latino-African, sisterhood, aging, etc).
The group hopes that in the next year they can open up and begin shooting in small villages and communities, claiming that the stories of these wonderful places are still hidden.
Andrea hopes to be able to give back to the community, and thinks that by hosting this event, she can give not only Bangor, but also Wales, something new.
An event such as this one will give an opportunity to the Welsh based Latin-American, or second generation latinos, to share their experiences and raise awareness of the beauty and diversity that they experience.
North Wales is in much need for an event that will give people the opportunity to get out of their comfort zone.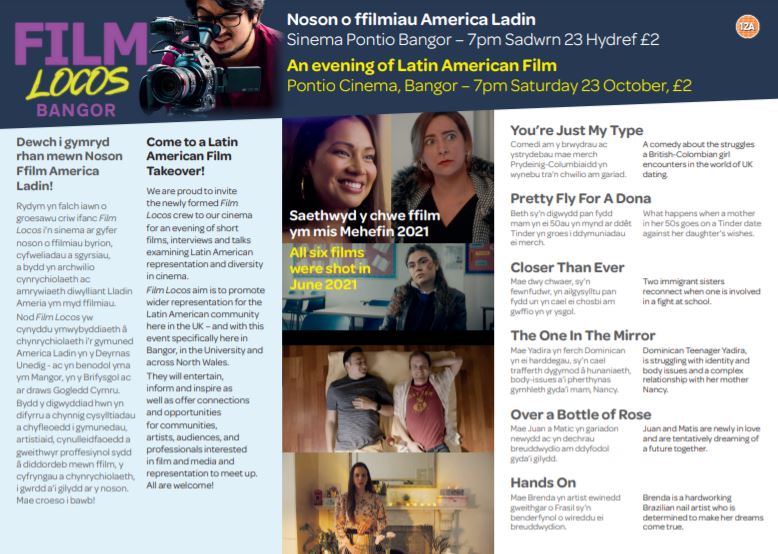 94.8% of the population of Wales described their ethnic group as White. 97.3% of the population in North Wales to 93.3% in South East Wales. Latin-americans make part of the 5.2% minorities that include Asians and Black, 'Mixed/Multiple groups. ("Equality and diversity statistics: 2017 to 2019 | GOV.WALES", 2021)
The event will consist of a film screening showcasing the 6 short films Film Locos made during summer, followed by two North-Wales based artists showcasing their art pieces connected with the theme of "British Latin American". Afterwards people will have a chance to talk and connect to each other.
The short films that will be shown are:
Hands On directed by the brazilian Raquel Arraes
Over a bottle of Rosé directed by New Zealander Cortney Stowers
Closer than ever directed by Bolivian Victor Rios
Pretty Fly for a Doña directed by Dominican Karlina Veras
You're just my type directed by Peruvian Mauro Pedretti
The one in the mirror directed by Brazilian Rauni Barros da Silva
Additional information can be found at @filmlocos
Tickets for the event can be bought at pontio.co.uk