THE WINNERS and runners-up of the UK-wide NBN Awards for Wildlife Recording 2021 have been announced at an online ceremony on Wednesday 24 November 2021, which is the culmination of the annual NBN Conference, also held online.
These national Awards recognise and celebrate the outstanding contributions adults and young people are making to wildlife recording and data sharing, which is helping to improve our understanding of the UK's biodiversity.
There are five Award categories:
NBN Young Person's Award (open to individuals aged 11-20)

NBN Newcomer Award (open to individuals 21 years +)
NBN Award for wildlife recording – Marine (open to individuals 21 years +)
NBN Award for wildlife recording – Terrestrial (open to individuals 21 years +)
NBN Group Award (no age restrictions)

Kate Lock, from Marloes, Pembrokeshire is the winner of the 2021 NBN Award for Wildlife Recording – Marine.   
Kate has been working to coordinate Seasearch activities for 25 years – generating her own records as well as supporting less-experienced coordinators and volunteers.
Kate's immense knowledge and experience of Pembrokeshire makes her the go-to person to liaise with other organisations, stakeholders and policy-makers in that area.
Being an employee of Natural Resources Wales in her professional capacity puts Kate in the unique position of 'having a foot in both camps' to maximise the impact of Seasearch through her job and her network of relationships. She is trusted for that blend of longevity in post and expertise.

Kate Lock, winner of the 2021 NBN Award for Wildlife Recording – Marine, says:
"I learnt to dive at University in Plymouth in the mid '80s and feel privileged to be able to see first-hand the amazing marine life found in UK waters. I have always wanted to know more about what I am seeing and put a name to the seaweeds and creatures that I find, so when introduced to Seasearch it was the perfect project to get involved.
"Diving in the UK can often be challenging but that is also part of the fun and attraction as you never know what you may find, it could be muddy sediments with fabulous burrowing anemones or rocks festooned in sponges and sea squirts or lush red seaweed meadows – no two dives will be the same.
"Being able to teach divers to complete surveys is fun, being able to build up a community of underwater recorders where everyone is so excited to share their photos and records, knowing that these records are letting us get to know our underwater world better, dive by dive, is fantastic."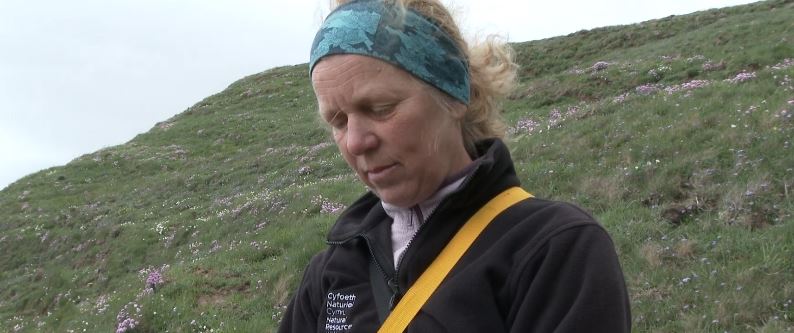 Alongside Kate, Andrew Graham from Bala, Gwynedd, is the winner of the 2021 NBN Award for Wildlife Recording – Terrestrial.
Andrew has held the role of County Butterfly and Moth Recorder for various North Wales Vice Counties for over 20 years, helping to determine specimens and verify tens of thousands of records. He also provides a pivotal role in collating and sharing records from all North Wales Vice Counties, through a website, which he continues to develop and maintain.
Andrew also makes an annual submission of records to Butterfly Conservation, other National Schemes and Societies and to the Local Environmental Records Centre – Cofnod –where he has submitted over 580,000 records.
Andrew's main interest is Lepidoptera, but his expertise now also includes true flies (Diptera), true bugs (Hemiptera) and Hymenoptera – which are under-recorded in North Wales, and as such he is filling a vital recording gap.
Andrew Graham says:
"As a life-long wildlife enthusiast I have always considered recording one's sightings to be an obvious thing to do. Many people, myself included, start with lists of garden birds, wildflowers etc. and this can develop into an all-absorbing passion when one's interest extends to take in the multitude of smaller organisms which are present all around us – even in over-crowded, nature-depleted Britain.
"Ever improving identification literature, the computer revolution, GPS and digital photography have come together to transform biological recording, to a remarkable degree, since I was a boy in the 1960s. To my mind, what makes this all the more rewarding is the development of Local Recording Centres (Cofnod in North Wales), National Recording Schemes for some taxon groups and the National Biodiversity Network/Biological Records Centre to tie it all together.
"The fact that an amateur can now make a meaningful contribution to our collective knowledge of the natural world as well as help to provide the raw data on which conservation decisions can be based is nothing short of amazing."
Additional winners include
Izzy Fry – winner of the NBN Young Person's Award 2021.
Alfred Dudley-Warde – runner-up of the NBN Young Person's Award 2021.
Dakota Reid – winner of the NBN Newcomer Award 2021.
Leah Cox – runner-up of the NBN Newcomer Award 2021.
Paul Blanchard – runner-up of the 2021 NBN Award for Wildlife Recording – Marine.
Amanda Cogan Barber – runner-up of the 2021 NBN Award for Wildlife Recording – Terrestrial.
Marden Wildlife – winner of the NBN Group Award 2021.
Croxteth Park Volunteer Group – runner-up of the NBN Group Award 2021.
This year eight organisations offered their support and sponsorship of the prizes:
1. Opticron
2. Habitat Aid
3. Field Studies Council (FSC)
4. Michael Hoppen Gallery
5. Bird Photographer of the Year
6. William Collins
7. British Wildlife
8. NHBS
In addition to these five NBN Awards for Wildlife Recording which were open to public nomination, a further award was announced – the John Sawyer NBN Open Data
Award 2021. This Award is given to a member of the National Biodiversity Network Trust who is making a valuable contribution to open biodiversity data in the UK.
The Network has 165 Data Partners and of the 203 million biological records shared on the NBN Atlas, 52 million have an Open licence. This award recognises and celebrates the outstanding contribution of NBN Data Partners towards achieving the NBN vision of "collecting and sharing wildlife data openly to educate and inform".
The British Dragonfly Society is the winner of the John Sawyer NBN Open Data Award 2021. This national recording scheme was established in 1968. Their NBN Atlas dataset includes over 1.6 million verified records of 59 species from the taxon group. All the records are shared on an Open licence and over three quarters have a resolution of 100 m or higher. The dataset covers the period 1880 to 2020 and is updated annually on the NBN Atlas with recent records maintained in iRecord.