A BRAND new shopping and entertainment hub in Wrexham is as tep closer to opening its doors.
Businesses are now being called upon to sign up for a trading space at Chapter Court.
The complex of shops, food outlets and entertainment, was initially proposed to Wrexham Council almost three years ago in a bid to rejuvenate the town centre as a focal point for local commerce and leisure.
The plans, which are inspired by London's iconic Camden Market, faced disruption due to a series of lockdowns, but have since been given the go-ahead to restart.
The ambitious project will be rolled out in phases, with the first – called Chapter One – anticipated to be complete and open for business by Spring 2023.
Chapter One is situated in the retail units lining Hope Street, Queen Street and Rhosddu Road, which the planners are calling for startups, boutique shops and independent traders to occupy.
With many big-name brands deserting the high street and leaving units across the UK empty, it's hoped that a dynamic, exciting commercial scene led by local founders and creators will now develop in the town thanks to the new opportunity.
The development will be operated by Town Square Spaces (TownSq), the coworking and business support specialist which also runs the Wrexham Enterprise Hub on Rhosddu Road, adjoining the Chapter Court complex.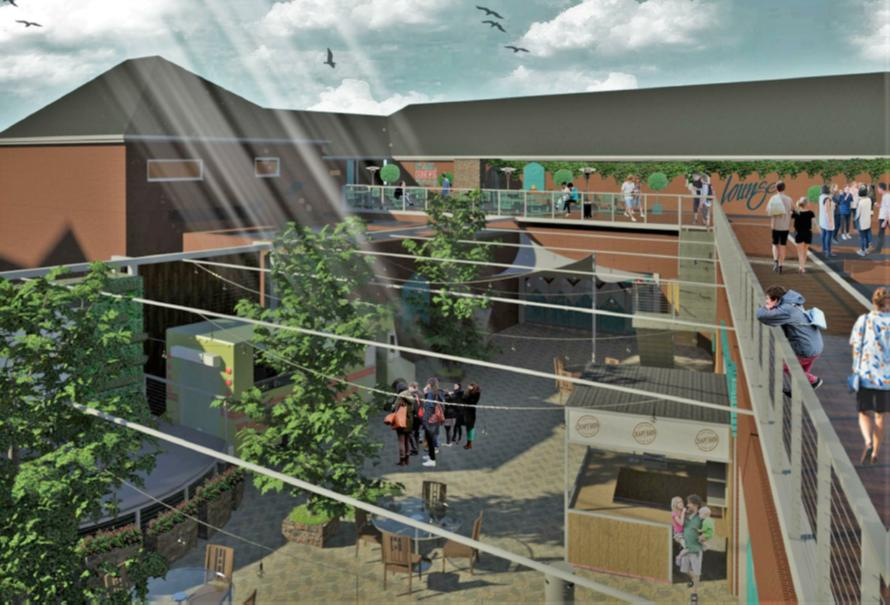 PIC: Artist's impression of how Chapter Court could look.
TownSq, which runs the Wrexham Enterprise Hub on behalf of Business Wales, is offering a host of support schemes to help locally-run businesses to fill the units and reclaim the town centre.
Chapter Court traders will have full access to support from the team at the Hub, including a coworking membership, free development programmes for growing startups, networking events and expert surgeries covering topics from bookkeeping to HR.
Carl Turner, Community Director at TownSq, said that the project presented a fantastic opportunity for local business owners and the wider community: "Empowering Wrexham people to take control of their careers and lead their own way in business is at the heart of what we do, so it's exciting to be offering this opportunity for local traders to be part of something so positive for the town.
"We know that taking leaps of faith in business can be daunting, so we want to make sure that any business owner who feels they would be a good fit for Chapter Court has a strong support system around them so they are confident and well-prepared to take on the challenge – which is sure to have huge benefits for the local community and for their enterprise.
"We're confident that Chapter Court has potential to be the beating heart of Wrexham's town centre, and a place where the community comes together and becomes stronger. It will be the traders that set up here that will bring this project to life, and we're sure that the collaboration can only lead to positive growth for both Chapter Court's businesses and for Wrexham itself."
Ian Stone from TBE (Southern) Limited, the property firm behind the project, said: "Wrexham has phenomenal potential to be a hub for business, trade and culture. It already has a rich history as a market town, but is still a high-performing local economy today, having seen growth of 40% since 2010.
"This puts the town in a fantastic position to establish itself as a place where entrepreneurship and community thrives, and Chapter Court looks to be at the centre of this. It comes at a time when town centres everywhere are seeing reduced footfall and the rise of online shopping or food ordering, but having somewhere for local people to meet and spend their money is essential to a strong economy and community.
"A revival of Wrexham's town centre has long been at the fore of many people's hopes, and we feel that this exciting and contemporary development has what is needed to make it a focal point for people of all ages once again."
To learn more about Chapter Court or to enquire about trading from a Chapter One unit, visit chaptercourt.co.uk, call 01978 000 000 or email [email protected]