THE new Mayor of Wrexham will be a familiar face in the role.
Garden Village Cllr Andy Williams was nominated to take on the mantle four years after his previous stint, at an extraordinary full meeting of Wrexham Council.
A member of the ruling Independent group on the council, Cllr Williams proved very popular in his previous term in the role from 2018 to 2019.
But this year's selection of a new Mayor has been mired in controversy and rancour.
Last month a full council meeting descended into chaos with tempers fraying during a slanging match across the Guildhall which involved councillors from across the political spectrum, leading to the decision being postponed.
The choice of a new Mayor would normally be a formality, with preferred candidates for that position and Deputy Mayor having already been chosen behind closed doors by the cross-party Constitutional Working Group.
But just before the last meeting, current Deputy Mayor and preferred candidate for the role Brymbo Cllr Paul Rogers (Con) withdrew his candidacy at the last minute.
He is currently serving a three-month suspension from the council having been found to have breached the code of conduct by the ombudsman for his involvement in an incident two years ago.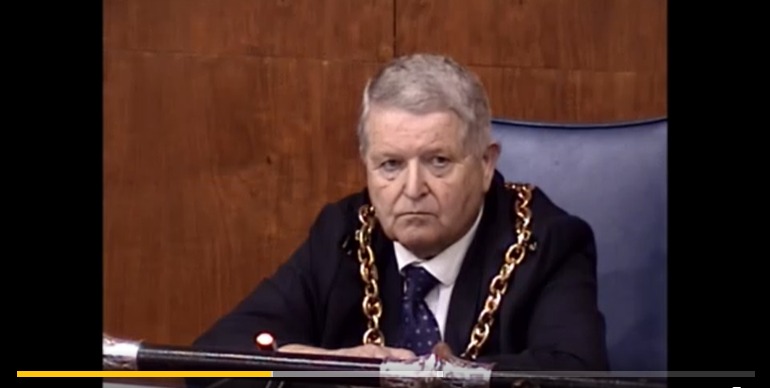 Opposition councillors were unhappy about the selection process to choose the successor to current Mayor, Whitegate Cllr Brian Cameron (Lab), which also saw Marford and Hoseley Cllr Beryl Blackmore (Ind) put forward as Deputy Mayor.
Having gone back to the behind-closed-doors working group, Cllr Williams was put forward as the nominated candidate to become Mayor in a bid to unite the council.
But this still did not sit well with opposition leaders at this month's meeting.
Grievances around how the selection process unfolded were again aired by Ruabon Cllr Dana Davies (Lab) and Grosvenor Cllr Marc Jones (Plaid), who had met with the council's leadership after the last meeting to try and find a way forward, but without success.
Cllr Jones claimed the role of Mayor was dangerously close to becoming a political 'gift' bestowed on members of the ruling Independent / Conservative administration.

He said: "Becoming the Mayor is considered the highest civic honour the council can bestow on members and for as long as I can remember this has been done consensually with broad agreement across the political spectrum."
"My contention tonight is that it has become a political gift. The reason that the Labour nomination for Mayor is not acceptable with the ruling coalition is that they have to rule every aspect of this council.
"If we look at the last 10 years, the period the ruling coalition has been in control, we see just one non-coalition Mayor."
Cllr Jones pointed out that previous Mayors, including Llay Cllr Rob Walsh, Cartrefle Cllr Ronnie Prince and next Deputy Mayor Cllr Blackmore had all been nominated shortly after joining the ruling group, although he had no problem with them as individuals or with Cllr Williams – but that he would not be supporting his nomination.
He added: "How else do we describe this process where people have to join a certain political group in order to become Mayor?
"This more than anything discredits and undermines the role of the Mayor.
"In any normal year I would have no problem with the name put forward. Cllr Andy Williams was one of the best Mayor's of recent years and I have great respect for him as an individual and what he does in the community."
Deputy leader Johnstown and Pant Cllr David A Bithell refuted allegations the constitution working group, on which he sits, had acted inappropriately but in good faith.
Leader of the council Esclusham Cllr Mark Pritchard was also adamant "due process" was followed.
Current Mayor, Cllr Cameron, whose term ends next month, spoke of his pride and honour serving in the role, and called for group leaders to get together and establish a fair protocol for selecting the Mayor in future.
He said: "I've served this position with pride and honour as every other Mayor has done.
"I think it's an important role for Wrexham and I think it is important it is done in the right way."
When the vote was taken, the nomination of Cllr Williams was taken forward and he will become Mayor again next month at the annual ceremony.