A WREXHAM road which has been closed for two years is unlikely to re-open in the next 12 months.
The B5605 road in Newbridge was closed in January 2021 after being damaged in Storm Christoph.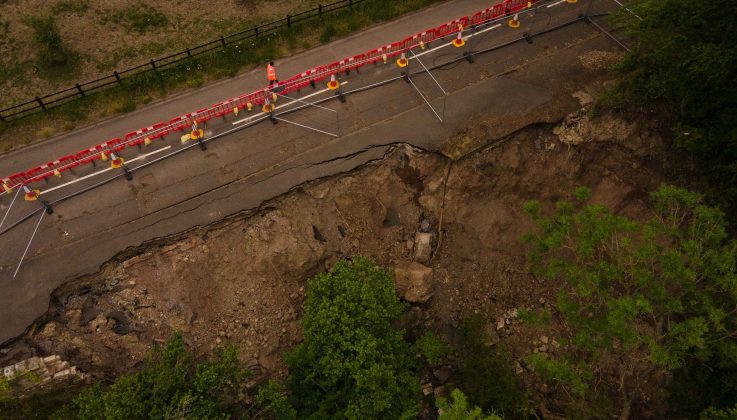 Speaking at a Wrexham Council media briefing, deputy leader, Cllr David A Bithell, former lead member for environment and transport, but now lead member for housing, said progress is being made with the authority hoping to appoint contractors to work on repairing the road soon.
But even then it is likely to be at least a year before it is ready.
The road has been closed since January 2021 when heavy downpours during the storm caused part of it to collapse down an embankment.
It serves as a busy route for local people and also acts as a diversion from the A483 bypass.
This wait has led to a lengthy period of frustration for motorists, and residents living nearby, who have been forced to take lengthy diversions to get to work or take their children to school.
In May, the Welsh Government announced it would be providing £2.8m in funding to Wrexham Council to cover the cost of the repairs, and geo-technical work began in the autumn.
Cllr Bithell said plans for the repair of the road have since been drawn up as a result of that work.

"There have obviously been quite a lot of issues with the land slipping so we appointed a geo-technical consultant as we don't have that expertise in the council", he said.
"They have got a design now for the road, my understanding is it's going out to tender in the near future with a plan to hopefully get somebody appointed in time for the autumn.
"Hopefully, subject to the tender exercise, we'll appoint someone to design and construct the new bridge.
"The footpath on one side where it slipped will be narrower because it's a really wide footpath there.
"The work will take approximately 52 weeks from that stage so it's not an ideal situation, we'd have liked it all done by now but we've been waiting for the geo-tech people to give advice to the council, they are experts in that field.
"We need to make sure that what is built is there for the next 50 or 60 years. We don't want to build another road or bridge there and we have a similar occurrence."
Cllr Bithell added: "It is frustrating, I know Ken Skates (MS) is concerned about the road network and so are we because it is a diversionary route, people having to go through Llangollen and Trevor, it is affecting people especially when there is A483 work.
"Everybody is working in the right direction to get an end result and get the work started."