Santa arrived in style for the big Christmas lights switch-on at a care organisation.
Father Christmas was travelling on an illuminated state-of-the-art sleigh made by the talented maintenance team at Pendine Park in Wrexham.
The bearded man of the moment and his entourage of elves were given a rousing cheer by the delighted residents and staff.
According to Pendine Park Artist in Residence Sarah Edwards, it was one of the most exciting days of the year.
She said: "The Christmas lights switch on and Santa arriving with his sleigh is always a highlight of Christmas celebrations here at Pendine Park. The residents and staff all love it.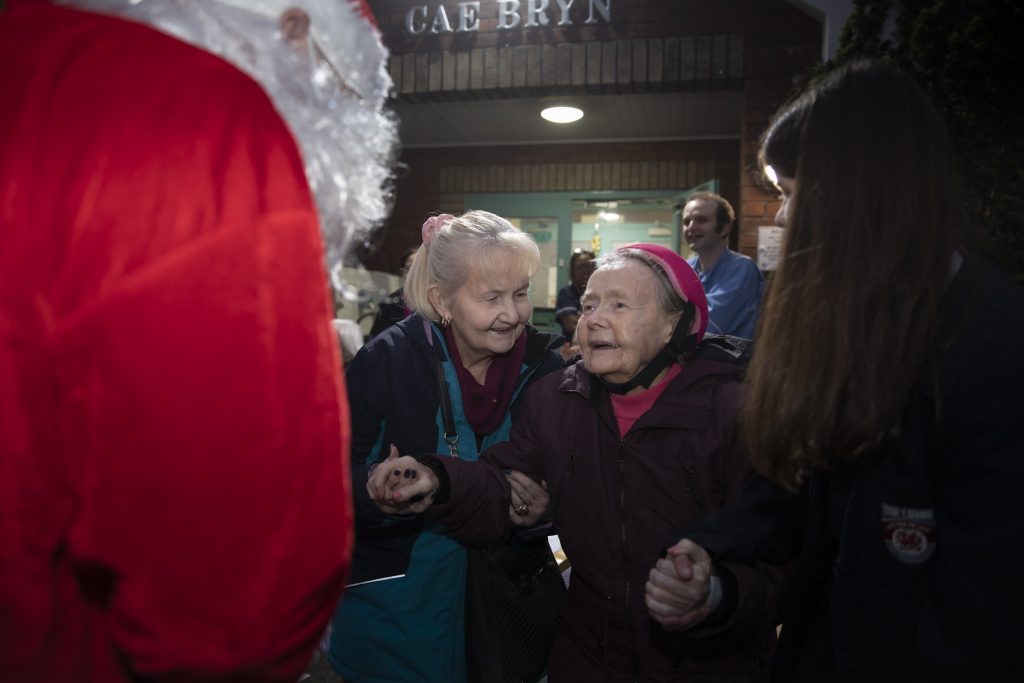 "This year it was especially jubilant as it is the first time since the pandemic that we have been able to have family members here to enjoy the switch-on and we didn't have to wear masks."
Among them was Megan Bettinson, whose mother-in-law, Eluned is a resident, who said it was a joy to be able to bring along her son JJ, aged five, and his friends Killian, six, and Lilth, five.
She said: "We cannot praise the staff at Pendine Park enough. They look after Eluned so well, there's a hairdresser and she even had her eyebrows tinted the other day. She looks great and has made so many new friends here. The chance for her to interact socially with other residents has been invaluable.
"It's been lovely watching the lights switch on with everyone else."
Eluned was thrilled to have her grandson nearby and to see his beaming smile as Santa arrived.
Sarah added that everyone wanted to say a great big thank you to the Pendine Park maintenance and garden team and their pals who worked so hard to make the sleigh ride an extra special success.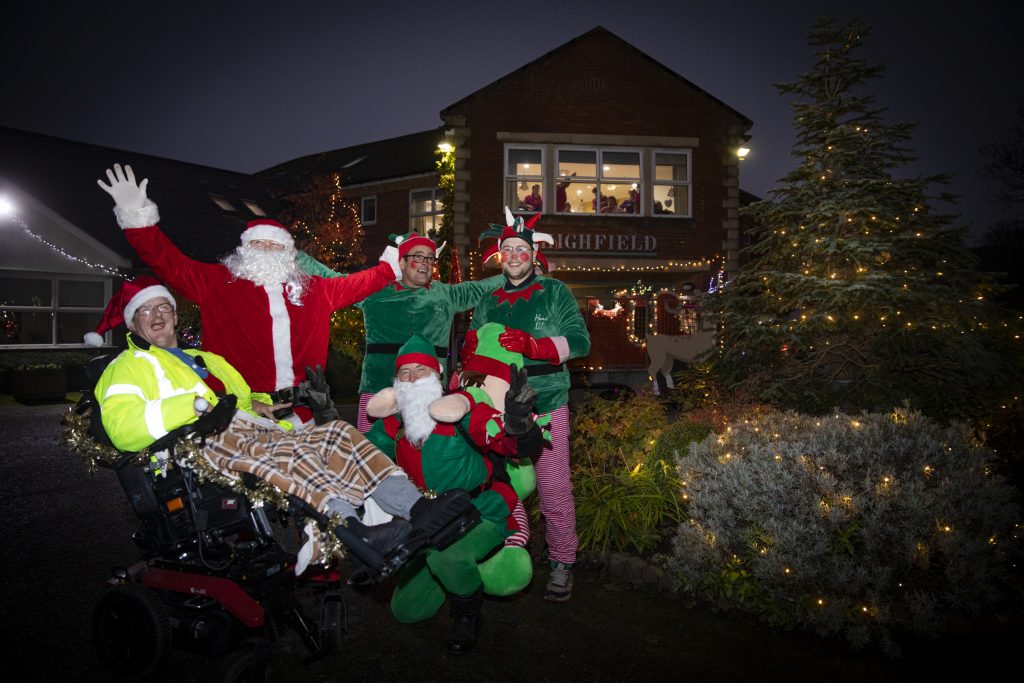 She said: "Every year they go over and above, decorating the sleigh in their own time and putting their hearts and souls into making this such a happy occasion for all. We really can't thank them enough."
This year Santa's team of helpers included an elf from Sweden, Sven Blomqvist who is retired and now lives in New Broughton, near Wrexham.
He saddled up on his trusty vintage motorbike all lit up with fairy lights to escort the sleigh along with fellow elves, Karl Edwards, and George Woodward, who followed the sleigh on his quad bike.

Sven and Karl are not full time members of the maintenance team but friends of the crew.
Karl's mum was once a Pendine resident so it was important to him to ensure that the residents had a fun-filled festive time.
Also playing a key role was maintenance team member Paul Morris who delighted in spreading Christmas joy.
Lee said: "The whole crew gets behind this event without hesitation."
The parade is always brilliantly led by Pendine resident Stephen 'Speedy" Roberts, who travels in his wheelchair ahead of the decorated sleigh.
Lee said: "Speedy is an honorary member of our maintenance team. Every Thursday he joins us and is always ready to help with any number of tasks. He's a real hero so it's only right that he should lead the procession."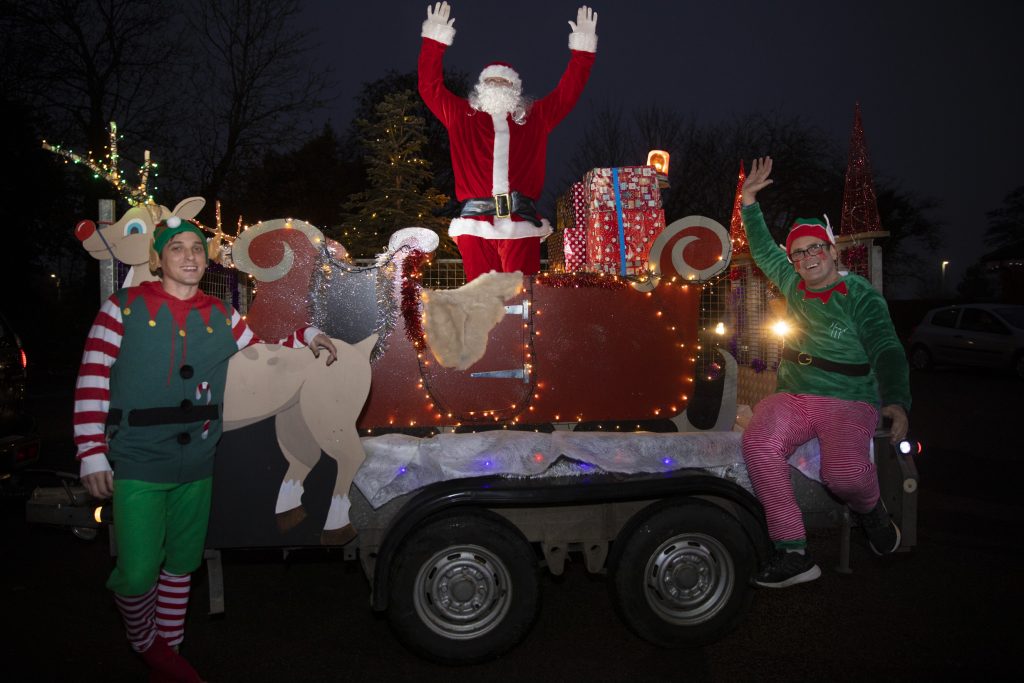 Fellow Pendine resident, Coral Pickard, 88, said the sleigh, with music blasting out, was 'brilliant'.
She said: "I've loved it. I feel really Christmassy now, everyone is so cheerful and there's a good mood in the air. That's the best present that Santa could have brought us."
Pendine Enrichment and Activities coordinators Elaine Lee, Chris Lewis and Nicky Clark said it was wonderful to hear the cheers of residents and their families.
Nicky said: "It's great to have everyone out clapping along again and singing the festive tunes we all know so well."
Residents Tony Ithell, Georg Ullman and Tracy Wilde wrapped up warm and donned tinsel scarves to have their photographs taken with Santa.
Giving a big thumbs up to the celebration Tony said it was cold outside but a heart-warming occasion for everyone to join in.
Sarah Edwards added: "It's been an emotional evening and so lovely to experience. We thank the whole festive sleigh-ride team for lighting up everyone's faces with joy."