WREXHAM Council is a step closer to being taken to court over its refusal to adopt a Local Development Plan.
An extraordinary council meeting has been called for next Wednesday where all 56 councillors will be asked to vote again on the LDP.
The meeting comes as members of the private sector have brought a judicial review against the authority.
A judicial review is a court which sees a judge look at the lawfulness of a decision or action made by a public body, looking at the way in which the decision has been made, rather than the rights and wrongs of the conclusion reached.

Producing an LDP is a requirement of local authorities by the Welsh Government.
Wrexham's proposed plan was drafted to allocate sites where around 8,000 homes and major developments could be built in the county borough.
This went out to public consultation five years ago before being examined and tweaked by the government and independent inspectors who deemed the plan sound to adopt earlier this year.
Despite being warned that not adopting the LDP would leave the council open to a judicial review and the costs that come with it, it was rejected with concerns about some of the sites included in it and the overall impact on the city's infrastructure.

Speaking at a Wrexham Council media briefing, chief executive Ian Bancroft said legal advice has been sought which "very strongly" advises the council has little chance of successfully defending its position on the LDP. But despite this, it is up to councillors to vote the way they wish to next week.
"We've had a judicial review case opened against us after the council decision", Mr Bancroft said.
"King's Counsel opinion says we won't win that and should advise on this basis.
"The legal opinion is we have made an unlawful decision, that it will be overturned and if we contest it, it will incur significant costs. It's still a democratic decision but we need to provide that additional information to council."

He added: "It's private sector that has come to us and made that Judicial Review, it's not Welsh Government."
Leader of the council, Esclusham Cllr Mark Pritchard (Ind) spoke against the LDP at the April meeting, and said he would be happy for the decision to go in front of a judge.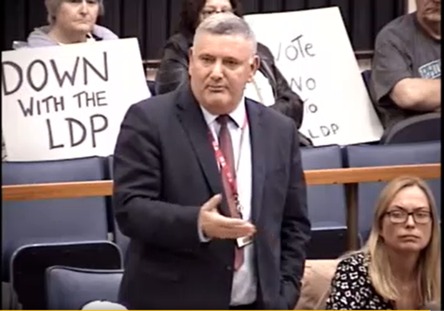 "The most important thing is democracy, it overrides everything, that's what keeps us safe and that's what keeps us different from other countries across the world", he said.
"Money should not come into it. The democratic process has taken place in that chamber. The sovereignty of that chamber stops within Wrexham, not with the Welsh Government, certainly not with (First Minister) Mark Drakeford making a comment about it.
"The reason being given why this meeting is being called is because of costs. Is that a legitimate reason to call another meeting? I don't believe it is because we've had our decision and we should now let it go through the law and let a decision be made.
"It is an attack on democracy in my opinion. We've had a vote, a decision was made and we should all respect it but it's not happening, it's coming back to the chamber."
"Everything is on the table here. What are we here for?"
He added: "We were elected through the democratic process to represent our constituents and now we're being told it's got to come back to the chamber.
"What happens if that LDP falls again? Do they bring it back again?
"I respect the law but we are not breaking the law. We have been told we can vote whichever way we want to, so we're doing nothing wrong.
"Let a judge make a decision. It's over and above our head now and that's the way it should be. I am staggered, I've never known anything like it.
"I've expressed my concerns to the chief executive, I've expressed them to the monitoring officer. It's just undemocratic and it's wrong what's going on. I'm not prepared to accept it and I'll fight it tooth and nail but I will respect the law when a decision is made by the judge, absolutely.
"There's a difference between the democratic process and the law. Elected members can vote whichever way they want to in that chamber, they can't be forced to vote any way.
"We're in unchartered waters here, it's bigger than Wrexham and that's why it needs to go to a judge."
Cllr Pritchard said no correspondence had been received from Welsh Government since the last meeting and he felt critical public comments made by Mr Drakeford afterwards were uncalled for.
He added: "Otherwise what's the point of us being there? We may as well just hand the keys over to the officers and let them run the council, then there'd be no democracy here at all."
The LDP has divided opinion amongst councillors. Deputy leader, Pant and Johnstown Cllr David A Bithell voted for it last time and says he will vote in favour of it again.
Leader of the Conservative group on the council, Rossett Cllr Hugh Jones has indicated that he will vote against it.
Plaid Cymru group leader, Grosvenor Cllr Marc Jones says his members have a number of questions.
He said: "Plaid Cymru's position on the Local Development Plan has been consistent for the past decade.
"We've argued that it is not a plan for local communities because it allocates land for land based on a flawed population projection that expected the borough's population to grow by 10 per cent. The reality is that it has been static for five years and is projected to decline further by about 2 per cent in coming years.
"This makes a nonsense of the LDP's proposal to allocate greenfield sites for huge executive housing estates on two sides of the town.
The LDP was also flawed because the initial allocation of affordable housing was halved by planning inspectors – at a time when the council housing waiting list has trebled in the past three years.
"This latest legal threat, which we as councillors have not had sight of despite repeated requests, needs to be considered carefully. It's regrettable that councillors have not been allowed to see either the legal papers filed or the council's response.
"It's a matter of democratic transparency that elected councillors have sight of the papers filed against the council, the counsel's opinion and the council's responses to the Judicial Review.
"How else are we meant to make an informed decision unless we're going to be commanded to vote for the LDP, with all its failings?
"Until we have sight of that information, it would be premature to make a decision on how we will vote as a group but it's safe to say that Plaid Cymru councillors will be consistent and back the community, the environment and the principle of democracy as we have throughout this process."
The extraordinary meeting takes place next Wednesday (June 14).