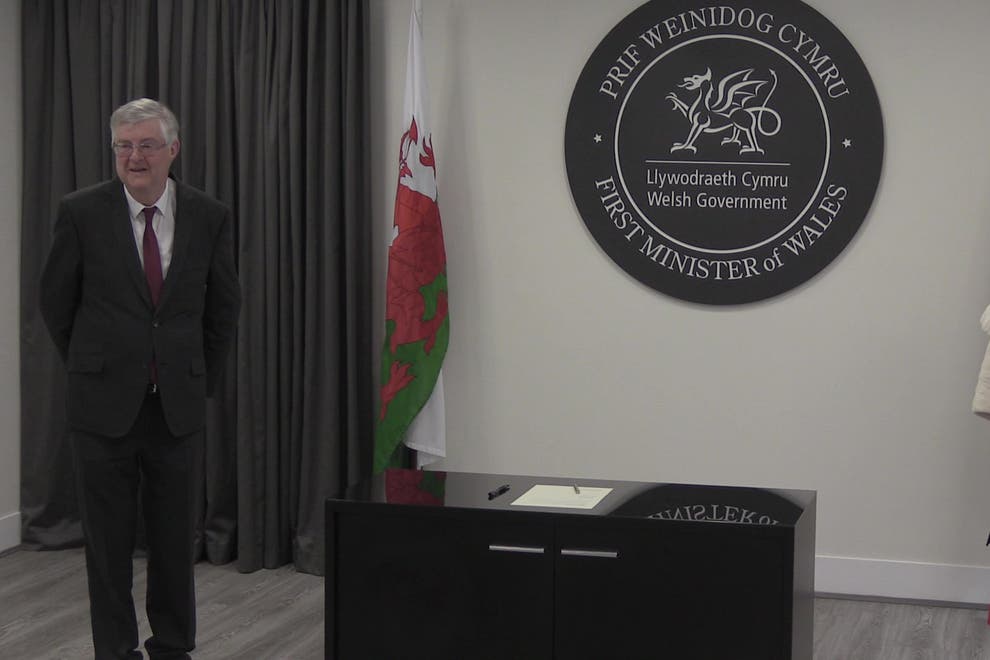 FIRST MINISTER Mark Drakeford has announced his new cabinet today (May 13), and there are some major changes to key ministerial positions.
Eluned Morgan has been named health minister with Jeremy Miles at education in a Welsh government reshuffle.
Of the 14 ministerial or deputy roles announced, nine are held by women and five by men.
Two backbenchers, Dawn Bowden and Lynne Neagle, have been given roles as deputy ministers, Heald.Wales can confirm.
When asked if being in the middle of a pandemic was the time to change health minister, Mr Drakeford said: "We're not in the middle of it. We are emerging from it and the position we are in in Wales today; we have the lowest number of deaths anywhere in the UK and the best vaccination figures anywhere in the UK.
"We are extremely fortunate we have had Eluned Morgan as a health minister in cabinet in the recent party which means she is in the best position to take up the responsibilities that are still with us due to the pandemic but also rebuilding the health service.
"I think we are very fortunate to have Vaughan Gething, with all that he brings, to focus on that economic dynamic and Eluned Morgan with all her experience and ability with rebuilding."
In a surprise move, Vaughan Gething moves from health to economy, replacing Ken Skates who leaves the government.
Ken Skates says he wants to focus on his constituents, and he also has a young family, but Mark Drakeford says that his job will be "strengthening Welsh Labour in North Wales in preparation for next year's local government elections and the next UK Parliamentary election".
"He will also strengthen Labour links between North Wales and North West England."
A key job as Labour battle to maintain their "red wall" in Senedd constituency terms and rebuild it in Westminster terms.
The First Minister told reporters: "Ken has been a real strength in cabinet and a voice for north Wales. He will continue speaking up for North Wales and for Welsh Labour but in a different role. We will miss his energy and passion.
"Vaughan becomes economy minister at a crucial point in time – the pandemic is not just a public health emergency but also an economic one."
Mark Drakeford was sworn in as first minister earlier, after Senedd members backed him to continue in the role on Wednesday.
Labour won 30 of the 60 seats in the Welsh Parliament in last week's election.
Both Mr Gething and Mr Skates had been in their previous posts for five years.
Mr Gething had a particularly high profile as health minister during the pandemic, in leading the response to the coronavirus crisis alongside Mr Drakeford and the chief medical officer.
The former health minister, he said, was taking over the economy job "at a crucial point in time – the pandemic is not just a public health emergency but also an economic one".
Conservative Senedd group leader Andrew RT Davies said his members would "scrutinise and hold ministers to account, but will also offer the hand of cooperation where possible to ensure Wales bounces back from the most difficult year we've experienced".
"It's in this spirit that I want to wish the first minister and his new cabinet well as they start the significant task of ensuring our economy and public services get on the road to recovery," he said.
The new cabinet in full:
Mark Drakeford – First Minister
Mick Antoniw – Counsel General designate and minister for the constitution
Rebecca Evans – minister for finance and local government
Vaughan Gething – economy minister
Dawn Bowden – deputy minister for arts and sport and also chief whip
Lesley Griffiths – minister for rural affairs and north Wales and also Trefnydd
Jane Hutt – minister for social justice
Hannah Blythyn – deputy minister for social partnership
Julie James – minister for climate change
Lee Waters – deputy minister for climate change
Jeremy Miles – minister for education and the Welsh language
Eluned Morgan – minister for health and social services
Julie Morgan – deputy minister for social services
Lynne Neagle – deputy minister for mental health and wellbeing
Written Statement: Cabinet appointments to the new Welsh Labour Government
THIS Senedd term will bring with it new challenges and new opportunities.
For the last 15 months, we have focused all our attention and our energies on responding to the pandemic – a public health and economic emergency, which has cast such a long shadow over all our lives.
Thanks to the hard work and effort of everyone across Wales and the enormous effort to vaccinate people against this terrible virus, our future looks much brighter today.
Our focus is now on recovery – recovering from the pandemic and rebuilding Wales into a stronger, greener and fairer country.
My new Welsh Labour Government combines experience and new talent to shape our future and create the jobs and opportunities we need as we move into the next chapter.
The environment will be at the heart of our decision-making. The climate change emergency has not gone away while we have been dealing with the pandemic. Wales is a beautiful country with immense natural assets, which will help power our recovery and create the jobs of the future.
In my new government, the environment will not just have a seat at the Cabinet table; it will be a consideration in everything we do.
This new Cabinet is ready to get to work to set Wales on the path to recovery out of this long pandemic, which has cast such a shadow over all our lives. This is a talented and committed team, determined to make a positive difference to Wales and for Wales.
We will use all our efforts and energies to create a stronger, fairer and greener Wales,
where no one is held back or left behind.
The new Welsh Labour Government
Related posts