WRU and players thrash out an agreement
Further talks next week
WRU Interim Chief Nigel Walker accepts WRU made mistakes
Ken Owens says Welsh rugby has become "a laughing stock"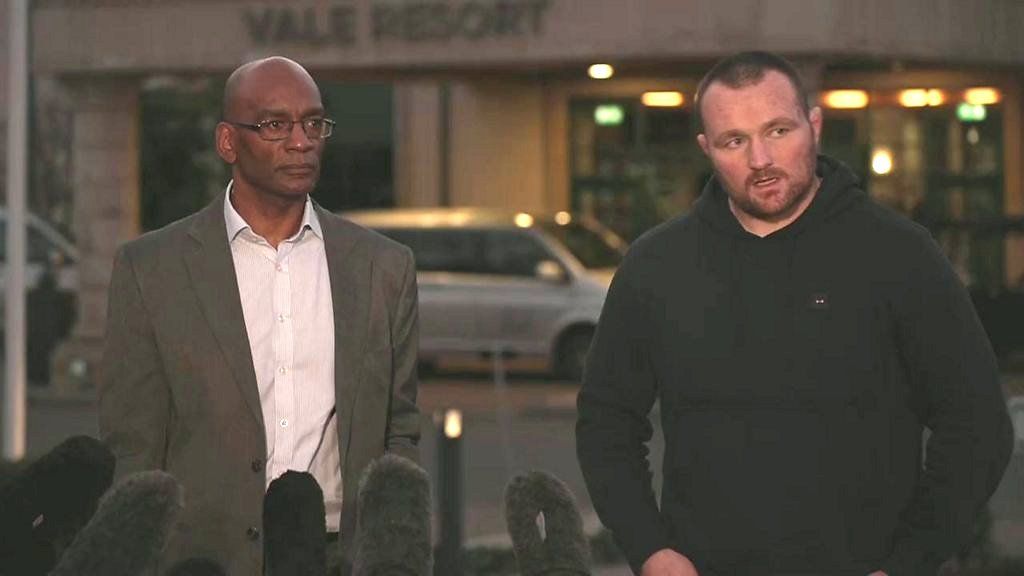 SATURDAY's Six Nations fixture against England will take place.
Wales's skipper Ken Owens and Interim WRU head Nigel Walker announced the news at a hastily arranged news conference outside the Welsh team's training base on Wednesday evening (February 22).
The breakthrough followed a day of intensive talks between the Union, regional players, senior international squad members and players' representatives.
As part of the deal, the Union will scrap the 60-cap rule and reduce the cap threshold to 25. That means players contracted to the regions with over 25 caps who leave to ply their trade elsewhere can still be considered for selection. The caps rule never affected players not contracted by Welsh regions, meaning stars like Louis Rees-Zammit were eligible for selection.
And concessions were also made on player pay, with those contracted to regions given the option of a higher salary achievable by results or a lower but guaranteed salary.
A freeze which stopped players due to be out of contract with their regions from negotiating with clubs outside Wales will end next week.
Nigel Walker said: "I'm pleased to announce that after extensive conversations and discussions over the last week, the Wales-England game will go ahead as scheduled.
"It's important that going forward, we continue the dialogue we've had over the last week or so, but not under the circumstances we've had.
"Ken and I and some of the senior players will meet more regularly than we have been."

Welsh skipper Ken Owens's hoarse voice betrayed the strain players have felt.
"It's disappointing it got to this stage," the Scarlets hooker said, "but, to be frank, we had to take a stand.
"We are satisfied," Ken Owens continued, "and that's why the game is taking place on Saturday. It's been another tough event in Welsh rugby, which is hugely frustrating. But it's been a difficult situation for the last year to eighteen months."
Looking forward to the England game, Ken Owens said the squad had prepared with the same intensity and focus as they would for any international and looked forward to "going toe-to-toe" against England on Saturday.
However, the skipper sounded a cautionary note.
"It's got to be a long-term solution. Welsh rugby can't keep going on this merry-go-round of crisis after crisis. It's affecting everybody in the game: players, supporters, administrators and grass-roots clubs.
"With the events of the last six-to-eight weeks, we really need to pull together now to find the best way forward. We must do it collaboratively together to put Welsh rugby back at the top end of world rugby and not the laughing stock which I think we are at the moment."
Nigel Walker, who must harbour misgivings about taking up a poisoned chalice from former WRU CEO Steve Phillips, said: "We, as the PRB (Professional Rugby Board), shouldn't have put the players in such a difficult position. Once players respond the way they responded, you know you've got something wrong. The two of us (indicating Ken Owens) have resolved to ensure we don't get in that position again. We must ensure that dialogue takes place every week and every month from here on in."