THE OUTGOING Mayor of Bridgend, Councillor Martyn Jones has described his experiences in what he says was 'a fabulous and eventful year in office' this year, at the Annual Meeting of Council where a new mayor and council leader were announced.
Councillor Jones, who represents Garw Valley took the position in one of the more turbulent times in recent British politics, that saw no less than three Prime ministers, the death of the monarch, and a cost of living crisis that has left many across the country struggling to make ends meet.
He said: "Fulfilling the role of Mayor has been a privilege and an honour, especially given the difficult circumstances of the recent global pandemic and the ongoing cost of living crisis.
"It didn't feel right to be campaigning for money, when some families are struggling to put food on the table. Instead of focusing upon my own appeal, I decided to use the position of Mayor to support as many existing charities and community events as possible, both in the county borough and beyond.
"This has enabled me to meet a huge number of people, and to interact with numerous worthy causes. Whether it was a community event, a charitable fund raiser, an evening concert, an award ceremony or more, I was always struck by the fact that Bridgend County Borough is rich with incredible people who make a positive contribution to local life – not for recognition or personal reward, but to support others.
"In lieu of a consort, I decided to invite different people to join me at these events so they could share the experience and see for themselves the good work that is taking place within our communities.
"Our annual Mayor's Citizenship Awards clearly identifies and highlights this positivity, and I was delighted to be able to acknowledge this during my year in office by congratulating numerous people who go the extra mile in contributing towards community life.
"As you might expect, several events stood out for different reasons. The passing of Queen Elizabeth II was sudden and unexpected, and during the period of mourning, I attended many church and cathedral services and witnessed the deep respect that was shown to the late sovereign. It was a real honour when I was asked to read the proclamation announcing her passing, and to mark the start of the reign of King Charles III.
"Another event that stood out for more cheerful reasons was a gathering of vulnerable children and young people who had completed the adoption process, and who were marking the occasion alongside their new families with a special celebration.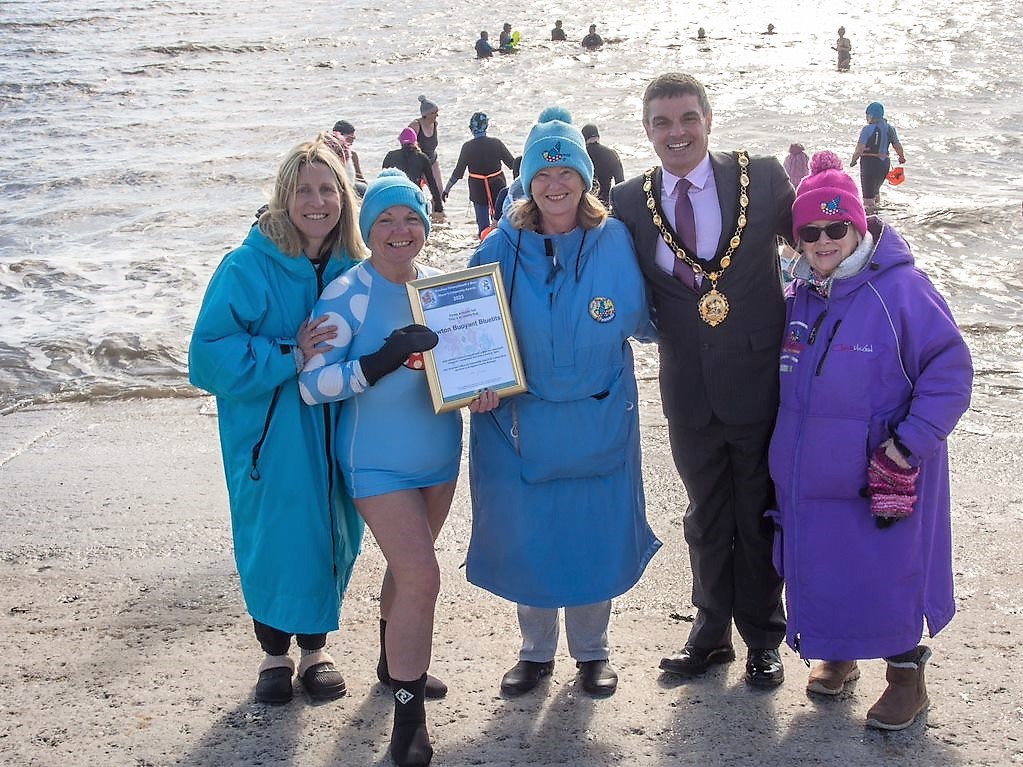 "Witnessing their happiness, joy and hope was inspiring and extremely emotional, and the event ably demonstrated the incredible work that continues to take place within the council and among its many partners to help those who have not had the best start in life.
"I have thoroughly enjoyed my year as Mayor of Bridgend County Borough. It has been a rewarding, informative experience, and I want to thank everyone who has supported me or who has helped to make it such a success."
Councillor Jones will now be succeeded in the role by the new mayor, Councillor William Kendall, who said he was also honoured to take up the position.
A resident of Brackla, Councillor Kendall will be accompanied during his year of office by his wife, June, and intends to support Wales Air Ambulance as his mayoral charity.
He said: "This is a tremendous honour, and I appreciate the trust and confidence that has been placed in me. I want to assure residents of Bridgend County Borough that my tenure will be marked by transparency, inclusivity, and a steadfast commitment to serving the best interests of each and every one of you.
"My previous year spent acting as deputy mayor was extremely enjoyable and also educational, thought-provoking and informative. I thoroughly enjoyed meeting people, finding out about their backgrounds and discovering the many different ways in which we all come together as a community to offer one another support and help.
"I am looking forward to the year ahead, and promise that I will carry out my duties with dedication and integrity as I seek to help citizens realise their aspirations, and to work alongside others to make Bridgend County Borough an even better place to call home."