A CARDIFF mother grieving over losing her baby boy has opened up on her desperation to get her family out of "dangerous" temporary accommodation.
Mandy Smith moved out of her home following the death of her 8-week-old son in 2021, as living so close to the trauma became too much for her to bear.
She initially went to live with her mother before moving into a hostel for six weeks.
After this, she was placed in temporary accommodation leased by Cardiff Council on Penarth Road in Grangetown.

That was nearly two years ago and since then, Mandy said she has had to put up with peeling plaster, mould, and a pile of rubbish left by the previous occupant in the property's backyard.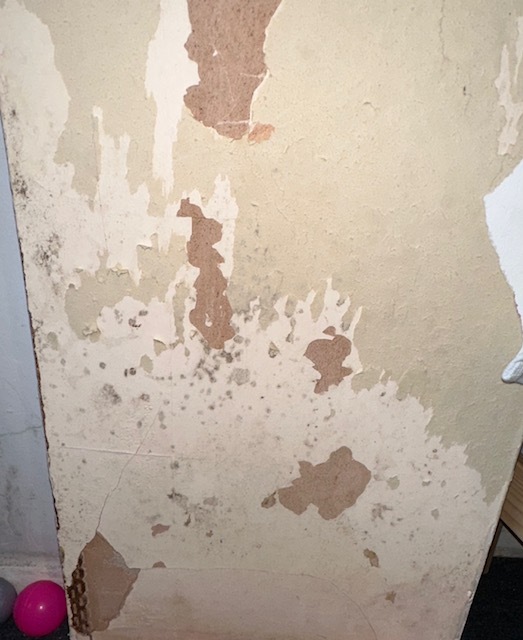 More recently, the mother of two said someone had left a spoon containing heroin in her letter box.
"I want out of here," said Mandy, 24.
"We would be safer being back in a hostel because at least we are under watch and then no one can take drugs or leave their paraphernalia all around their hallway.

"My four-year-old daughter picked up a heroin spoon with heroin on it.
"She could have ingested that and died.
"I am already grieving for my son."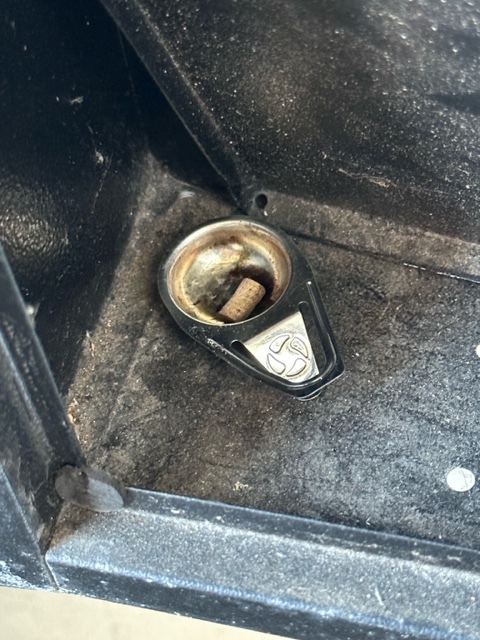 Mandy's son died of sudden infant death syndrome (SIDS) in June 2021.

On why she moved out of her home at the time, she said: "It was too much. I was traumatised.
"I couldn't walk into the property. My mum had to go and clear all of my stuff.
"Because it all happened there, I could never return again."
A number of inspections and repairs have been carried out at the property, which is owned by Cadwyn Housing Association, and the council said it is scheduled to make another visit this month to carry out more works.
When Mandy first moved in in January 2022, she said there was a pile of rubbish at the back which included mattresses, a sofa and other discarded items.
This is still there, along with an abandoned car which takes up a large portion of this outdoor space.
Mandy said it has been "absolutely terrible" living with the issues at the property.
She said: "I have been on [the council's] case about the car and the rubbish since I first moved in.
"Because it was January, I was trying to get it ready for the summer. They promised me that they would have it done.
"We have been trapped in this house for the whole summer because all of that junk is out there."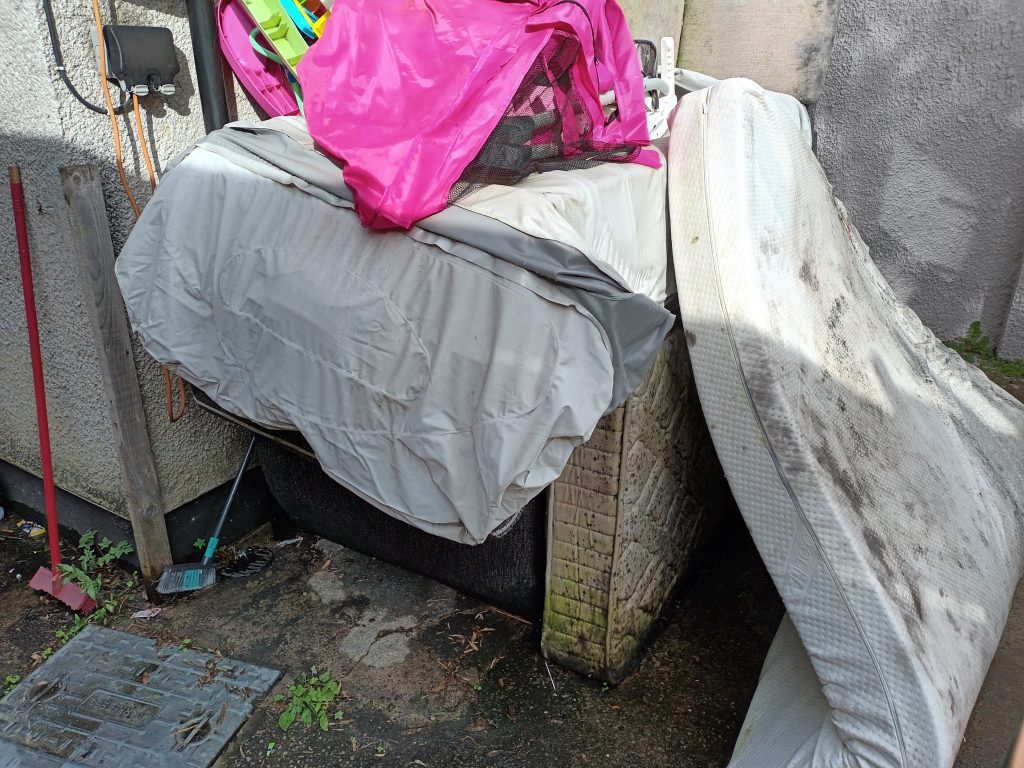 Cardiff Council said that once it was made aware of the issues which were reported, it spoke with Cadwyn Housing and was given assurances that action was being taken.
The local authority also advised Mandy to contact the police in relation to the drug paraphernalia and discussed making a referral for support.
Cadwyn Housing said they worked with partners to ensure the safe removal of any dangerous objects found at the property and have arranged for the collection of other waste in the garden.
Mandy said one of her daughters choked on plaster which had been peeling from the walls and suspects that mould in the house is leading to her baby's respiratory problems.
She added: "I don't understand why they are leasing this place to kids if they have no garden. It is just disgusting.
"The living environment is just disgusting.
"They think that because I have a two bedroom property, that is okay."
Other paraphernalia that Mandy said she has spotted just outside her home includes used needles.
Mandy said: "I wouldn't mind if the property was safe.
"[But] there's nothing to be grateful [for] here because it is completely dangerous and unsafe."
A Cardiff Council spokesperson said: "The council operates a scheme whereby we lease properties from private landlords and housing associations to help us deal with the high homelessness numbers that the city is facing.
"As part of this scheme, we operate as a managing agent whereby the landlord is responsible for some issues and the council for others under the lease agreement.
"In this case the council is the managing agent for one apartment in a block which belongs to a housing association.
"Once we were made aware of the issues reported, we spoke with the Housing Association which assured us that action is being taken on these legitimate concerns.
"We are currently waiting for an update on the situation from the Housing Association, but they have also assured us that they are investigating and addressing the ASB, rubbish and vehicle issues.
"The council has advised the complainant to contact the police in relation to the drug paraphernalia and discussed making a referral for support.
"As managing agent for the apartment, the council has carried out some repairs and we are scheduled to visit this month to carry out more works which should fix any issues with damp.
"Right now, there is a severe shortage of affordable housing in the city, and we have more than 8,000 applicants on the housing waiting list.
"Our temporary accommodation is operating at capacity with limited options for people to move on or into permanent housing solutions.
"In addition, more than 200 families are currently living in hotels so clearly increasing the availability of affordable housing is a priority for the council and our ambitious housing development programme has delivered almost 900 new council homes over recent years."
"We will also continue to work with housing association partners to support their development plans to increase the amount of homes for people that need them."
Cadwyn Housing Association issued the following statement on Penarth Road: "We're aware of issues reported at a Cadwyn property which is currently leased by Cardiff Council.
"The security of residents at our properties is the utmost priority and we act whenever we're made aware of problems.
"We've worked with partners to ensure the safe removal of any dangerous objects found at the property, and the collection of other waste in the garden has been arranged.
"We're regularly visiting the property to undertake repairs and improvements including the treatment of condensation and conducting a survey to identify and fix the underlying causes and prevent reoccurrences.
"We understand the impact this has had on the resident and her young family and we're actively working with both them and partner bodies to support their needs."