CARDIFF AIRPORT'S passenger numbers dropped to the lowest levels since the 1950s during the pandemic, its chief executive has said and uncertainty still remains about the Welsh Government's deal with Qatar Airways.
It paid the airline £1m to market Wales as a destination in 2018.
Spencer Birns told a Senedd committee this week that in 2020-21 passenger numbers fell from 1.6 million to 48,000.
As expected, Cardiff saw a bigger drop than other UK airports, as the Welsh government discouraged people from travelling overseas it was explained.
Cardiff Airport was bought by the Welsh government in 2013 for £52m, but in March a "worst case scenario" valuation estimated it could be worth as little as £15m due to the impact of the Covid crisis.
That estimate was revealed a week after ministers gave the airport a £42.6m grant and also wrote off a similar value of debt. Welsh ministers had "quite rightly", he said, been focused on health.
But what about Qatar? Its the flagship route for Cardiff. The airline now has more flights to Europe than anywhere else post covid. But because of the pandemic overall capacity in November 2021 is just 47% of what it was in November 2019. This contrasts to 64% for Emirates from Dubai and 48% for Etihad from Abu Dhabi – its two main rivals, according to experts.
Qatar Airways will serve 38 destinations across Europe, Turkey, and the Caucasus next month, down from 53 in November 2019 but Cardiff is still off the list for now.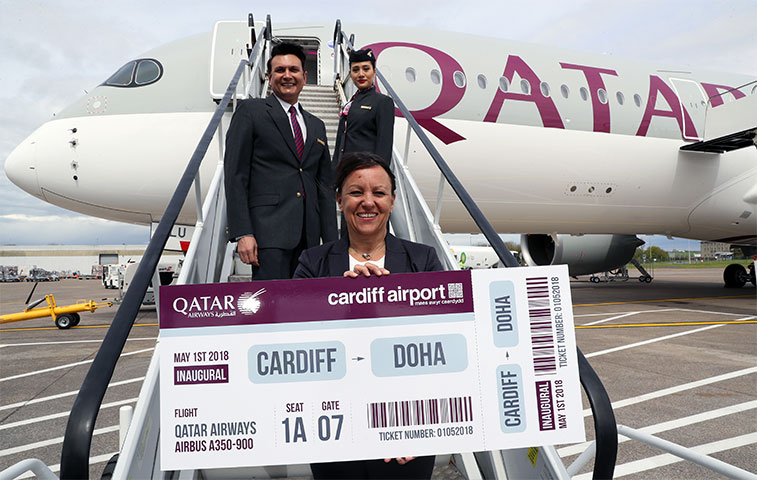 Heathrow is back on the information boards and now has more flights than any other route, followed by Paris CDG, Frankfurt, Istanbul Airport, Madrid, and Manchester.
But 15 routes which aren't operating yet, including Cardiff being on the no-fights list.
Adana, Birmingham, Geneva, Gothenburg, Izmir, Lisbon, London Gatwick, Malta, Nice, Pisa, Sarajevo, Skopje, Thessaloniki, and Venice were all served in November 2019 but won't be this month either. The airline told us that Geneva, London Gatwick, Venice – are bookable from March 27th, the start of the aviation summer season. Meanwhile, Adana will be back from June 1st and Izmir from June 2nd. But sadly it isn't clear whether or when Cardiff will return.
Qatar Airways will received £1m from the Welsh Government to market Wales as a destination around the world. It initially refused to reveal the cost, claiming it would compromise the economic interests of the country. The airline will also contributed £1m to the two-year partnership, which has an option to extend for a further two years for another £1m each. Its unclear if this will happen post-covid.
The chief executive of Qatar Airways told The Herald that he had to resist pressure from inside the company not to fly between Doha and Cardiff Airport.

Akbar Al Baker said there were "very strong arguments" from people inside the airline that there were not enough passengers to justify the new daily flight.
But he was be proved right in opting for Cardiff from May 2018, as passenger numbers were strong.
Exactly one year later, at the anniversary of the route, attended by The Herald team, Gary Kershaw, Country Manager (UK & Ireland) at Qatar Airways, told this newspaper: "We're proud to be in Wales and are excited at the strong start to our partnership with Cardiff Airport. It's a hugely exciting time for Qatar Airways. The demand from our UK destinations has never been stronger. That's why this summer we're providing our highest ever number of connections between the UK and the rest of the world.
"We want to thank Cardiff Airport and the Welsh Government for their continued support, as we look to offer new and exciting routes and destinations to customers across Wales and the South West."
On the same day, the then Minister for Economy and Transport, Ken Skates said: "Since being purchased in 2013, Cardiff Airport has gone from strength to strength and has achieved a 60% increase in passenger numbers. The number of destinations has increased significantly, and the launch of a scheduled daily long-haul Qatar Airways service puts Wales more firmly on the world stage, in terms of attracting both business trade and travellers. Customers continue to demonstrate increasing confidence in the airport and its services."
CARDIFF TO EDINBURGH BACK
In better news for Cardiff Airport, Loganair launched Cardiff to Edinburgh on August 2nd, a route long served by Flybe (2008-2020), along with bmibaby (until 2011) and CityJet (2014-2015).
As the CEO of Cardiff Airport, Spencer Birns, said: "We're pleased that Loganair has stepped in to re-establish a vital connection between Wales and Scotland with a regular Cardiff-Edinburgh service."
According to the UK's CAA, you can see why: the route had 43% of Cardiff's domestic passengers in 2019.
Despite 111,415 round-trip passengers in 2019, the airport-pair was one of the few larger domestic UK markets not quickly replaced following Flybe's demise. Loganair had announced it would operate from March 23rd, 2020, but it didn't do so from greatly reduced demand and easyJet's increased capacity between Bristol and Edinburgh.
CARDIFF TO PARIS ORLY
And the national airport for Wales is celebrating the first flight to Paris Orly with Vueling this week (Nov 3).
Customers on board the inaugural flight to Paris were surprised at the departure gate with fresh coffee, courtesy of Swansea-based coffee companySO Coffee, as well as croissants and pastries. A water cannon salute, co-ordinated by the Fire Section, marked the first outbound flight from Cardiff to the French capital.
The new route operates twice a week on Tuesdays and Saturdays between Cardiff and Paris, providing the opportunity for customers to book an exciting getaway to one of the world's greatest cities and explore all that Paris has to offer, from beautiful architecture galleries and museums, patisseries, shops and Michelin-star restaurants. Plus, it's welcome news for families wanting to visit Disneyland from their local Airport, with great fares available.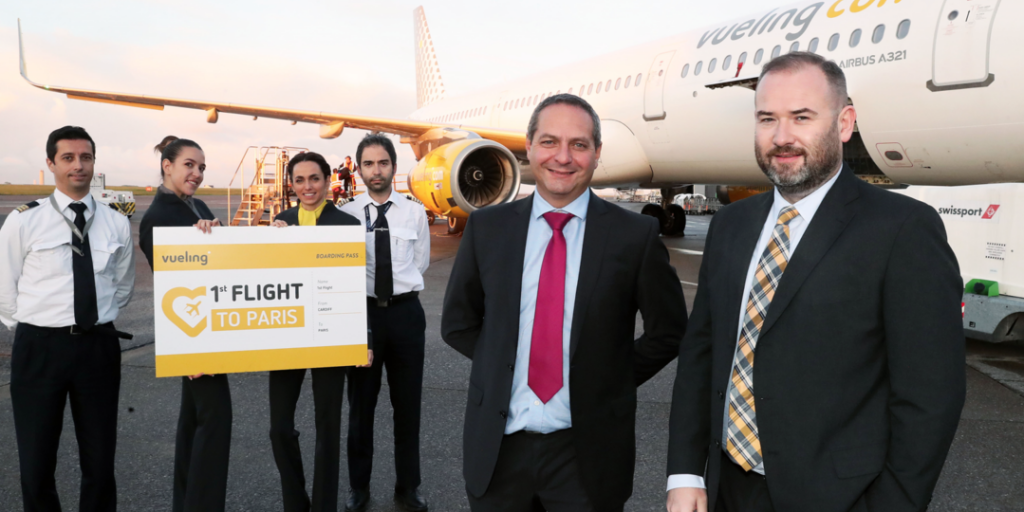 Spencer Birns, CEO at Cardiff Airport said: ""It's fantastic that we are once again able to offer our passengers the opportunity to easily travel to Paris, whether that's for a city break, a holiday to Disneyland, visiting family, or for business purposes.
"We've been working hard to restore key city links following the impact of the pandemic, and we have already welcomed back flights to Amsterdam, Edinburgh, Dublin, Belfast and now Paris. As one of our most in-demand routes, I'd like to thank Vueling for recognising the opportunity to provide flights to Paris from Cardiff, and for their continued support as our airline partner."
Calum Laming, Chief Customer Officer at Vueling added: "I am delighted to be here for Vueling's inaugural flight from Cardiff to Paris Orly.
"Vueling's goals are to continue to offer the best to our customers and also contribute to the tourism industry, and the choice to add one more route from Cardiff Airport, where we've been operating since 2012, contributes toward achieving these goals here in Wales and in the United Kingdom. We listen to our customers. They tell us that they still very much have the desire to travel, and we want to offer new destinations as well as great value fares for everyone – whatever the reason for travel".