A PRIMARY school's clothes and uniform swap shop has "really taken off", just weeks after it was launched to help ease the cost-of-living and reduce waste. 
It's now planned to also use the storage building as a "community fridge" – where people can collect donated food – and set up a home-grown vegetable exchange at the school, where the number of pupils entitled to free school meals due to low household incomes has rocketed.
The timber 'stable' style cabin is filled with donated clothes, coats, shoes and items like toiletries, toothbrushes and sanitary products which are free for anyone in the community to take, or at the cost of a suggested £1 donation for those who feel they can afford to make a payment at an honesty box. Any income goes back into the project.
The 'Community Cabin' only opened on the last day of term before the Easter holidays at Llantilio Pertholey Church In Wales Primary School in Abergavenny, but headteacher Helen King has said it has already proved its worth. 
"It has really taken off since we opened on the last day of the spring term, and it has been really well-received and we've also had people using it who aren't anything to do with the school as it is there for the community," said Ms King. 
"We've been staggered by the response, there have been amazing donations of clothing and people have been going in to take clothes out as well so it has been really good." 
The idea for the swap shop came after the whole school took part in a 'Our Planet/Our Future' project, in which pupils learned about sustainability and the wasteful nature of the fashion industry. 
"They learned about clothes and how they are made and how clothes can be worn for one season and then thrown away," said Ms King.
The headteacher, who has now added sorting through donated clothes and hanging them on rails for every year group to her list of duties, then hit on the idea of applying for funding for a project after attending a Monmouthshire council run workshop on tackling poverty. 
The school was awarded £70,000 from the Welsh Government for two projects which included the community cabin and funding a community theatre group to run weekly after school sessions and on-going work to create an amphitheatre in the school grounds for community use. 
Before setting up the uniform and clothes swap shop Ms King sent a survey to parents which showed concern at uniform costs. The head said the need to reduce waste can also help address any stigma around accepting, second-hand donated items. 

"I asked parents if it it was a facility they would want and whether that was for environmental reasons or the cost of uniforms," she said. "The results were a very mixed bag some wanted to use it for both reasons and some for sustainability reasons. 
"I was also aware as well some parents don't want to highlight they are struggling and we realised highlighting the environmental issues can get around that and lessen any stigma. 
"Children also grow so fast at our age so we've had donations of brand new clothes and it looks like a shop in the cabin, it has light and power, as I didn't want it to look like a jumble sale but a nice place to go. 
"The children have also been on board from the start and have designed posters that are used in the cabin and around the school."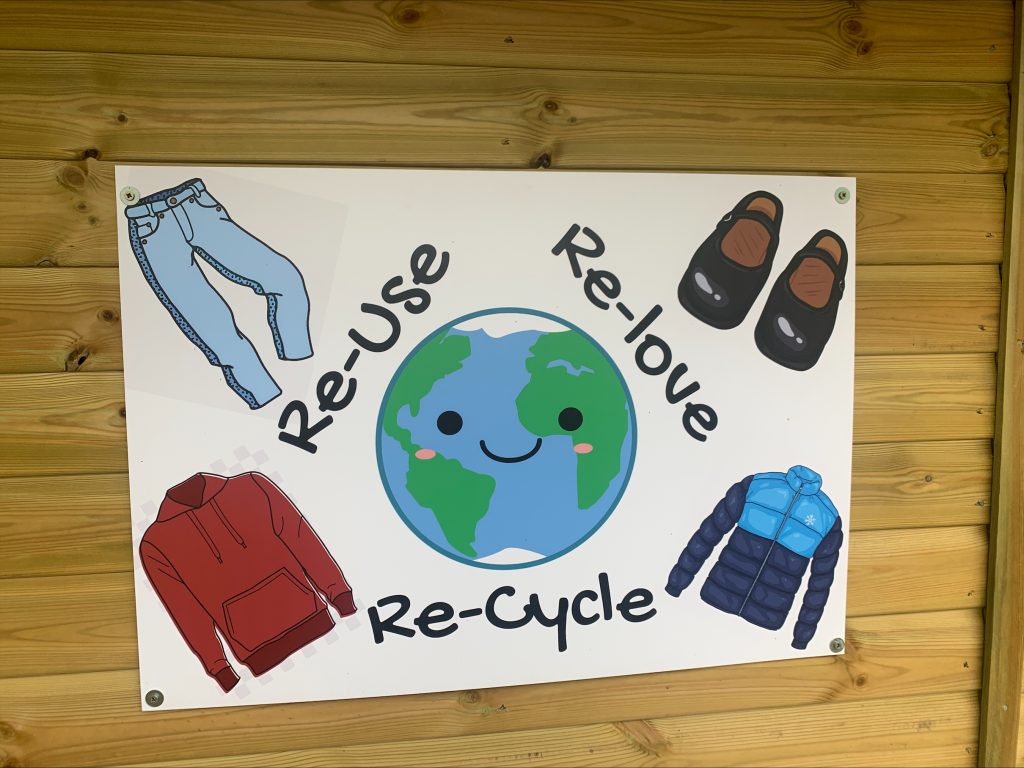 Ms King said the next step, following advice from the council officer in charge of tackling poverty, is to stock fridges with food that can be taken for free but in the meantime it is intended to take up a parent's suggestion of vegetable exchange. 
"If parents are growing vegetables in their garden and have grown too many broad beans then they can bring the excess here and swap them." 
Though Monmouthshire is often seen as a prosperous county, and has lower levels of deprivation than many areas of Gwent, Ms King described the school's catchement, on the northern edge of Abergavenny, as "mixed" and said demand for free school meals has increased. 
At present 21 per cent of the schools 193 pupils are entitled to free school meals, based on household income, which Ms King said had increased from around 15 per cent when she was appointed three years ago and the figure was just eight per cent in 2016. 
"It did get up to around 23 or 24 per cent and the increase was absolutely to do with the pandemic," said Ms King. 
The Welsh Government is rolling out free school meals to all primary pupils with youngest pupils currently eligible regardless of income.