HOUSEHOLDERS in two Monmouthshire towns will be paying more than £2,000 in total on council tax bills for a typical band D property from April. 
Total charges, which include precepts paid to local town councils and to Gwent Police, have seen the bill for what is deemed an average house pass the £2,000 mark.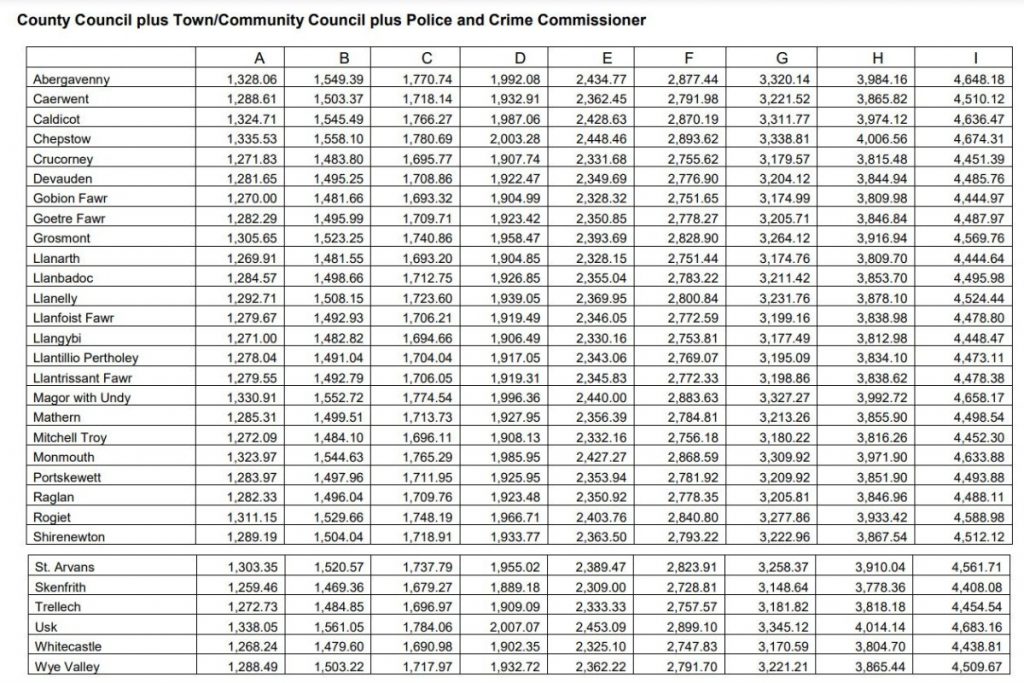 The highest band D bills in Monmouthshire will be delivered in Usk where residents will face demands for £2,007.07 closely followed by Chepstow where a band D bill will be £2,003.28. 
In contrast the lowest band D bills in the county will be issued in Skenfrith where residents will have to pay £1,889.18. 
That is because the area is covered by the newly formed Skenfrith Community Council which isn't charging a precept at all – meaning residents in the village close to the English border will only have to pay the county council element of the charge and the police precept.
The community council was formed from three wards, that were previously part of Llangattock, Llantilio and Grosmont, at the 2022 council elections but as it didn't have enough members wasn't able to meet until January this year and therefore hasn't raised a precept.
The charge for the largest element of the council tax bill, which covers county council services from waste and recycling collections through to schools and social services, is £1,564.66 for a band D home, which are those valued at £91,001 to £123,000 in 2003. 
The county council has increased its element of the charge by 5.95 per cent as part of the budget it agreed last week and that works out at an £87.87 annual increase on last year's bill for a band D house. 
The largest precept is being raised by Usk Town Council and the bill for a band D home in the town will be £117.89 from April, followed by Chepstow where the band D charge for the town council is £114.10. 

Abergavenny Town Council and Magor with Undy council are also charging band D homes more than £100, with the bills being £102.90 and £107.18 respectively. 
Other than Skenfrith, which isn't raising a precept, the cheapest band D charge for a town or community council in Monmouthshire will be issued by Whitecastle Community Council which is asking for just £13.17 towards its services. 
The level of community precepts has been questioned during the current budget round with one county councillor claiming during a January meeting that some community councils are unaware they have tax raising powers. 
Conservative Phil Murphy, who was previously a cabinet member for finance on Monmouthshire County Council, said it was his experience that some smaller councils didn't understand how the precept works and had assumed it was set for them by the county council. 
He said: "I've been amazed at how many don't realise what the precept is and it isn't an allowance. One particular community council thought it was a set amount and said it couldn't offer to do anything (extra) 'as we only get £2,500'. We had to explain to them how it works." 
The Conservative opposition group at County Hall has suggested the county council approach community councils to see if there are services they would be willing to take over while the Labour run council does plan to reach agreements with local councils to support litter picking and street cleaning. 
However Labour councillor for Chepstow Armand Watts has urged caution and said there is "a risk of double taxation" by expecting local councils to take on more services traditionally provided by the county. 
The Gwent Police precept ranges from £216.35 for homes in band A, valued at less than £44,000 in 2003, through to £757.21 for those in the most expensive band I which are worth more than £424,000 while the band D charge is £324.52. 
Council tax bills are paid to the county council, which also issues the bills, and it distributes the money to local councils and the police and there are discount schemes available for those on lower incomes or who may be struggling to pay.