MORE information will be needed from the UK Government before stalled plans to transform a former iron master's mansion into a hotel can be reconsidered.
Torfaen Borough Council had been seeking £19 million from the UK Government's Levelling Up fund for its plan to restore the privately owned Blaenavon House and create what it has called a World Heritage Hotel.
The 225-year-old building, which has also been used as a hospital and residential home, had been at the centre of plans to rejuvenate the town centre and build on the area's attraction as a World Heritage site due to its industrial landscape.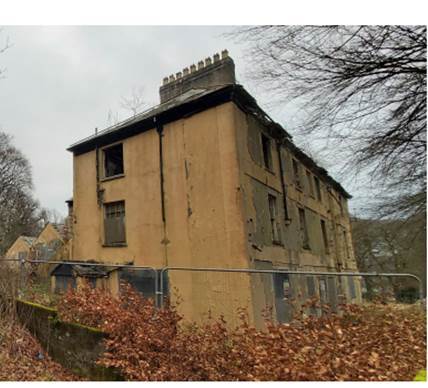 But though the council's bid for £7.6m to revitalise Pontypool town centre, by restoring a derelict church and toilet block into a cultural centre and café, was successful when the funding awards were announced in January the Blaenavon bid missed out.
Councillor Jo Gauden who is responsible for the economy and regeneration told her cabinet colleagues at their Tuesday, February 14 meeting: "Our excitement for the positive Pontypool bid is equally matched by disappointment that the Blaenavon bid was not approved.
We are awaiting feedback from the UK Government before announcing the next steps."
The cabinet has also approved spending £150,000, from funding already set aside, on the Pontypool projects before the funding agreement with the UK Government is finalised.
The cash will be used to submit a planning application and the next stages of the project that will convert the Grade II listed St James' Church into a cultural hub – including a pop-up cinema, pop-up food and exhibition spaces, and a bar-servery with indoor and outdoor seating and space for community events.

The project also includes the conversion of the public toilets opposite the church into a café and to upgrade the Glantorvaen Road Car Park.
It had been anticipated the funding awards would have been announced in the autumn but delays meant the UK Government didn't confirm the project, and 10 others in Wales, had been given the go-ahead until last month which has caused delays.
However the funding must still be spent by March 2025 and Cllr Gauden said cabinet authority was being sought for the spending to ensure the Pontypool project doesn't fall behind schedule.
The council is currently considering a memorandum of understanding, from the UK Government, setting out the terms of the funding which is expected to be formally agreed and signed off in March. The council, which along with private sector partners is putting £1.7m towards the project, will be able to recover the £150,000 from the funding award.
Levelling Up funding has been seen as a replacement for regional development funding previously provided by the European Union.
Council leader Anthony Hunt said: "Whatever our concerns about the Levelling Up scheme as a whole are it's huge credit to the officers for their work and they have managed to be successful.
"Hopefully Blaenavaon will be successful in future rounds."