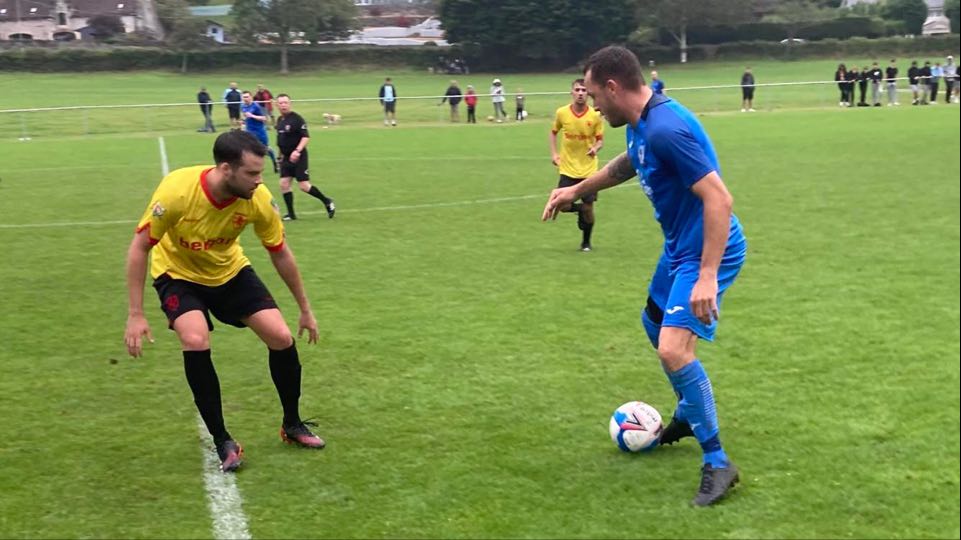 Mumbles Rangers 3-3 Seven Sisters/ Onllwyn
THERE was another entertaining game at Underhill Park on Saturday (Sept 18) in the West Wales Premier League where Mumbles Rangers played Seven Sisters/Onllwyn.
Seven Sisters/Onllwyn had the early momentum in this game as they pushed Mumbles Rangers into defensive mode.
The front runners of the visitors were pressing hard to get forward and they got their reward in the 19th minute when lively forward Adam Campbell opened the scoring for Seven Sisters/Onllwyn. 0-1
Mumbles Rangers responded and forward Elliot Smith broke free down the right flank but couldn't direct his shot on target.
Rangers Matthew Thomas was also doing his best on the left flank but Rangers couldn't break through the visitors defence lines. Seven Sisters/Onllwyn goalkeeper James Harris was rarely troubled and dealt with every threat.
Five minutes before half time Seven Sisters/Onllwyn were t gifted their second goal of the game when Rangers Craig Spring inadvertently played a twenty five yards back pass towards his goal which caught goalkeeper Callum Andrews totally off guard and he could only watch on as the ball agonisingly crossed his goal line. 0-2.
The first half ended with the home side having it all to do in the second half whilst the visitors held the upper hand with a two goals cushion.
Rangers started the second half in determined mood with Rangers Jordan Lloyd- Evans battling away in midfield and trying to get some better service to his forwards especially captain Christian Allen who was starting to win more ball up front.
However Seven Sisters/Onllwyn's defence was being well marshalled by central defender Jack Owen supported by a dogged midfield performance from Colin Thomas.
Rangers finally got the break they needed when they were awarded a penalty in the 52nd minute.
Up stepped Rangers Captain Christian Allen who calmly converted the penalty to give his side a lifeline in the game.
Rangers kept pressing at every opportunity but still had to defend to stop the lively visitors counter attacks.
After 71 minutes, Mumbles Rangers eventually found an equaliser when a cross was played into the visitors' penalty area. Rangers Christian Allen jumped above his marker to get his head on the ball and send the ball passed the visitors goalkeeper into the net. 2-2.
Rangers sensed that they could push on and find a winner. But Seven Sisters/ Onllwyn also wanted the win the game and with two minutes left of normal time it was the visitors Adam Campbell who managed to get on the end of a cross to steer the ball passed Rangers keeper Callum Andrews from close range. 2-3.
The entire Seven Sisters/Onllwyn team and management raced to the corner to celebrate what seemed to be a winning goal with very little time for a Rangers response.
With the clock running down Rangers launched a last desperate effort to get the ball into the visitors penalty area. After a few scrambles the ball broke free and bounced into the path of Rangers Craig Spring who found himself a couple of yards from goal and he struck the ball into the unguarded net to level the game at 3-3.
There was no more time for either side to find a winner as the referee blew his whistle for full time.
This was a game full of drama and probably both managers would look back on it as what might have been but for any neutrals watching it was a thoroughly enjoyable game played in a very competitive spirit.
Related posts