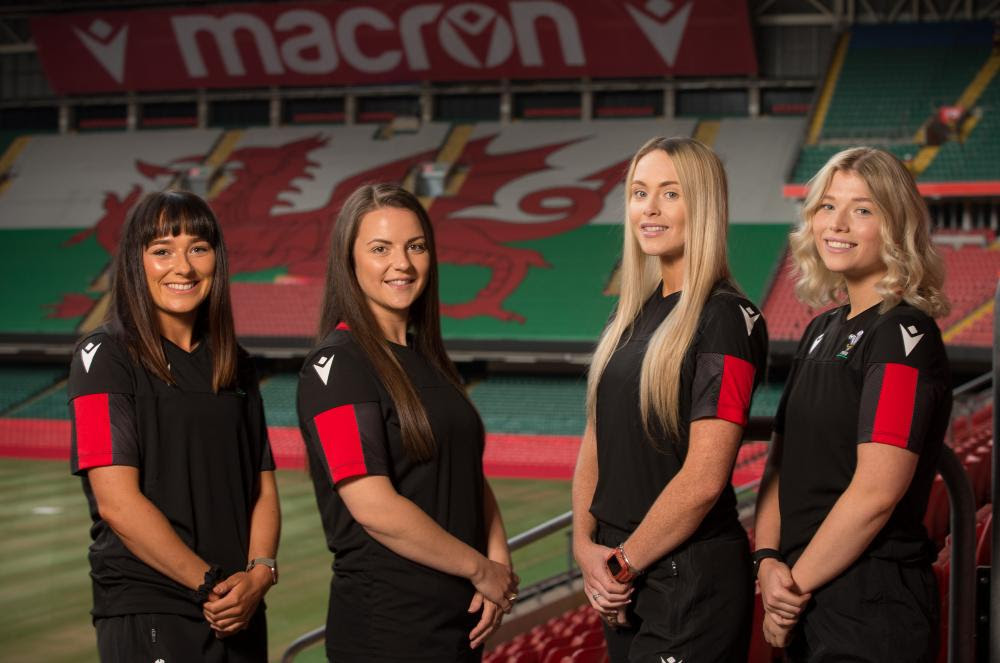 FOUR rugby officers – with a fifth to be appointed – have been handed the exciting job of boosting the female community game across Wales.
The team, which previously consisted of three 'game changers' working to increase playing, coaching, refereeing and volunteering opportunities for women and girls in North, East and West Wales, has been increased to five with each officer working with the WRU staff, clubs, Female Hubs, educational establishments and other partners within each rugby region to boost the rugby restart for women and girls.
The five full-time rugby officers for the female game will work with community lead for female rugby Joe Davies to sustain and further grow participation numbers and nurture a positive environment for players, coaches and volunteers to develop within the game.
Meet the team
Kira Philpott, the only new WRU employee in the team so far, has been appointed as rugby officer for the female game within the Cardiff rugby region. Kira graduated from the WRU apprenticeship programme four years ago and has since completed a degree in Sport Management at Cardiff Met while mentoring current WRU apprentices. For the past two years she has also worked part-time for GB Wheelchair Rugby.
She said, "This is my dream role, something I could never have dreamt of if I hadn't applied and been accepted as a WRU apprentice at 18. At that age I knew I wasn't yet ready to choose a University course, I'd fallen in love with playing rugby and volunteering for my local rugby club as a coach and with other roles so the apprenticeship was perfect for me.
"I haven't looked back since – it has opened up so many opportunities for my career and now I'm looking forward to making a difference to women and girls throughout the Cardiff rugby region. I want everyone to have the same chances I've had either through playing the game or through other roles. I will give 100% to the role and hope to be the voice for women and girls throughout the region, working with schools, clubs, Female Hubs and other groups."
Ashleigh Collier, previously a WRU rugby coordinator within the Dragons region has been appointed to drive the female game in her home region. She has also spent time as a WRU coach and referee development officer for the Ospreys region with a specific focus on the female game.
Cleo Hardy will now solely focus on the Scarlets region after fulfilling the West Wales game changer role since 2019. She was previously a hub officer in Cefn Hengoed Community School in Swansea.
Gemma Owen was appointed as game changer for North Wales in December 2019, also graduating from the WRU apprenticeship programme. She will continue her work increasing rugby opportunities for women and girls throughout the North Wales region as rugby officer for the female game.
A fifth rugby officer for the female game has been advertised for the Ospreys rugby region – click here for full job description and to apply – after Wales international Shona Powell-Hughes, who has been a WRU game changer for three years – decided to pursue a long-term ambition to train as a firefighter and has been accepted with Mid and West Wales Fire Service.
WRU Community Director Geraint John said, "The female game is a key priority for the community game – both from the perspective of developing female players, coaches and referees and as we look to provide increased support to the vital volunteers within the game as a whole.
"The growth of the team of rugby officers for the female game reflects that strategy and we are thrilled with the quality of the team that is coming together. I would like to thank Shona Powell-Hughes for her commitment and infectious enthusiasm as a WRU Gamechanger over the past three years and send her our best wishes as she embarks on her next challenge as a trainee firefighter.
"We look forward to completing the team with an equally driven and enthusiastic rugby officer for the female game in the Ospreys region."
Related posts