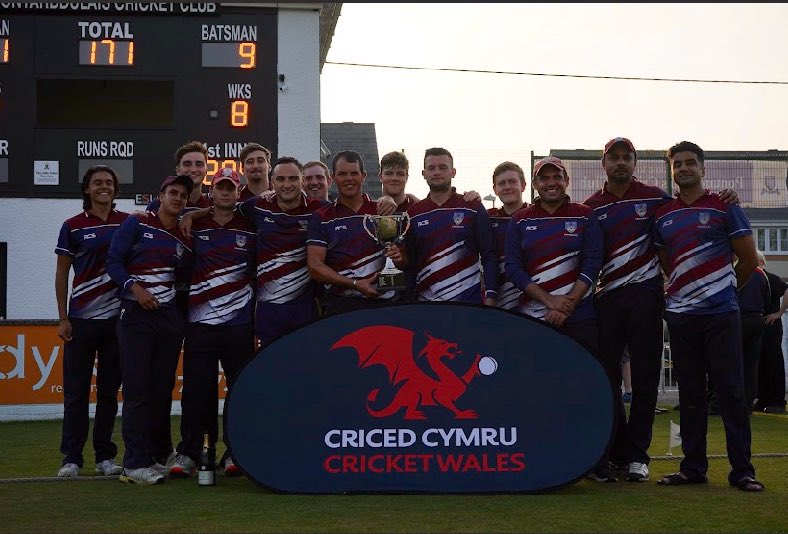 SWANSEA secured their second trophy in as many weeks on Sunday (Sept 5) as they beat Newport to win the Welsh Cup.
Just a week before the Welsh Cup final, they saw off Llangennech to win the South Wales Cricket Association T20 after scoring a stunning 240-4 from their 20 overs.
Swansea Captain Brad Wadlan scored 100 in that game and after winning the toss in the Welsh Cup final he looked to carry on his excellent scoring form.
Wadlan and Hasan Hayat made a good start to their innings as they shared 59 runs for the first wicket.
Newport's Hasnain Nawaz made the breakthrough though as he bowled Hayat on a score of 27.
Steffan Roberts then joined Wadlan in the middle and the pair put on an excellent display of batting as they shared 139 runs for the second wicket.
Wadlan looked as if he was going to reach another century but, having hit thirteen fours in a score of 95 from 84 balls, he fell just short when he was caught by Josh Waughington off the bowling of Harry Friend.
Roberts had reached his half century but he then saw his new partner Adnan Ghori caught by Chris Hardy off the bowling of Friend.
Roberts and Gareth Hayden added another 38 runs for the fourth wicket. Roberts had also looked well placed to go on and make a century as he hit five fours and four sixes in a score of 87.
However, he was then caught by Friend off the bowling of Hardy.
Hardy also claimed the wickets of Osian Webber and Waqas Tanveer but Hayden batted on to finish unbeaten on 49 (nine fours) from 23 balls.
That saw Swansea post 284-6 from their 40 overs, giving Newport a tough target to chase.
And, with just the second delivery of their reply, their chase got even harder as they lost Harry Friend when he was caught by Adnan Ghori off the bowling of Kazi Szymanski.
Morgan Bevans and Imran Hassan looked to rebuild following that early blow but after sharing 38 runs for the second wicket, Swansea struck again.
Bevans was bowled by Waqas Tanveer on a score of 26 and it went from bad to worse for Newport as they lost Hassan when he had to retire hurt on a score of 11.
Mujahid Ilyas and Michael Clayden took over but they could only take the score on to 75 before the third wicket fell.
Ilyas had hit four fours in a score of 19 but he was then stumped by Ioan Webber off the bowling of Brad Wadlan.
Josh Waughington joined Clayden in the middle as they looked to keep their side in the game.
They shared 42 runs for the fourth wicket but Waughington was then caught by Tanveer off the bowling of Gareth Hayden. Waughington had hit a four and three sixes in his score of 28.
Clayden and Mark Wallace added 39 runs for the fifth wicket but Wallace then saw himself stumped by Webber off the bowling of Adnan Ghori on a score of 24.
The Newport innings began to unwravel from that point as Chris Hardy was bowled by Hayden before Ghori bowled Clayden on a score of 37.
Ghori then did the same to Charlie Stewart and Steffan Kelly was trapped leg before by Wadlan as Newport's innings came to an end with the score on 171 all out.
It gave Swansea victory by 113 runs and they celebrated a second successive final win.
They will bid for a hat trick of final wins on Sunday, September 12, when they again face Newport in the South Wales Premier Cricket League T20 final, which is being played at St Fagans.
Related posts