AFTER months of escalating tension, Russian troops have crossed the border of Ukraine and military targets near big cities have been destroyed in a bombardment of missile attacks.
In TV statement that was broadcast just before dawn this morning Russian President Vladimir Putin demanded that the Ukranian military lay down their arms before saying that Russian troops had no plans to occupy Ukraine.
President Putin also said: "A couple of words for those who would be tempted to intervene. Russia will respond immediately and you will have consequences that you never have had before in your history."
Within moments of the broadcast, Ukranian military targets were attacked across the country with explosions from missile attacks reported near Kyiv, Kramatorsk, Kharkiv, Mariupol, Odesa, Dnipro and Ivano Frankivsk.

Russian military convoys have reportedly crossed the border in numerous places, from Belarus in the north, a claim Belarusian President Lukashenko denied, from Crimea in the south and across Ukraine's eastern border.
Local police say seven people have died so far in Russian attacks with another 19 missing.
Ukranian Police have claimed that 203 attacks have taken place since the invasion began in the early hours of the morning.
Ukraine's commander-in-chief has claimed that Ukranian troops are fighting Russian forces for control of Hostomel Airport near Kyiv.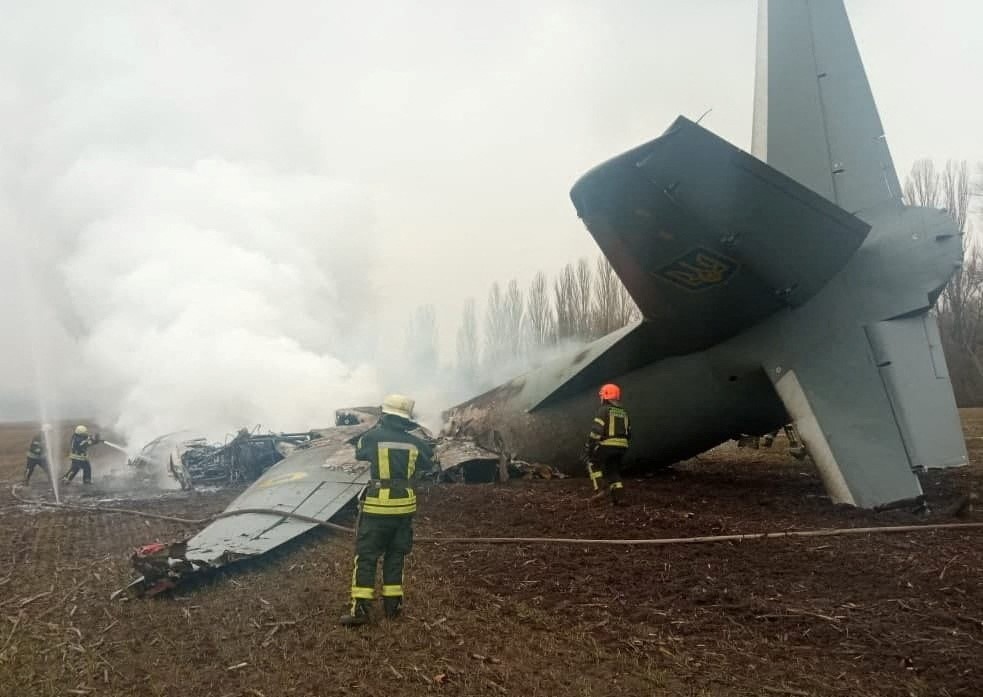 Pictures of a downed Ukranian military aircraft have also been circulating on social media, the plane was apparently shot down by Russian forces in the 'Kyiv region'.
Thousands of civilians have been seen attempting to flee the capital, Kyiv, after sirens rang out early on Thursday causing traffic jams following the military assault launched by Russian forces.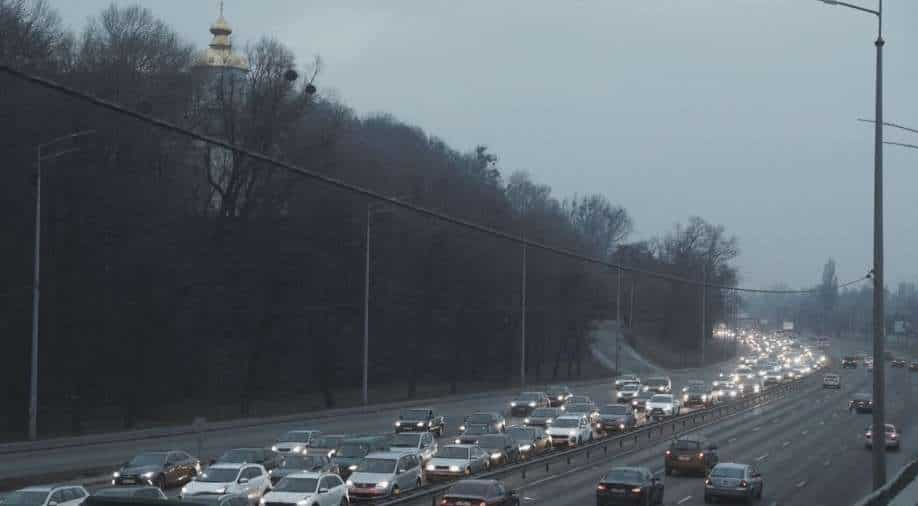 Reports claim Russian tanks have already been seen in Ukraine's second city, Kharkiv, with Ukrainian president Volodymyr Zelenskyy saying that weapons will be issued to "everyone who wants them", according to Ukranian state media.
Ukrainian armed forces claim to have shot down five Russian planes and a helicopter; Russia has dismissed these claims and called upon all Ukrainian soldiers to 'put their arms down and return home'.

Some Ukrainian residents have sought shelter in train stations with queues forming for buses, petrol pumps and cashpoints across the country.
Reports are coming in that Russian troops have been taken prisoner amid heavy fighting in eastern Ukraine, according to Ukraine's deputy defence minister. 
More fighting has broken out in and around the Chernobyl exclusion zone with Ukraine's president Volodymyr Zelenskyy saying Twitter that Russian forces were attempt to take control of the Prypyat plant with Ukranian troops "giving their lives so that the tragedy of 1986 will not be repeated". He added: "This is a declaration of war against the whole of Europe."
Ukraine has urged the UN "to do everything possible" to stop what it describes as a full-scale war.
POLITICIANS REACT TO 'TIDAL WAVE OF VIOLENCE'
As the world awakens to the 'darkest day in Europe since World War II', Welsh politicians have joined together in a chorus of disdain at the actions undertaken by Russia with Welsh First Minister Mark Drakeford saying: "The news coming out of Ukraine overnight is horrifying and appalling.
"The international community must now stand together with the people of Ukraine against such unprovoked aggression."
Welsh Conservative leader, Andrew RT Davies, said: "The news that has come in overnight is deeply troubling and shows just how precarious the peace in Eastern Europe is. Putin and his cronies have proven to be despicable leaders of an aggressive and expansionist Russia who must be taken to task immediately.
"The world must be resolute in standing behind the Ukrainian Government and preserve its place as a free and democratic country. The democratic alliance must now provide all the support required to achieve that goal and assist the refugees that all wars inevitably create.
"Putin must be left in no doubt at all that the democracies of the world will not stand by and let his aggressive actions go unchecked. If we do, it might be Ukraine today, but someone else tomorrow."
Welsh minister for health and social services, Eluned Morgan, said: "My prayers are with the people of Ukraine this morning."
"Putin's attack is probably the most serious war since the Second World War which will impact not just the lives of millions of people in Ukraine but on us all with significant increases in fuel and gas prices."
Sam Kurtz, Assembly Member for Carmarthen West and South Pembrokeshire told The Herald: "Putin's Russia is behaving like a bully, and all bullies must be stood up to. The UK and our allies must respond decisively and use every means possible to support Ukraine.
"Ukrainian sovereignty has been violated and innocent civilians will be killed by Russia's desire for conflict.
"This is a bleak day in Europe's history. We must work to preserve the freedom, democracy and sovereignty of Ukraine."
Commenting, Welsh Libera Democrat Leader Jane Dodds said:
"The rules-based international order is under threat like never. After years of hybrid warfare, threats and provocations, which tragically have seen over 13,000 casualties in the last few years, a full-scale Russian invasion into Ukraine is now underway.
"The liberal values that have underpinned European peace security for generations, namely the respect for a rules-based international order, the right to national self-determination, international law and democracy are now directly under threat. This should deeply worry any liberal or democrat.
"We cannot allow Europe, or the world, to return to an age where large authoritarian states can use military action to force smaller democratic states to do their bidding. This type of system only leads to chaos, destruction and great suffering. If this type of violent order is allowed to re-establish itself, where is next? Where does it end? Moldova, Georgia and the Baltics would immediately be placed under increased threat.
"Ukrainians are not the property of Russia, or more specifically Putin and his cronies despite the effort of Putin's regime to invoke imperialist propaganda of Russians and Ukrainians being "one people".
"The people of Ukraine have the democratic right to decide what direction their country goes in."
"Ukraine has undergone a dramatic transition since the fall of the Soviet Union into a vibrant democracy. Two people's revolutions in 2004 and 2014, driven by young people, saw the country rise up against authoritarianism, kleptocracy and corruption. These revolutions sent fear into the heart of Putin's regime. For all the bravado, Putin himself as the head of a corrupt network of oligarchs remains vulnerable to such revolutions himself. It is therefore little wonder he is seeking to dismantle this new Ukraine.
"We in Wales must show we stand in solidarity with the Ukrainian people in their fight to remain free. Should we not, we could see our security and economic stability threatened like never before. Wales must also be prepared to take in Ukrainian refugees.
"Within the UK, we urgently need the Conservative Government in Westminster to urgently clean up Russian money-laundering operations in the UK, not least in London and in their own party.
"We need to unleash hard-hitting economic sanctions right now. There must be NO delay and we cannot waver.
"We must remain resolute, and in the age of weaponised disinformation by states such as Russia, ensure we keep our eyes on our guiding principles of democracy, freedom and cooperation."
Nia Griffith, MP for Llanelli, said: "Russia's invasion of Ukraine is an attack not only on a sovereign European nation but upon democracy itself.
"I condemn the actions of President Putin completely. This unwarranted action will cause untold suffering for the people of Ukraine who are facing up to Russian aggressors via land, sea, air, cyber and misinformation attacks. We must stand with the Ukrainians in their time of need and provide them with whatever support we can to help them defend their country and our common values.
"It is important that there is a united and serious response to this latest Russian transgression.
"The UK Government must work with our partners in the G7, Nato and the UN to give Putin the clear message that he will be held fully accountable for his actions and strengthen the UK's package of sanctions against Russia immediately, especially against Putin and those directly connected to him. Included in the package should be Russia's exclusion from international banking payment systems in order to apply the maximum amount of financial and economic pressure possible.
"The seriousness of this situation cannot be underestimated and my thoughts are with the people of Ukraine at this dangerous and troubling time."
JOHNSON ADDRESSES NATION
In a televised statement, UK Prime Minister Boris Johnson described Russian actions in Ukraine by saying: "A vast invasion is under way by land by air and by sea."
"This is not some faraway country of which we know little,".
He says Ukraine, which has the second-largest country in Europe, is one that has enjoyed freedom and democracy 'for decades'.
"We cannot allow that freedom to be snuffed out. We cannot and will not look away."
PM Johnson described the Russian invasion as "an attack on democracy throughout the world,".
"We will of course do everything to keep our country safe."
Johnson went on to say that Europe must also collectively cease the reliance on oil and gas that has given Putin a grip on Europe.
"Today in concert with our allies we will agree a massive package of economic sanctions designed in time to hobble the Russian economy,".
The UK Prime Minister spoke directly to the Ukrainian people saying: "We're with you, we're praying for you and your families."
He went on to say that he knows the flame of freedom will "blaze bright again" in Ukraine. "I don't believe the Russian dictator will subdue the national feeling of Ukranians".
Labour leader Sir Keir Starmer said: "Labour stands with the Ukrainian people.
"The hardest possible sanctions must be taken against all those linked to Vladimir Putin, now."
The President of The United States, Joe Biden, said Putin had "chosen a premeditated war that will bring a catastrophic loss of life and human suffering". He went on to say that the world would hold Russia accountable.
NATO has released a statement in which it condemns "Russia's horrifying attack on Ukraine" calling it "entirely unjustified and unprovoked."
NATO, which consists of the UK, US and many other European countries, has also accused Belarus of "enabling" the attack.
"This renewed attack is a grave violation of international law, including the UN Charter," NATO said. "It constitutes an act of aggression against an independent peaceful country."
The statement goes on to say: "Russia's actions pose a serious threat to Euro-Atlantic security, and they will have geo-strategic consequences. Nato will continue to take all necessary measures to ensure the security and defence of all allies."
This story will be updated as the situation in the Ukraine becomes clearer.