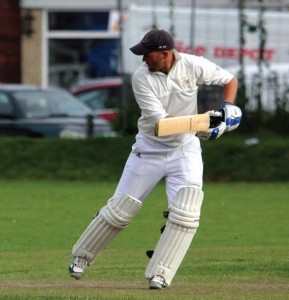 South Wales Association Division One: Skewen 106 a/o lost to Dafen 110-5
AFTER the disappointment of losing to their nearest rivals Llanelli last week, and in the process being usurped in second place in the South Wales Association Division One table by their neighbours, Dafen produced the perfect response with a 25 point victory away at a Skewen side which sit perilously close to the relegation zone.
However it could have been a much simpler task had they not lost their top three for 12 runs between them, leaving themselves at 42-3, before recovering to win with 12 overs to spare. Winning the toss and opting to field, Dafen made light work of the Skewen batting line up with the only real resistance provided by captain Dean Kriescher who hit 23 from 56 balls in the middle order as wickets fell at regular intervals. For Dafen Matthew Evans was on form with the ball, taking 4 wickets from his allotted 15 overs, giving away just 44 runs in the process. The finest spell came from Matthew Donoghue who helped himself to 3-20 from 14 overs, including 5 maidens.
Kelvin Bartle took 1-26 and Spinner Phil George continued his wicket taking form with 2-8 from 5 overs. With the job done from by the bowlers, the batsmen set about winning the game, and boy did they make hard work of it. Reduced to 42-3 with over 20 overs bowled, the visitors put themselves under immense pressure to get the result. Luckily, experienced all rounder Kelvin Bartle re-discovered some form with the bat to hit 25 from 30 balls, he was joined by Jamie Mansel who's 24 laid the platform for Ieuan Rosser to steer the Llanelli side home with 37 not out including 6 boundaries. Dafen remain in third thanks to Llanelli's big win at Llandysul, but they will be hoping to regain second place when they host Maesteg Celtic on Saturday.