ANCIENT woodland at Dinefwr near Llandeilo in South Wales is to be dedicated to The Queen's Green Canopy (QGC) in celebration of The Queen's Platinum Jubilee.
Comprising of Dinefwr Park, cared for by National Trust Cymru and Dinefwr Castle Woods, managed by the Wildlife Trust of South and West Wales, the woodlands at Dinefwr will be one of 70 dedicated to a network of Ancient Woodlands across the United Kingdom.
The initiative was launched by His Royal Highness The Prince of Wales, who is Patron of The Queen's Green Canopy, under one of the ancient tree dedications – the old Sycamore located at Dumfries House in Scotland.
The dedications will highlight the historical importance of ancient woodlands and trees which take hundreds of years to establish. As well as their significance to people and places as part of our living heritage they play an important role in providing a rich and diverse habitat for wildlife.
Defined as an irreplaceable habitat, an ancient woodland is an area of land where there has been a continuous cover of trees since 1600. Currently, they make up only 2% of British woodland.
Dinefwr Park is an iconic place in the history of Wales and home to some of the oldest and largest trees in Britain. In some parts of the 800 acre park there are remnants of medieval woodland with many ancient trees that are at least 400 years old.
This woodland pasture at the heart of the parkland is dominated by nearly 300 huge oak trees. One, The Castle Oak, is thought to be around 800 to 1000 years old. The grandest and oldest of them all, it provides a living link to the medieval origins of the park.
At the western end of the Deer Park stand a group of ancient oaks, some are estimated to be around 700 years old and therefore predate the creation of the 112 acre Deer Park itself.
Dinefwr Castle Woods links with the parkland at Dinefwr, covering an area of around 25 hectares and includes two smaller areas of woodland called Church Wood and South Lodge Wood. Within the woodlands are mature ash, oak, sycamore and beech.
The steep slopes of Castle Woods are shown as ancient semi-natural woodland on the Inventory of Ancient Woodland, indicating it has been continuously wooded since at least 1600. Due to its steep slopes the woodland has probably been present, and remained largely undisturbed, for much longer.

Part of the parkland at Dinefwr is a Site of Special Scientific Interest (SSSI) and the first parkland National Nature Reserve (NNR) in Wales, boasting a vast and diverse range of habitats and environments, vital for biodiversity and wildlife.
Each a miniature nature reserve, the ancient trees at Dinefwr provide valuable homes for invertebrate, small mammals, birds such as green woodpeckers and fungi species including tree lungwort. As older trees mature, branches fall, trunks hollow and trees die, they stay where they fall and are excellent for nature.
Lhosa Daly, Interim Director, National Trust Cymru said: "We are proud to mark and honour Her Majesty the Queen's Platinum Jubilee with the dedication of ancient woodland at Dinefwr to The Queen's Green Canopy.
"As a conservation charity, Dinefwr's ancient trees are some of the oldest living items in our collections. They are a significant part of Wales' heritage and provide precious habitats and homes for nature.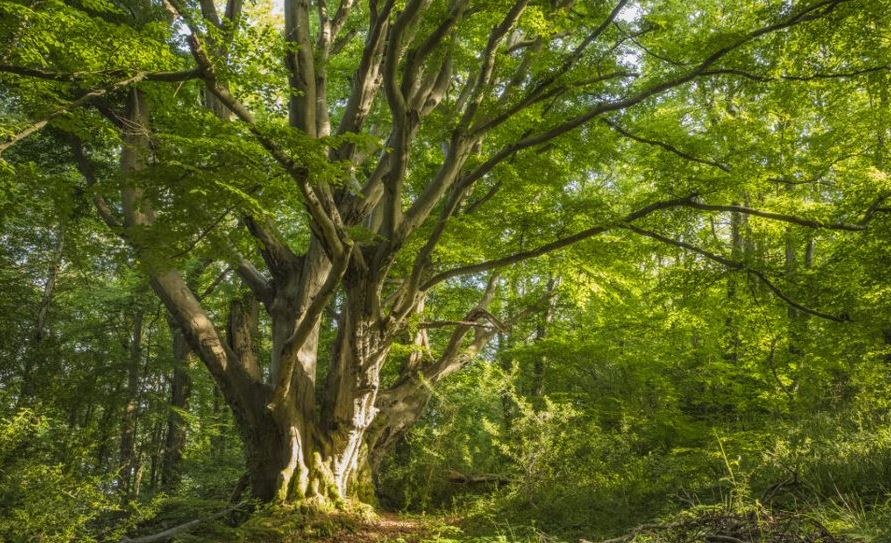 "We are fortunate to care for these ancient woodlands, and will continue to protect them for everyone, forever."
Rebecca Killa, Wildlife Trust Officer for Carmarthen, Wildlife Trust of South and West Wales added: "The Wildlife Trust of South and West Wales are pleased that Castle woods is being recognised through the Queen's Platinum Jubilee for its importance.
"Castle Woods is home to a variety of wildlife and flora, with its stunning spread of bluebells, assemblages of lichen, recognised to be of international importance, and fallow deer that lucky visitors can occasionally glimpse through the ancient trees, the Wildlife Trust take huge pride in managing and protecting this special habitat now, and for the future."
Also to be dedicated to The Queen's Green Canopy are two ancient trees at National Trust Cymru's Plas Newydd House and Garden in Anglesey. An ancient beech, thought to be the largest of its kind in Britain, with a girth of 10 metres and a hollowing oak within the 'West Indies' area of the garden have been identified as part of 70 Ancient Trees to mark the special occasion.
By sharing the stories behind the ancient woodlands and trees, as well as the incredible efforts that are made to protect them, The Queen's Green Canopy aims to raise awareness of these treasured habitats and the importance of conserving them for future generations.
Visit the ancient woodlands at Dinefwr www.nationaltrust.org.uk/dinefwr or www.welshwildlife.org/nature-reserve/castle-woods-llandeilo and the ancient trees at Plas Newydd House and Garden www.nationaltrust.org.uk/plas-newydd-house-and-garden.