A WOMAN who crashed into a car after drink driving, causing brain damage to a baby has been jailed for four years.
Lucy Dyer, 23, of Heulwen Terrace, Llanelli, admitted to death by drink-driving at Swansea Crown Court.
On October 8, Dyer dangerously drove her BMW after drinking in local pubs in Llanelli, Carmarthenshire.
She crashed into the side of a car carrying six-month-old Eva Maria Nichifor. Eva's parents, Carmen and Florin said that they were "distraught by her loss". 
Carmen and Florin recently paid tribute to their daughter, with the mother speaking of her "indescribable pain".
In a statement that was read to the court, her parents said: "I came to this country to ensure a better life for my family and ended up tearing it apart.
"Since this tragedy has happened I couldn't sleep. I eat very rarely and when I close my eyes we only see her.
"In the house where we live we can't see our place there without our little Eva because everywhere we look we see only memories of her, how happy she was with us, and how we learned with her what happiness means."
Prosecutor Carina Hughes said that on the night of the crash, Dyer had been "merry" and "boisterous", according to onlookers at the Carwyn James pub where she was drinking.
Dyer was stopped from taking her drink outside with her by the door staff. She then downed her drink and handed the empty glass to door staff. Despite drinking, Lucy Dyer still got into her car and drove away.
Witnesses told police they saw Dyer driving at speed and that she did not brake as she reached the junction at Heol Goffa where she was supposed to give way.
Following her collision with the family's car, Dyer ran down the road, before returning to the scene of the crash and sitting on a nearby grassbank, alongside her cousin who had been a passenger in her car when the incident occured.
Ms Hughes said: The impact caused Carmen to exit the car holding her baby Eva Marie and screaming for help.
"Witnesses at the scene called the emergency services and a family living on the street assisted. A Miss Evans took hold of the baby who clearly had sustained a head injury.
"Carmen was so distraught she dropped to her knees and was naturally inconsolable.
"Miss Evans confirms that since the accident she has had difficulty sleeping. She states that, 'every time I close my eyes I can hear the mother's screams', and says she sees Eva Marie."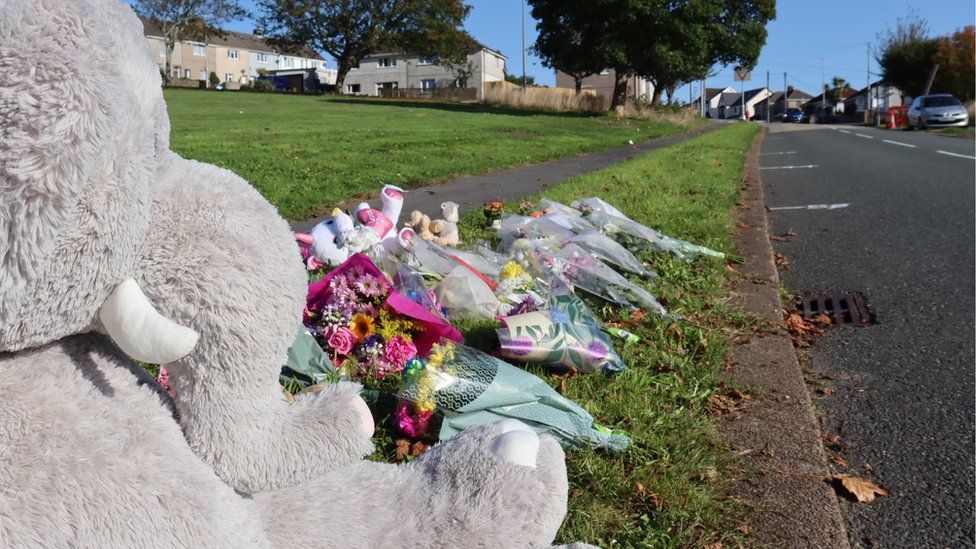 Police approached Dyer and claimed that she smelled of alcohol and was in "visible distress". Dyer told officers that she had two vodka and lemonades.
Dyer told police: 'I have killed someone. I have killed her. I have killed a kid haven't I? I am never going to see my kid again.
'The baby is going to die isn't she? Oh my ******* god'. She added: 'I have ruined my life'.
Dyer was breathalysed at the scene of the accident which recorded 65 micrograms of alcohol per 100ml of breath despite the legal limit being 35 micrograms.
Dyer has also been disqualified from driving for five years and ordered to take an extended driving test.
Eva was taken to University Hospital Wales, Cardiff, where it was discovered she had suffered a brain stem injury and needed life support. She unfortunately died the following day.
Kate Williams, defending, said that her client accepted responsibility for her actions.
Dyer, who had written a letter to the court, said that she was "truly sorry" and the "guilt will stay with her forever". She cried throughout the proceedings.
Ms Williams said: "With some tragic irony she had gone out that evening because it was the anniversary of her own father's death and her cousin had asked her to go out to take her mind off that.
"She decided to have a few drinks and make that terrible decision to get in her car and drive."
The court heard how Lucy Dyer had no previous convictions, or driving penalties, and is a single mother to a young boy with autism.
Due to threats made by the local community, Dyer remained in custody following a previous hearing.
Senior crown prosecutor for the Crown Prosecution Service (CPS), Emma Myles, said: "This is a heart-breaking case which has had a profound impact on everyone involved in it.
"The life of a baby was ended when it had barely begun but, for the short and precious time that she was with them, Eva Maria was the apple of her parents' eye, and her loss is immeasurable.
"Our thoughts are with Eva Maria's family.
"Lucy Dyer, who is herself a mother, will have to live with the consequences of her actions that night for the rest of her life."
After pleading guilty, Lucy Dyer was sentenced to four years in prison..
A fundraising page has raised over £9,000 for the heartbroken parents.