One fateful night in June 1876, Will James – a farmer's son from rural Pembrokeshire – became the sole Welshman to fight at Custer's Last Stand.
During the bloody  battle, no fewer than 210 US soldiers were massacred by the huge number of Sioux and Cheynee warriors who were being led by the unflinching Chief Sitting Bull.
Now, the heroic stand of the Welshman who left his home on rural Dinas Mountain and emigrated to the United States to join the US Seventh Cavalry has been masterfully captured by former newspaper editor, journalist and writer Mike Lewis in his novel 'If God Will Spare My Life'. 
Critics have described the book as 'a thrilling tale with great psychological depths'.
Carrying more than a touch of Emily Bronte's Heathcliffe in Will's character and displaying western Pembrokeshire as a stormy landscape reminiscent of the Yorkshire moors so bleakly portrayed in Wuthering Heights, Lewis has succeeded in taking his readers on a captivating journey from rural West Wales to the Wild West.
The novel, which has been shortlisted at the Eyelands International Book Awards, will shortly be available to county readers after Mike Lewis agreed to donate a copy to every library in Pembrokeshire.

"I decided to write the novel after discovering five letters that William James wrote, when he complains constantly about the lack of news that he was receiving from home," said Mike.
"Those letters represent a very human side to the newly-arrived immigrant who was struggling to survive in a strange land, so the book is based on a re-imagining of what prompted Will's journey from Dinas Mountain all the way to Last Stand Hill in Montana, in his own voice."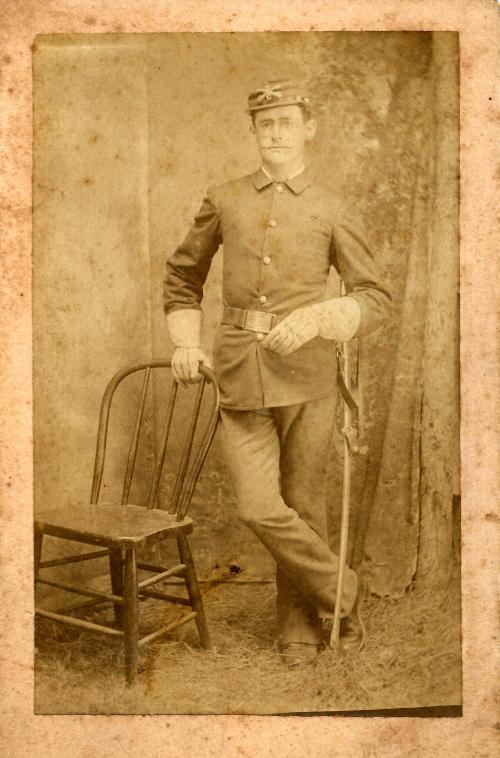 Mike went on to say that the letters contain a tangible sense of darkness which he has masterly recreated in his novel.
Published by Victorina Press, 'If God Will Spare My Life' is now being adapted into the play 'Ghost Rider' which will be performed at Fishguard's Theatr Gwaun at the town's On Land's Edge Festival next September.
Meanwhile Fishguard Library manager Tracey Johnson, was recently presented with a copy of the novel for the town library.
"We're very grateful to Mr Lewis for providing copies of his book to libraries throughout Pembrokeshire as books with a local connection are always popular.   I'm sure many readers are looking forward to enjoying this novel which links the West of Wales to The Wild West."