Four months ago, John Robool felt that his life was drawing to a close.
The geologist, born in Milford Haven, had reached his 79th year in peak fitness and sound health.
But then suddenly he was told that his kidneys had failed.
Tests carried out at his local hospital in Kent confirmed that his kidney efficiency had dropped to 10 per cent. However, until they dropped by a further two per cent, he would be unable to start dialysis.
"The hospital made me choose between having dialysis either in Wales or in Kent, as at the time I was dividing my time between both of these places," he told The Pembrokeshire Herald.
"I decided on Wales, but it was another two months before I arrived back in Pembrokeshire only to find that my hospital records, which should have been sent from Kent, had been lost.
"This meant that I now had to wait another month to meet the renal doctor who was based in Swansea but who visited Pembrokeshire once a month.
"During those three months, it got to the point where my life wasn't worth living.
"I became progressively weaker until I could no longer walk nor drive the car as I couldn't change gears.
"I spent the nights sitting in a chair, because when I lay down, I couldn't breathe because of the excess fluid in my lungs.
" I was so weak I couldn't do anything."
John's body was now drowning in a total of 28 litres of waste fluid as a result of the kidney failure, and because his kidneys were no longer producing haemoglobin to carry oxygen around his body to provide energy, his strength was rapidly diminishing.
"My lowest point came one night during a massive thunderstorm," he continues.

"I knew it was impossible to live like this, so I decided to go to the A&E department at Withybush.
"I'll never forget walking that 30-foot distance to my car. It was eleven o'clock at night, pouring with rain and lightning flashing every few seconds, and I could only shuffle four steps and then stop to get my breath. That was the hardest walk of my life."
After reaching Withybush, John spent the next 11 hours undergoing tests followed by a consultation with the renal doctor who was based in Singleton Hospital.
"She arranged for me to go as a day patient to have a fistula formed in my arm, which joins a vein with an artery to provide a channel for attaching the dialysis needles. Six weeks later, when my kidney function had now reached eight per cent, I started dialysis."
John will now continue having three four-hour sessions every week for the rest of his life as he is too old for a kidney transplant.
The sessions take place in the Withybush dialysis unit which has 21 machines operating two shifts a day.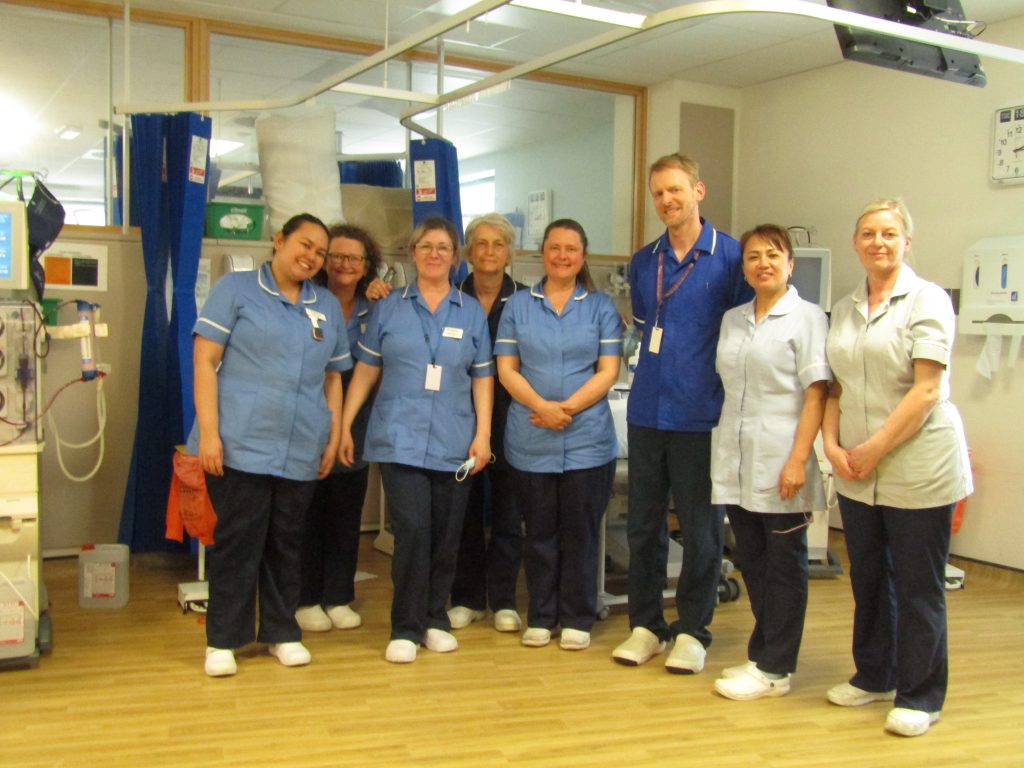 "The service that I've had in Withubysh has been truly remarkable.
"The staff work very long, hard hours to keep the machines operating and the nurses can walk up to six miles a day as they go about their work."
Nine weeks on, and after many injections to promote his haemoglobin, John's body weight has now reached 98 kilos and his energy levels are beginning to return to normal.
"It's a truly unexpected and miraculous recovery that I can now live normally again," he said.
"This superb life-saving care that we're receiving from the NHS is provided by the teamwork of a wide variety of specialists for whom I have a very big thank you for giving me back my life.
"And that team at Withybush really are exceptional. I certainly wouldn't be here without them."