One of Pembrokeshire's great World War II veterans – the late despatch rider, Gordon Prime – is to be honoured in a 50-mile lap of Pembrokeshire with the 'Duty to Ride' fund raising campaign this weekend. 
The ride is being staged by the south Wales branch of the Vintage Motor Cycle Club who will be bringing its 'Duty to Ride' fundraising campaign to Pembrokeshire in honour of the late Gordon Prime, who recently passed away at his Pembrokeshire care home.   
The Gordon Prime Memorial Ride will take place this Sunday, April 16, starting at the Carew Cheriton Control Tower at 11am. Riders will then travel approximately 50 miles around Pembrokeshire before returning to the Tower later that afternoon.
Formerly of Jameston, Pembrokeshire, Gordon was a despatch rider on D-Day and took part in many other significant battles during WWII. He was passionate about honoring despatch riders and emergency services motorcyclists who had given their lives in the line of duty.  Working with Age Cymru Dyfed and the south Wales branch of the Vintage Motor Cycle Club, Gordon had helped plan a ride to raise money for a UK wide memorial.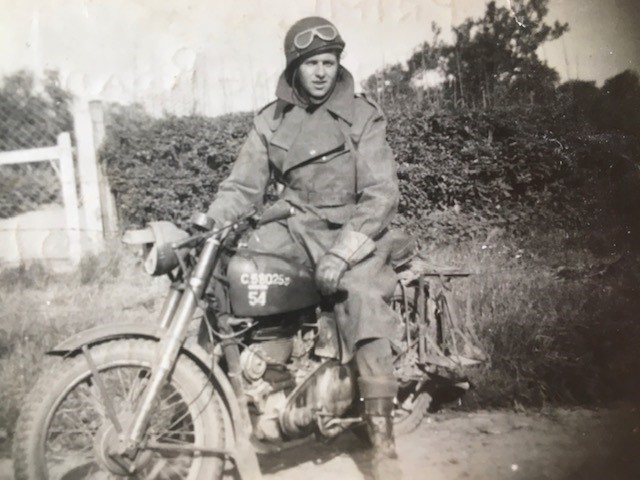 Gordon had chosen this date because his best friend and fellow despatch rider in the Royal Army Service Care company, Bert Stinchcombe, was killed on 16 April 1945 just three weeks before the end of the War in Europe.

Gordon had initially been referred to Age Cymru Dyfed's Veterans Archive Project as a WW2 veteran living in west Wales.
Hugh Morgan who co-ordinated the project said, "Gordon was always open and keen to talk to us about his story as a despatch rider during WW2 and so there's now an extensive collection of Gordon's audios, filmed interviews, and material on the West Wales Veterans Archive website, which is held on People's Collection Wales, in the National Library, Aberystwyth. I also know that Gordon greatly appreciated our charity's engagement with him and the support of our volunteers."
Age Cymru Dyfed's chief executive officer, Simon Wright, says, "We know that many older veterans often struggle to engage with support services. Many believe that services outside of the armed forces will not understand their unique backgrounds and challenges. However, many charities, including Age Cymru, are now working closely with the armed forces to provide appropriate support in safe spaces. And the late Gordon Prime was a wonderful example of what can be achieved when older veterans reach out and seek the right help."
Duty to Ride was launched in 2022 to raise funds for a memorial to despatch riders and couriers from both military and civilian backgrounds who lost their lives whilst on duty. This ride will help to raise the profile of this appeal and also honour the memory of Gordon and his fellow riders.
For more information about the event or what support services are available for military veterans in west Wales call Hugh Morgan on 03333 447 874 or email [email protected] For general information about older people's issues visit www.agecymru.org.uk or call 029 2043 1555.