Three months ago, Julianna Brandsen was a happy, healthy, mother-of-two who lived for her work as a schoolteacher near Pendine and for the long walks she shared with her family and dogs on the beaches around her home in Pembrokeshire.
Life was good, with everything to look forward to. But suddenly Julianna's existence fell into turmoil.
After a typically busy Christmas term at Llanmiloe Primary School, which is situated between Laugharne and Pendine, Julianna began looking forward to the Christmas holidays with her husband, Tim, and their two children, Emilia, 14, and William, 11.
But as Christmas Day approached, Julianna developed what she believed was a cold; by New Year's Eve it had progressed to flu.
On January 1, despite the medical advice to keep monitoring her at home and give her plenty of fluids, Tim decided to make a call to the ambulance service. It was this call which saved Julianna's life.
Julianna had developed a form of  pneumonia caused by a combination of both invasive Strep A and Influenza, resulting in a level of severity which experienced ICU nurses had never previously seen anyone recover from. Her pneumonia resulted in two cardiac arrests and multiple systemic organ failure requiring full life-support.
"The ambulance arrived within five minutes of my call, and this was the very point which doctors later described as when Julianna fell over a cliff edge," explained Tim.
"The rapid response of the ambulance crew and their skilled work on Julianna as she was blue-lighted to nearby Withybush Hospital was crucial, as she deteriorated dramatically with septic shock. She suffered two cardiac arrests and multiple organ failure and was quickly placed on life support under heavy sedation. A diagnosis of sepsis resulting from an aggressive form of pneumonia was confirmed, and we were warned that she may not survive the night."
But the Withybush medical team fought exceptionally hard to save Julianna's life, and gave her everything they possibly could to keep her alive during those first 48 hours.
On January 18, after nearly three weeks on a ventilator, the doctors were finally able to lower her sedation and trial her off the ventilator.

"And they were virtually dancing around her bed when they discovered that she could breathe by herself and was even starting to speak quietly, which negated the need for her planned tracheostomy," said Tim.
Julianna awoke with no long-term brain damage, and has steadily overcome the concerns with her heart, her breathing and blood pressure. Her kidneys continue to improve daily and she has recently been removed from the dialysis machine.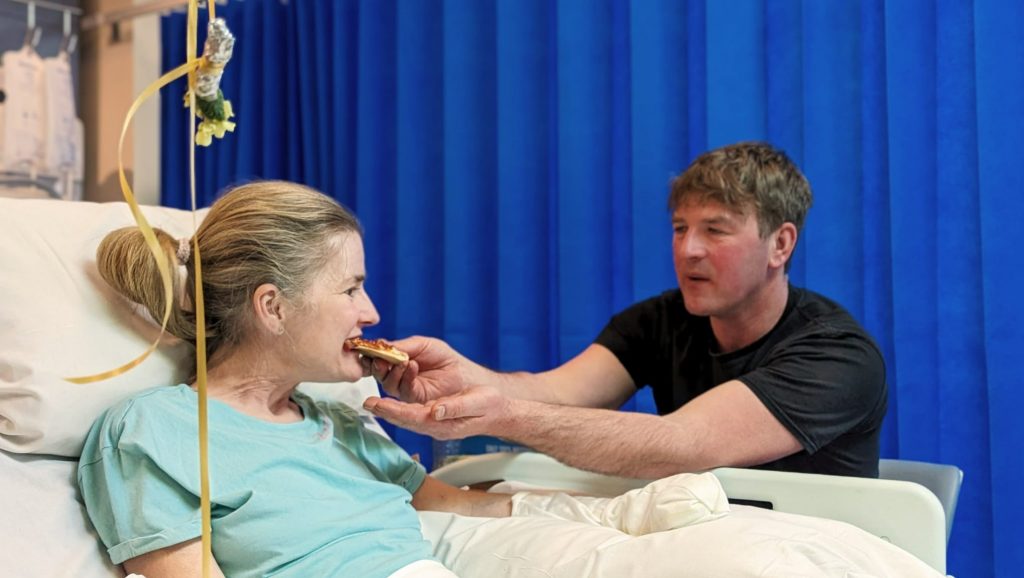 But after weeks of fighting so desperately hard for her life, Julianna awoke with severe damage to her hands and feet with the result that she's had to undergo surgery to amputate both of her legs below the knee and will also lose most of her fingers.
"So Julianna's now having to accept that she went to sleep with the flu, only to wake up and be told that they were cutting her feet off.
""Her life has suddenly taken a very different path because she's now completely dependent on one-to-one care, to perform the most basic of tasks."
Tim has already started adapting the family home for when Julianna is eventually discharged from hospital, however the costs of the building project, the prosthetics and the other adaptive equipment is daunting.
Her family and friends are currently raising funds to help her regain her independence and discover a new 'normal'.
"Julianna is a very positive, resilient and determined individual who has always worked so hard, contributed so much and inspired so many people in so many different ways," said Tim. "Now, we just want to support her in her journey towards recovery."
Julianna's story can be followed on the gofundme page on the following link https://www.gofundme.com/f/helping-julianna-rebuild-her-independence?