OVER 1,200 people in Pembrokeshire who have complex barriers which make it difficult for them to find and retain a job have been supported into and towards work by European-funded employability projects over the last seven years.
And it was their stories about the impact of that support, and the difference that employment and learning has made to their lives, which were at the centre of a celebration event held last week.
The event at Scolton Manor was held to mark the success of the four employability projects as they draw to a close – and to look forward to the future, as the projects continue with new funding.
Delivered by Pembrokeshire County Council and funded by the European Social Fund through Welsh Government with match-funding from Pembrokeshire County Council, the projects were:

Workways+
WW+ Short Term Unemployed
Experience for Industry
Tackling in-work Poverty Pembrokeshire
Staff from the four projects worked alongside participants to help them overcome barriers, work towards their goals, and raise aspirations. They also supported them to stay in work and improve their employment situation.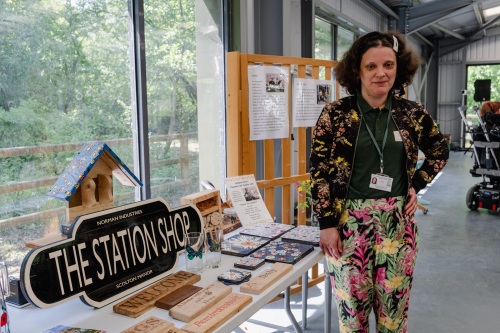 Rob, one of the project participants, said: "They gave me my chance to prove to everyone and myself that I could have a good job. For the first time I have money in the bank. It is the first time that I have felt I have a good future. I cannot thank them enough. The practical support they have given me has been great."
Honorah, who also benefited from project support, said: "They encouraged me to apply for positions I would never have thought to apply for, encouraged me to have belief in myself, and put myself forward for work when all I could see were barriers. To be given my current role is amazing."
Another participant said: 'Redundancy came as a terrible blow to me. My self esteem seemed to go AWOL. I now have a job I'm suited to and my purpose and 'fizz' are back. Yes, we all need an income but we all need help sometimes and ringing Workways was one of my better decisions. Thank you to two 'top girls' -without their support, I'd still be looking for my sparkle."

Eleanor Brick, Employability Projects Manager, said it was fantastic to hear about what had been achieved.
"Hearing and seeing the stories from the people who have benefited from the support of these projects really demonstrates the real impact of what has been delivered over the last seven years," she said.
"We are really pleased that continuation funding has been secured through Welsh Government, UK Government and the Department of Work and Pensions to continue to deliver and develop the employability programme and retain the existing experienced team once the funding comes to an end."
The celebration event also showcased the skills and talents of people who work in supported employment enterprises, the training centre and craft workshop. They included Edie's Tea Room, Talog Coed Saw Mill, The Station Shop and Norman Industries.

Karen Davies, Programme Manager, said: "Many of the 75 people with disability or long term health conditions who are currently in supported employment through these enterprises have received support from the employability projects which is essential in ensuring that work is successful for them. 
"I'm very pleased that we have been successful in obtaining new funding so that this really important support can continue and that many others will be able to receive support in future."
Cllr Tessa Hodgson, Cabinet Member for Social Care and Safeguarding, said: "It was wonderfully inspiring to hear how people have been supported and about their aspirations and ambitions for the future. I'd like to thank all the staff involved in the projects and wish all the participants the very best for the future."