GET READY to hop into the excitement as Mackerel Quay, on MIlford Marina transforms into a vibrant hub of fun, froth, and flavours at the BIG Beer Festival 2023!
Picture-perfect Milford Waterfront is the place to be TOMORROW, May 27th, as the Milford Haven Round Table hosts this premier event. Brace yourself for a day you won't forget, packed with laughter, live music that'll make you groove, mouthwatering street food that'll leave you craving for more, and, of course, an impressive selection of beers that will take your taste buds on a wild ride.
As you step foot onto the festival grounds, prepare to be whisked away into a world brimming with energy and anticipation. The air is buzzing with laughter, blending harmoniously with the infectious beats of live music. The tantalizing aroma of street food drifts through the stalls, luring you in with its irresistible charms. It's a place where beer enthusiasts and festival-goers come together, ready to embark on a flavour-filled adventure while forging friendships that'll last a lifetime.
But let's not forget—the heart and soul of The BIG Beer Festival 2023 lies in its liquid treasures. Prepare to be amazed as row after row of barrels showcase a dazzling array of ales to refreshing Pimms, catering to every palate. Craft breweries from both local and international origins have gathered here, proudly presenting their finest creations. This festival is a golden opportunity for you to explore diverse flavours, discover new favourites, and become a bona fide beer aficionado.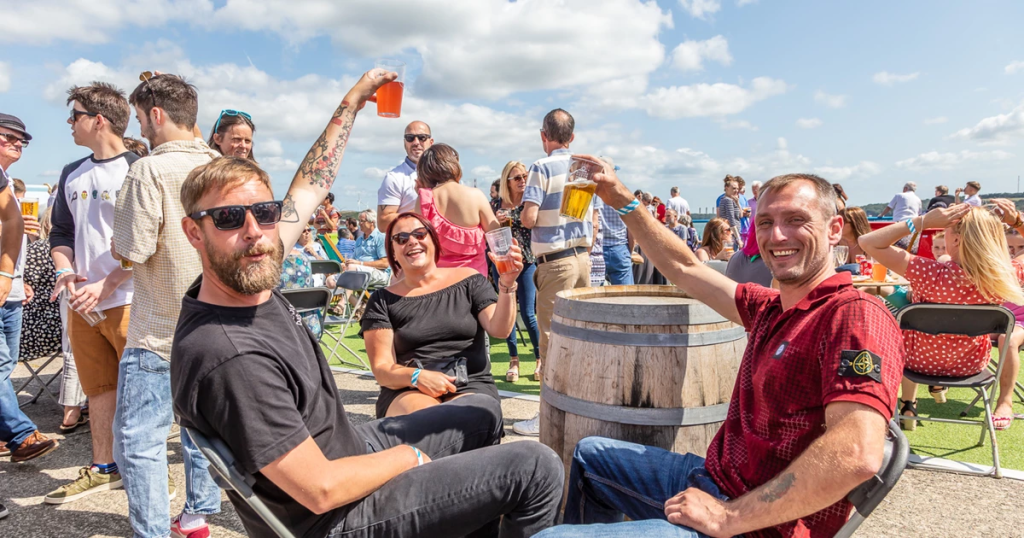 To join this beer lover's paradise, simply pay the entrance fee of £20, and voila! You'll unlock the gates to an unforgettable experience. As a token of appreciation, each attendee receives six beer tokens and a limited edition festival glass. These tokens act as your currency to sample a wide variety of brews, allowing you to dive headfirst into a sea of flavors while appreciating the craftsmanship that goes into each pint. Whether you're a seasoned beer connoisseur or a curious novice, this festival promises to tickle your taste buds and leave you with an education in all things beer.
But hold on—The BIG Beer Festival 2023 isn't just about beer. It's a multi-sensory extravaganza celebrating music, community, and the pure joy of being alive. Get ready to be spellbound by incredible live performances from the likes of The Collective, Tomos Lewis, Steve Bartram, and Ragsy, just to name a few. These talented artists will set the stage ablaze, perfectly complementing the lively atmosphere of the festival. The Beer Garden will keep the party going with sensational DJs who'll keep you dancing and celebrating well into the night.
One of the most amazing things about The BIG Beer Festival 2023 is its impact on the community. Not only will you have a blast, but your participation also supports charitable causes in Milford Haven, including the annual Carnival. So, by raising your glass and diving into the festivities, you'll be actively making a positive difference in the local community. It's a testament to the incredible power of coming together, having fun, and giving back.