THE Pembroke County Junior Leagues, sponsored by Llewellyn Davies & Co Chartered Accountants, got underway last week after the first week had been rained off.
Here is a round-up of the action from Junior organiser Martin Jones:
Under 11's
Hook 250/5 v Haverfordwest 277/4
Hook and Haverfordwest kicked off their U11 season with an excellent game of cricket where both standards and levels of enjoyment were high.
Haverfordwest batted first to reach a very good total of 277 for the loss of 4 wickets. Noah Evans with 11 and Harry Atyeo with 10 were the top run scorers. Will Davies with 7 and Osian Mills and Ed Raymond with 6 each gave support with good contributions from the rest of the batters.
For Hook Jac Llewelyn led the bowling effort with 2 for 14 whilst 8-year-old Oliver Brock grabbed 1 for 16 on his hard ball debut in an excellent three overs.
Harry Lloyd-Roberts claimed a run out with a great piece of fielding whilst Dougie Goronwy did a great job in his first game behind the stumps and Belle Murison fielded very well.
In reply Haverfordwest bowled really well to make it difficult for the Hook batters. Noah Evans laid claim to the player of the match backing up his top score with the bat with an excellent 3 for 12, supported by Ellis with 1 for 6 and Harry Atyeo with 1 for 8.
For Hook Mason Hughes and Charlie Howard top scored with 4 runs each. Rowan Nickerson and Jac played some nice shots whilst in their first hard ball game Belle, Dougie, Oliver and Harry all played really well.
A deserved win for Haverfordwest and an excellent enjoyable evening of cricket for all those involved
St Ishmaels 220-13 Neyland 279-3
St Ishmaels: Maddox Bradshaw 14, Slade Trimby 9 with both having a wicket each and one for Alfie Philpot.
Neyland: Ethan Holmes 19 & 5 wickets, Karter Williams 18, Cian Riley 2 wickets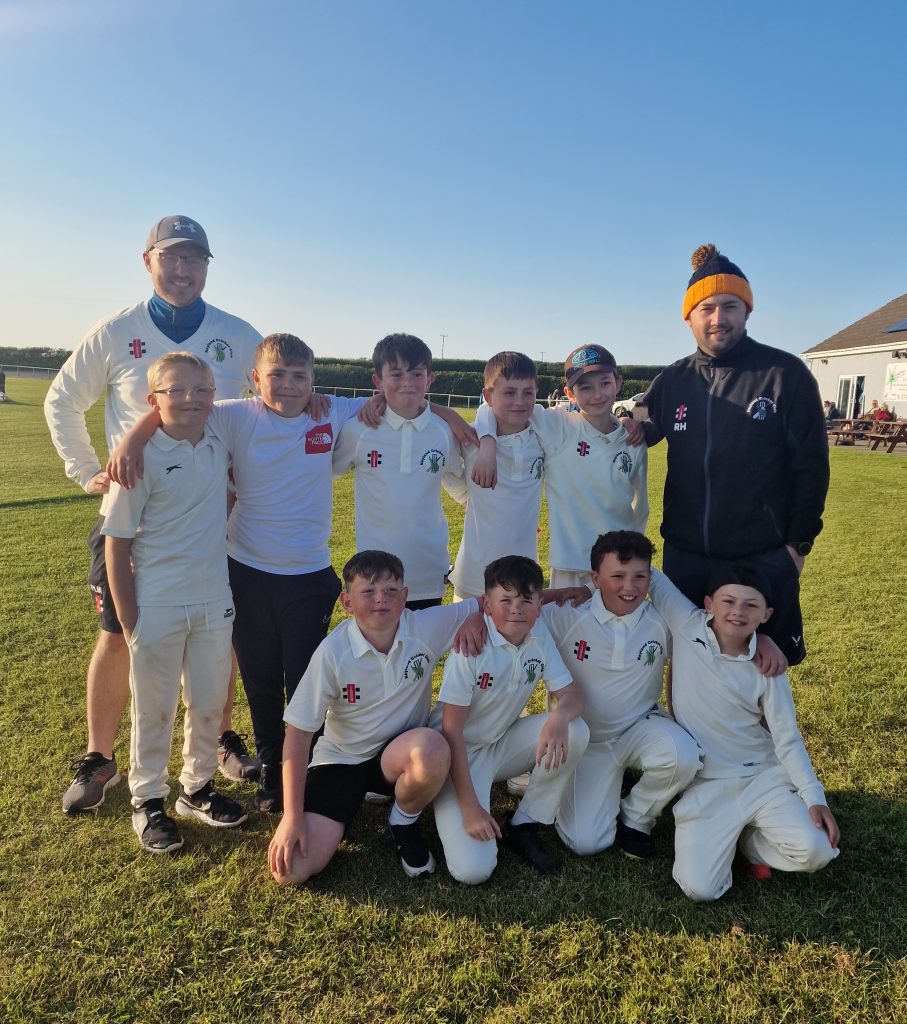 Llechryd 239-7 Laugharne 243-4
Laugharne: Jac Lynch 6 & a wicket, Harry Harris 4, Llewellyn Taylor 4 & a wicket, Jamie Peace 5 wickets

Llechryd: Isobel Dunkeld 5, Gwion James 5, Amelia Evans & Lily Rees Langley with a wicket each.
Cresselly U 11's 313-5 Lamphey A 223-12
Lamphey: Anerin Bendall 11 and 1-22, James Burns 15, Caleb scourfield 2-14, Allistair Mathias 1-29, Kaiden Brayford 1-9
Cresselly: Alfie Morgan 26, Arthur Jenkins 20 (1x 6), Cody James 25 (1 x6) and 3-7, Mari Cole 2-13, Rhys White 1-7, Caden Jones 1-8, Jack Mears 1-9
Cresselly U 10's 270-8 Lamphey B 265-10
Under 13's
Llechryd 36-10 Kilgetty 40-1
Llechryd: Oscar Patrick 7, Alex James 1-7
Kilgetty: Jack Cole 27, Olly Badham 2-4, Teddy Griffiths 2-8
Pembroke Dock 75-2 Pembroke 76-1
Pembroke Dock: Oli Frearson 18, Owen Mackeen 1-4
Pembroke: Oliver John 24, Osian Ridgeway 19, Esposito Zac 13 & 1-7, Abdullah Bhatti 1-3
Lamphey 90-8 Pembroke 80-7
Pembroke: Osian Ridgeway 25 & 3-7, Abdullah Bhatti 3- 14
Lamphey: Elliot Midgley 25, Terrance Makridakis 21, Morgan Price-Richards 2-7