Walking through Haverfordwest at 2pm on a wet Sunday afternoon in March, it becomes depressingly clear how the town centre has been allowed to erode into a state of decay.
Shops that once stood proudly to serve this elegant county town lie locked-up and empty.
Many are located in majestic Georgian buildings which bear testimony to the wealth and grandeur which the town of Haverfordwest once commanded. But over the past two decades, these handsome architectural legacies have entered a downward spiral of neglect.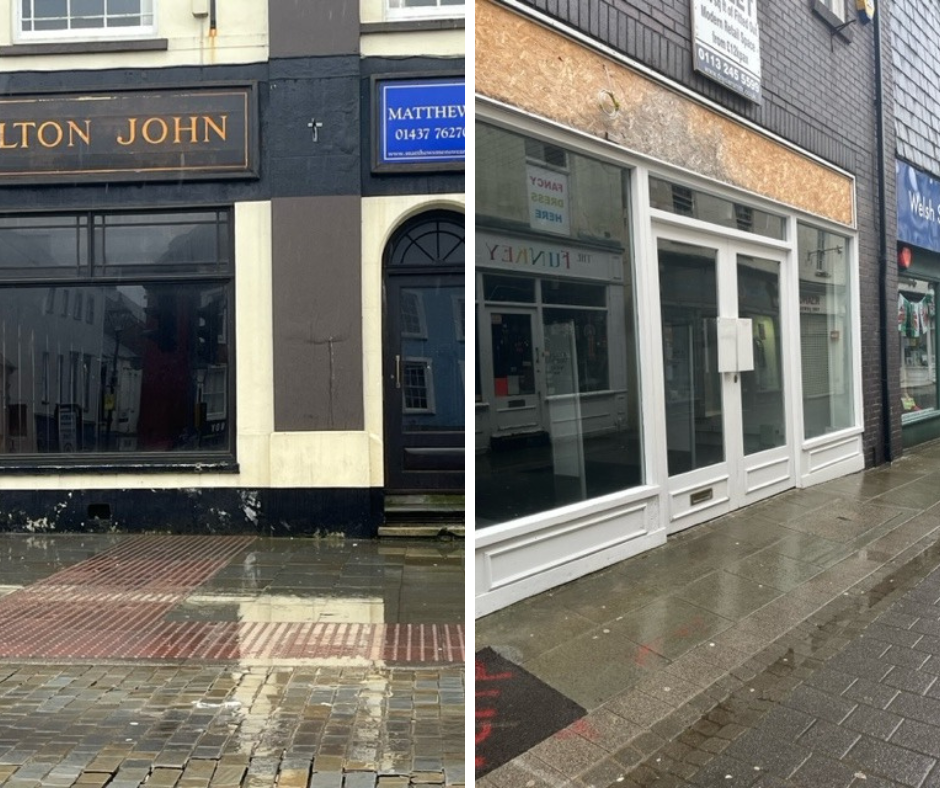 As the rain continued to beat down, town centre areas such as Castle Square, the High Street and Bridge Street remained empty of pedestrians while the shops that were open were experiencing little trade.
"I remember walking past all these fantastic empty buildings and wondering who the hell is responsible for the regeneration around here?" said Gitti Coats, project director at the Haverhub regeneration project.
"If this was Devon, which is where I come from, each of these wonderful buildings would be thriving. Surely it's time for our local authority's regeneration team to start participating and make sure that our town is salvaged for its future prosperity?"
Six years ago Gitti secured the lease on Haverfordwest's former Post Office after it had lain unused for three years; she subsequently launched the Haverhub regeneration project. Since then the not-for-profit social enterprise has become a vibrant part of town life, providing a diverse venue where locals can meet, work, socialise and share their talents.
Now, thanks to the inspirational directive of the Heritage Trust Network, Haverfordwest will soon be hosting a jam-packed day of talks, tours and networking with people who have already completed, or who are currently working on projects in their own towns to help shape the future of the high streets of Wales.
"The decline of the High Street certainly isn't confined to Haverfordwest but is a recurrent theme all over the UK," continued Gitti. "And this is why it's so important to listen to what other people have achieved in other Welsh towns and how they've tackled their own respective issues.
"We have all these wonderful, old town centre buildings here and we just want to give them vibrant, viable new uses that are attractive to their communities.
"I want people to start thinking about ways in which Haverfordwest can be regenerated in a joined-up way, and it would be great if this could include people from other towns in Pembrokeshire as well."

Gitti's words have been echoed by Cris Tomos, the enterprise and business coordinator of Planed, the organisation that supports community enterprises.
"The town of Haverfordwest has so much to offer, not least by the fact that it has a castle and enjoys a fantastic location on the banks of the River Cleddau," he said.
"But any rejuvenation work has to be addressed in a way that ensures there will be enough traction within the town. It's not simply a question of being able to attract shops, but of being able to offer people a complete visitor experience. And this should include a huge range of options such as cultural and historic attractions, quality places to eat and stay and strong links throughout the rest of the county. So when people visit all the other great tourist locations in Pembrokeshire, it's important that they will visit Haverfordwest too."
Cris is particularly keen to see Haverfordwest strengthen its Celtic links.
Meanwhile County councillor for Haverfordwest's Castle Ward, Thomas Baden Tudor has welcomed the news.
" The major redevelopment of the former Ocky White department store is now very much an integral part of the Haverfordwest 'masterplan' which aims to boost the footfall and economic activity of the town centre, both the day and night time economic activity," he said.
"I see Haverfordwest town centre as being a multi-functional place for all, offering a place to live, work, play and visit and I'm very hopeful for its future development.
"Certainly there have been many businesses that have felt the negative effects from the COVID-19 pandemic, but overall it could have been much worse, and I'm optimistic that Haverfordwest town centre will once again become a thriving commercial and residential location of choice with a resilient, vibrant community, creating a distinct destination and sense of place that will continue to attract people. And this will ultimately contribute to the town's wider sustainability and success."
The Heritage Trust Network event, which is funded by Cadw, will include talks by Adam Hitchings, the Heritage Trust Network trustee and the Architectural Heritage Fund's Development Officer for Wales, Nell Hellier, Senior Built Heritage Officer at Carmarthenshire County Council, Cris Tomos and Gitti Coats.
The date of the event is expected to be announced in the next few weeks.