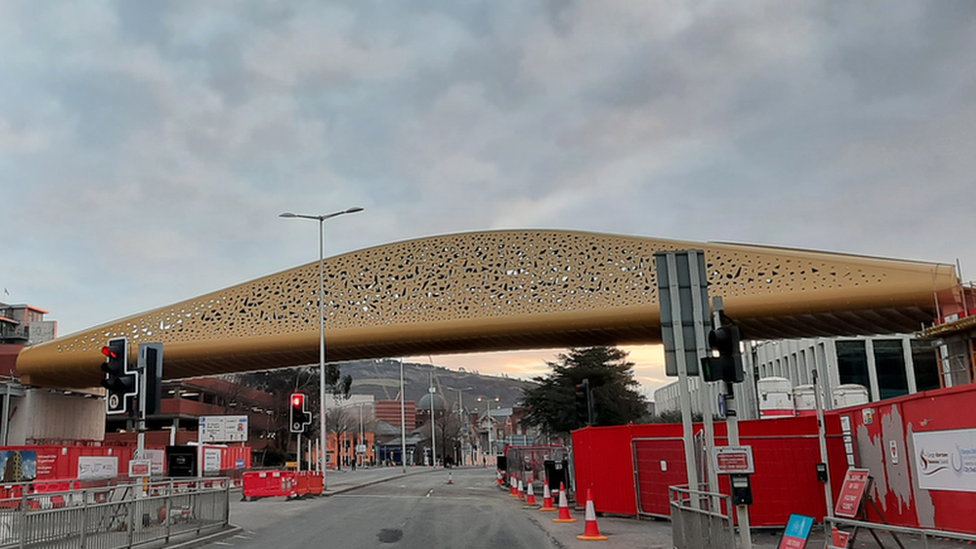 A BRIDGE linking Swansea city centre to a £135m indoor arena and the coast has been lifted into place.
The new Copr Bay Bridge is 160ft (49m) long and crosses Oystermouth Road, with council officials hoping it will become a landmark for the area.
Two mobile cranes lifted the pieces into place, whilst the road underneath closed overnight.
The bridge is expected to open to cyclists and pedestrians ahead of the arena's completion later this year.
"With its bold design that will complement the striking façade of the arena, the bridge will become a landmark for the city and an emblem nationally and internationally of a city that is going places," said council leader Rob Stewart.
Swansea-born artist Marc Rees designed the pattern on the bridge's side panels featuring 2,756 laser-cut origami shapes.
"It's been a difficult time recently, especially for the cultural sector, so the bridge installation is timely as we need a positive and aspirational symbol," he said.
One of the locals who saw the bridge this morning after it was lifted into place said: "Its looks like the inside of a really massive Crunchy bar – it is really fantastic."
Related posts