THE WALES AIR AMBULANCE was honoured to welcome Their Royal Highnesses, The Prince and Princess of Wales, to its Llanelli headquarters on Tuesday (Feb 28).
During the visit Prince William and Princess Catherine met with emergency workers, supporters and past patients who have benefitted from the Charity.
They also officially opened the Charity's new patient and family room, which was dedicated in memory of father-of-two Arwel Davies, who tragically died in a road traffic accident, aged 40.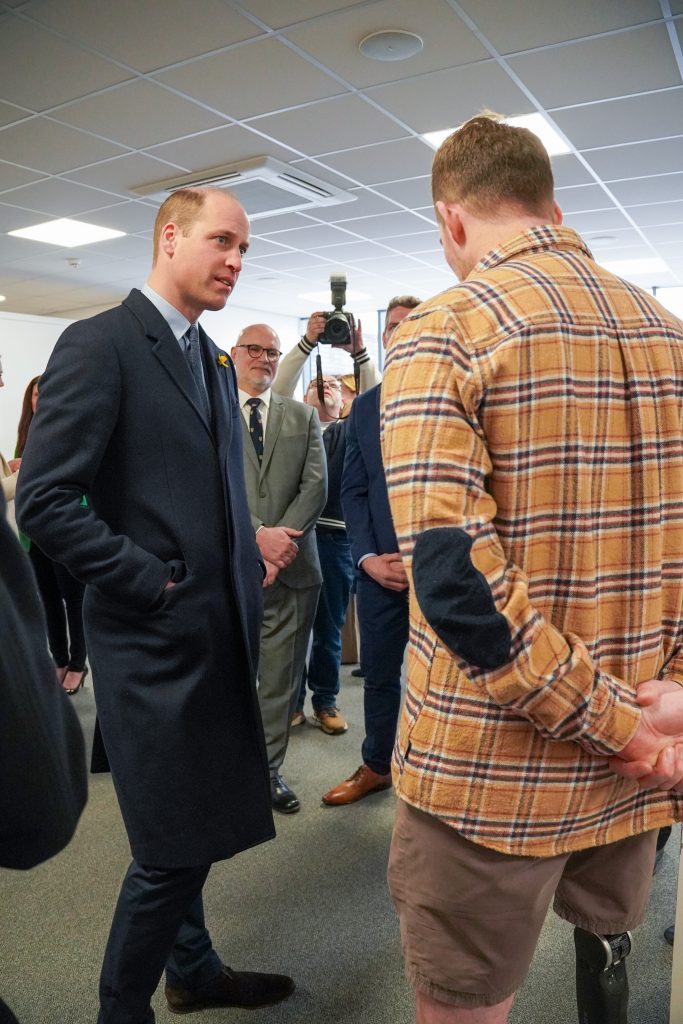 The room, which was supported by 2wish Charity, will provide a safe, private and inviting space for families dealing with bereavement and trauma and was designed by patient liaison nurses Jo Yeoman and Hayley Whitehead-Wright as well as Arwel's children Owen, 11, and Sofia, 8, who chose what they wanted to be included in the room.
The children also helped to paint the first part of the room and drew balloons in memory of their father, whose passion was hot-air ballooning. A specially-designed hot air balloon now hangs in the room as well as a framed picture that Owen drew in memory of the dad-of-two.
The Davies family, of Llandovery, spoke with Their Royal Highnesses privately in the room before Sofia presented Princess Catherine with a bouquet of flowers and Owen presented Prince William with a framed picture of the Charity's helicopter.
Speaking after the royal visit, Arwel's wife, Laura, said that the family were honoured and proud to be able to share Arwel's memory with Their Royal Highnesses and it was a day they will treasure.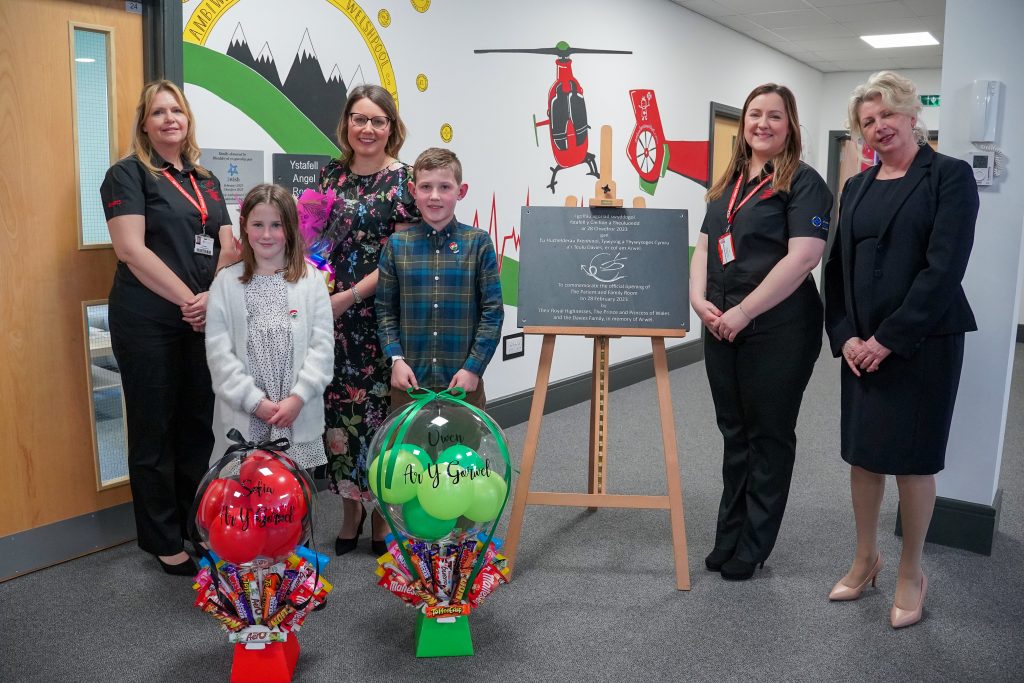 Laura said: "On behalf of myself, Owen, Sofia and the entire Davies family, I would like to extend our huge gratitude for what can only be described as an incredible day, where we had the huge privilege of visiting the Wales Air Ambulance base in Llanelli, for the opening of the patient and family room, in memory of our wonderful husband, father, son and brother, Arwel.
"The entire day was a reflection of the love that we all have for Arwel and we are all very proud to have shared with The Prince and Princess of Wales, our fond memories of Arwel, our adventures in the family hot air balloon, and to present to them the Patient and Family Room.
"We as a family will always be grateful for the time they spent with us and how they listened to our stories with kindness and compassion. They made Owen and Sofia feel incredibly special and told the children to "keep talking about Dadi" something we will certainly always do."
Laura said the aftercare support the family had received from the Charity's Patient Liaison Nurse, Jo Yeoman, had been incredibly beneficial.
She said: "The support that we as a family have received from Jo has been overwhelming since the moment she reached out to us. To share the day with Jo, along with her colleague Hayley, and all the Wales Air Ambulance crew and staff was very special to us.
"What has been created is a dedicated space for patients and their families to visit the Wales Air Ambulance base where they are welcomed to a safe and comfortable room to discuss patient treatment and to offer aftercare support for those that need it.
"For the Charity to have included Owen and Sofia from the planning stages through to the official opening of the room, was certainly an exciting project for the children to have been involved in and they have created memories for life.
"We sincerely hope that the Patient and Family room inspired by our loss can bring comfort to many families for years to come."
Mental health support for emergency responders has long been a passion for The Prince of Wales, having previously served as both an Air Ambulance and an RAF search and rescue helicopter pilot.

Jo Yeoman said: "It has been a pleasure to work with the Davies family to design the patient room especially involving the children to get their thoughts about what was needed for different age groups. The day went perfectly and we were very pleased that Arwel's father, brother and sister could also be involved in the day which was made even more special to have Their Royal Highnesses there to officially open the room."
Jo's colleague, Hayley added: "It was a privilege to be a small part of the special occasion. The development of the patient and relative room is something that the aftercare team, charity staff and the Davies family have worked towards for several months, with the incredible support from 2wish. Everyone's hard work has certainly paid off and the room will go on to serve those touched by our charity for years to come. To share the day with Their Royal Highnesses was an incredibly honour and something to be remembered forever."
During the visit, Their Royal Highnesses also met some past patients, cardiac arrest survivors Alan Owen and Sian Andrews as well as Richard Jones, whose life changed in a split second after a horrific crash left him with life-changing injuries.
Alan, Sian and Richard have received treatment from the Wales Air Ambulance and believe they would not be alive today if it wasn't for the all-Wales Charity, that receives no government funding and has to rely on generous donations to raise £8million each year to keep its helicopters flying and its rapid response vehicles on the road, 24/7, 365 days a year.
Dad-of-one Richard, 33, of Tenby, said he was honoured to attend the opening of the patient and family room.
He said: "I found the Prince of Wales to be very down to earth and he appeared to have an interest in what happened to me and asked questions about my prosthetic leg and recovery. It was a great day being part of such an amazing tribute to an incredible family."
Former Wales and British and Irish Lions rugby international, James Hook, who is also an Ambassador for the Wales Air Ambulance, also attended the opening.
He said: "It was a real honour. I was fortunate enough to meet Arwel's family and talk to Owen and Sofia about their love of rugby. The family were all lovely and incredibly welcoming to myself and my wife Kim, as were the other guests and charity staff.
"The room itself is absolutely amazing. It's such a wonderful idea and will allow patients and families to feel safe and secure whilst talking with the Patient Liaison Nurses. It was a very special day and having The Prince and Princess of Wales attend seemed like a perfect fit. It was a privilege to be invited."
The royal visit also coincided with the announcement that Prince William would become a Royal Patron of the Wales Air Ambulance Charity – the first Welsh patronage for The Prince since receiving the title of Prince of Wales.
The Charity, which was founded on 1 March 2001, has completed almost 45,000 missions since its inception.
Sue Barnes, Chief Executive of the Wales Air Ambulance Charity, said: "It is an immense honour for our charity to welcome His Royal
Highness The Prince of Wales as our Royal Patron. The Prince has first-hand experience of working in the unique and often challenging air ambulance environment.
"We look forward to our new relationship with The Prince as our charity continues to support a lifesaving service for the people of Wales."
Arwel's legacy will live on through this room and will help so many other families.