We're reading it, we're laughing over it and there's no denying that the people of Pembrokeshire have grown to love it.
But who the heck are Barri Bryth, Ceredig Pysgod-Jones and his co-editor in chief, Gito Goch? In other words, the team responsible for Pembrokeshire Cachu News?
This week the Pembrokeshire Herald tracked them down to a pub in Pembroke town centre.
Gito, like all true journos, was knocking back the vino sacramento, and Ceredig was sticking to shandy because of a hangover from the previous day's funeral.
The landlord ushered the GPT (the gutter press trio), to an upper room, well away from his other customers. No surprises there, then.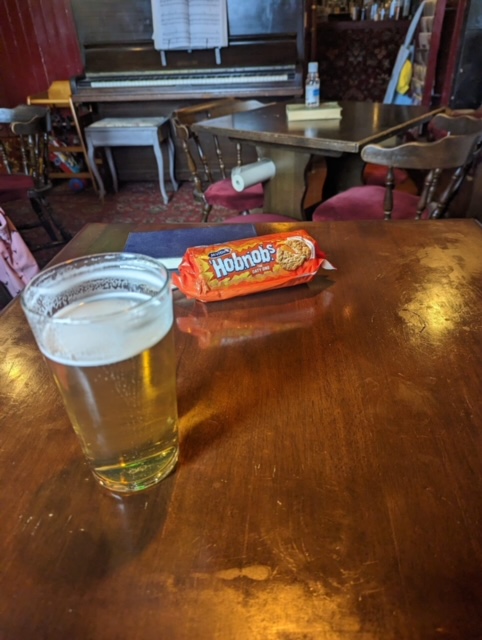 "I've always wondered what was up here," said Gito.
And so began two hours of ceaseless comedy as they launched from one story to the next with that dynamic spark that typifies Pembrokeshire Cachu News.
As they talked, they played with Lego and drew on brown paper bags with their crayons. I kid you not.
"Here you are," says Gito, shoving a packet of biscuits across the table.
" Here's a packet of Hobnobs from Barri Bryth. Why does he eat hobnobs? Because he's a nob, that's why.
"God knows where he's got to this afternoon. In fact we often wonder whether he really exists, but he exists in our head.
"Our ultimate goal is to bring Barri to life and turn him into a black and white 'film noir' played by Rhod Gilbert and that man who goes on about Welshness…What's his name?
"Michael Sheen. That' the one. He'll play Gito Goch.
"Barri, see, is your typical reporter in his corduroy trousers, collarless shirt, an ill-fitting tweed jacket, coke-bottle glasses and suspenders."
Ceredig Pysgod-Jones takes a measured slurp of his shandy.
"I think you mean braces, Gito. Barri doesn't wear suspenders."
"Ah yes, braces. And Barri just wanders around the place saying 'I don't f****** know who I am'. That's Barri."
Brith, Psygod-Jones and Gito Goch were born during the Covid lockdown of 2020.
"It was all because of Nick in the sandwich shop in Pembroke Dock. She started telling us about the council watch page and so we started reading it and realised just how daft most of the stuff on it was.
"Remember that bloke who was complaining to the council that the grass was never being cut? And then when it was cut, he started complaining all over again, that it had gone all over his car?
"So during lockdown, Ceredig and I started writing our own stories for our own amusement and we launched Pembrokeshire Cachu News."
They initially set their sights on attracting a couple of hundred followers but, following their Cleddau Bridge story, they realised that things were starting to turn.
"We said the Cleddau Bridge was going to close for six months because 'Newky and Brown' were going to repair one of the main pillars with a new formula super concrete called 'Uber Beton'," says Gito.
"I wrote that story in seven minutes. Within ten minutes I could see it being shared 50, 60, 70, 80 times.
"And this was only a few weeks after we launched Pembrokeshire Cachu News, so we knew that that story was our catalyst. Overnight we'd gained 500 followers."
Today, their figure stands at well over 8,000.
"We never imagined this happening as even today, me and Gito are just doing it for our own amusement and for our own mental sanity," says Ceredig.
"But we try and latch onto local history, and that seems to wind people up quite a bit which helps the figures.
"We've really got it in for Whitland because the people of Whitland complain about everything. And then we try and cause rivalry between the Tenby Sharks and the Penally Crows and as for the Mount Estate….you've only got to mention it and there's hell to pay."
Mr Chizzit from Birmingham is another PCN character who's good at raising hackles.
"During the covid lockdown we ran a story saying that Mr Chizzit had driven his Volvo down from Birmingham to Tenby and my God, did it make people angry. We were laughing all the way to the bank with that one, but it made us realise that that's what we had to do. Make people angry.
"And so Mr Chizzit travelled from Birmingham to Tenby again last year and said he wanted the Gosker Rock to be bulldozed down as it was spoiling his view.
"And the fantastic thing is that people actually believe this stuff.
"The one that really got people angry was in the summer of 2021 when we said that the refugees had escaped from the Penally Camp and were squatting in the abandoned Imperial Hotel in Tenby and were going to turn it into a Welsh kebab restaurant. People were writing in and saying they were never going to go to Tenby again.
"Only once we've had a pull a story, and that was when we said that the airfield in Carew was going to house 8,000 refugees from Penally Camp. We didn't know that the airfield was owned by a private company so naturally they weren't too happy when they read this."
Gito admits to being the PCN editor who tends to throw caution to the wind and tell it just like it is, while Ceredig is more restrained, extremely dry and exceptionally cutting.
"But our intention is never to hurt or belittle people," says Ceredig. "Except our friends, of course.
"We're doing it just to amuse ourselves and hopefully to bring a smile to the people of Pembrokeshire. And one of the best things is when we see one of our rival newspapers asking people what's the best thing about Pembrokeshire. And more and more people are saying it's 'Pembrokeshire Cachu News'."
The way things are looking, this trend is set to continue for a very long time indeed.