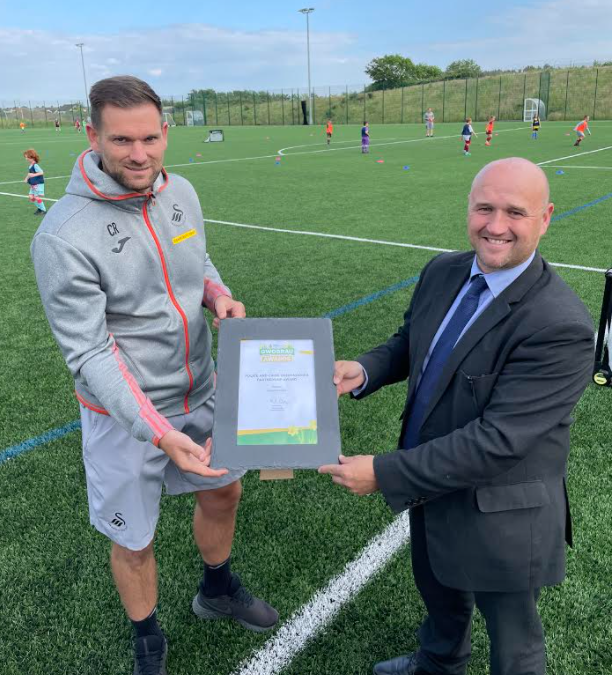 ON TUESDAY (Jun 22), Police and Crime Commissioner Dafydd Llywelyn visited the Seaside Kicks project in Llanelli to present organisers with a Dyfed-Powys Police Force Partnership Award, in acknowledgement of the initiative's positive impact on children and young people in the area.
The Seaside Kicks project has been running for over a year in the Llanelli area whereby around 60 local children and young people attend free weekly outdoor sessions to participate in football coaching sessions, as well as informal sessions that address crime issues. Organisers also work closely with the local neighbourhood policing team to help better the lives of local young people.
The initiative is run through the English Premier League's 'Kicks' national program, and is delivered locally by Swansea City Football Club Community Trust. Funded locally through the Police and Crime Commissioner, the program aims to use football and sport in general to inspire youth living in deprived areas.
Police and Crime Commissioner, Dafydd Llywelyn said; "It gives me great pleasure to present Seaside Kicks organisers with the Dyfed-Powys Police Force Partnership award that acknowledges the positive impact the sessions are having on the lives of children and young people in the area. As a sports enthusiast, I am fully aware of the influence that sport and exercise have on the health and wellbeing of individuals and communities in general."
"It's great to see that so many children and young people turn out at Seaside on a weekly basis. These sessions are inclusive, and potentially life-changing, and have also allowed local police officers to develop better relationships with young people in the area".
Craig Richards from the Swansea City FC Community Trust, said "The Swans Kicks Project in partnership with the Dyfed Powys Police and Crime Commissioner offers the young people in the area a safe place to come and play football in an excellent facility, for free. We are delighted and honoured to win Dyfed Powys Police Force Partnership Award and thank the Police and Crime Commissioner for his ongoing support for the project.
"It's been fantastic to show the commissioner the impact our coaches have on young people in Llanelli by helping build their confidence and providing skills and knowledge they need to hopefully encourage them to strive for a positive future."
Cody Stevens, one of the participants, has recently moved from attending the sessions to becoming a volunteer, encouraging other young people to get involved and acting as a role model, inspiring his peers.
He commented "I'm really enjoying my time volunteering with the Swans down Seaside. It has improved my confidence massively. I enjoy coaching, showing the kids new skills and my love for the game."
Llanelli Town Councillor Sean Rees said: "Kicks has been a great success for the area. This project really has gone from strength to strength with increased numbers taking part with every session. It has brought our community together.
"We are seeing less young people hanging around the streets and causing less ASB due to the approach of the coaches in engaging with young people of Llanelli by creating a safe, friendly environment which kicks provides."
Related posts