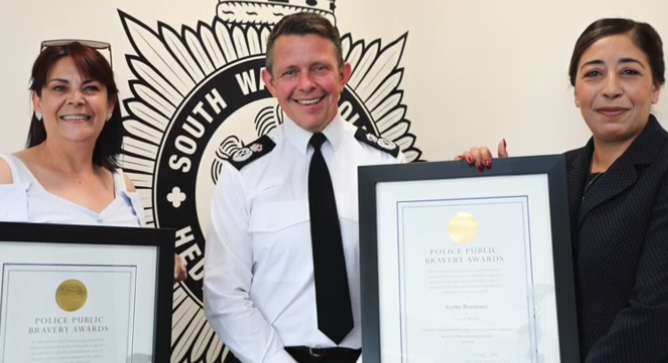 A PENSIONER who fought off a robber, two women who intervened in a ferocious fatal attack, and a group of quick-thinking men who rescued a family following a gas explosion, were among those who met Chief Constable Jeremy Vaughan last week to be presented with a Police Public Bravery Award.
The national awards recognise individuals for outstanding acts of courage or civic duty in support of the police. Many of those awarded locally accepted an invitation to meet CC Vaughan at our headquarters in Bridgend. There they were thanked personally for their actions, and the impact they have had on their communities.
Presented with awards were:
Retired 80-year-old bus driver Trevor Weston, who fought off a robber at a cashpoint in Cardiff, forcing him to flee empty-handed.
Jonathan Wright – a member of our own ICT department – who jumped into a river to save a help a woman who had got into difficulty attempting to save her dog from the fast-flowing water. After saving both the woman and her beloved pet, Jonathan walked off without soaking up the praise for his actions.
Ayette Bounari and Lisa Way, who risked their lives to protect John Rees, who was being attacked by a knife-wielding woman at a shop in Penygraig. Mr Rees, who was fatally injured despite their women's selfless actions, was also posthumously awarded as he had also become involved while trying to protect two other women during the incident.
Cameron Nation, Jeffrey Davies, Leighton Williams, Stephen Lewis and Kevin O'Sullivan, who worked together to rescue a mother and her two young children after a gas explosion destroyed their home in Seven Sisters and left them trapped in the rubble.
Rhys Walker and James Howe, who risked their own lives to assist officers who were trying to get a suicidal man to safety.
A woman, who does not want to be identified, who fought off a violent attacker during a shop robbery. Her tenacity during the terrifying ordeal saw the attacker make off empty-handed.
Chief Constable Jeremy Vaughan said: "Presenting the Police Public Bravery Awards has given me an opportunity to hear tales of true heroism. There has been some tragedy, there has been some happy endings. But the one thing that has prevailed is the humanity, the sense of community spirit."
Related posts