SCHOOLHOUSE BRIDGE, the last highway blockage on the Shropshire section of the Montgomery Canal, is taking shape after more than six years of planning and fundraising.
Contractors Beaver Bridges from Shrewsbury have craned the bridge sections into place to reinstate Bridge 86 over the canal. It's believed that, in the 1950s or '60s, the highway authority demolished the old bridge and replaced it with an embankment of earth and stone.
As canal restoration progressed towards Shropshire's border with Powys, volunteers of the three local waterway charities got together to promote the Restore the Montgomery Canal! Appeal – https://localgiving.org/appeal/MontgomeryCanal .
A retired Inland Waterways Association engineer designed a bridge, most of which could be built by volunteers. However, due to delays caused by Covid and other difficulties, contractors were brought in for the main project work and have made rapid progress.

"This has been a most exciting day," said Michael Limbrey, Montgomery Waterway Restoration Trust chairman. "It's six years since we resolved to reconstruct Schoolhouse Bridge, a significant contribution to opening up the canal to the Welsh border at Llanymynech."
Richard Hinckley, Beaver Bridges' sales director, said: "We are extremely proud to be engaged with the design and installation of the new bridge, as part of a larger plan to revive the Montgomery Canal.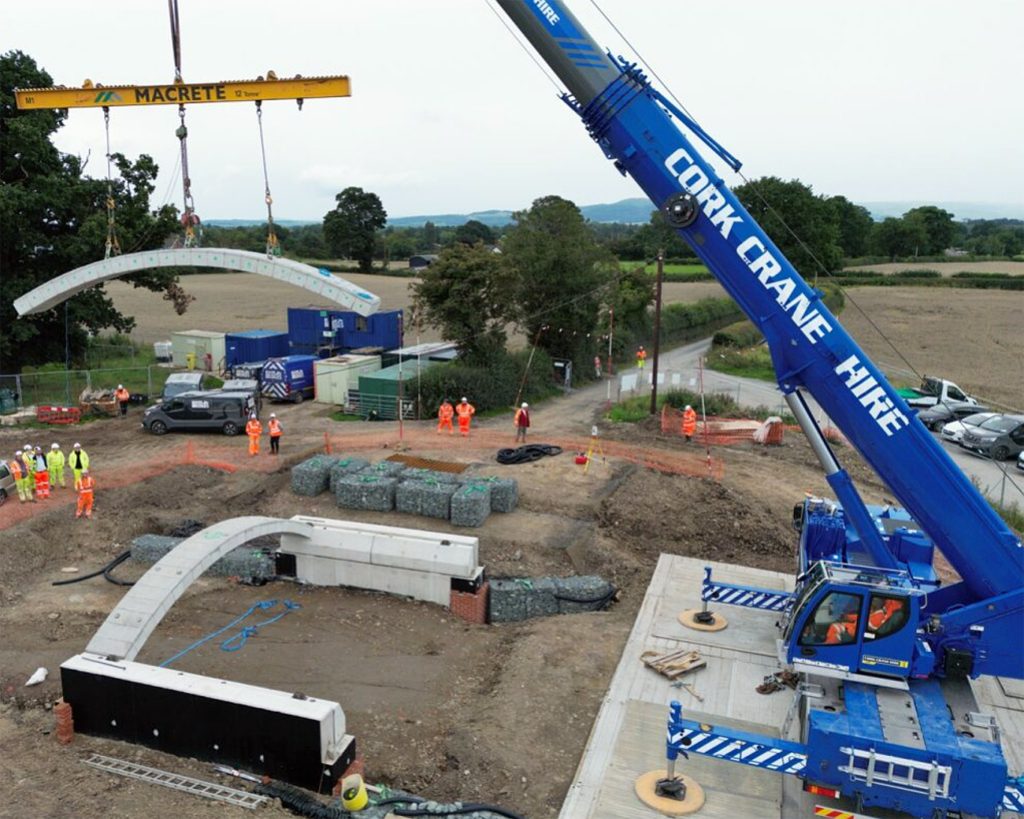 "We are playing our part in rebuilding history and leaving a legacy on the canal for future generations to enjoy. I very much look forward to seeing the first narrow boat go under the bridge."
Mr Limbrey explained that the project is part of a larger plan to revive the canal, described by its owners, the Canal & River Trust, as "high-quality, natural and built heritage, a gem of our waterway network".

This means safeguarding the valued plants and wildlife and the canal-age locks, bridges and other structures, so they do not become overgrown, decay and lose all value.
"The restored canal can bring so many economic, social and environmental benefits which other restored waterways have already achieved," added Mr Limbrey. "It is that boost to the area that brought the UK Government funding for work in Powys.
"In Shropshire, there are now just a couple of miles of dry canal to be restored. Our experienced volunteers are at work to rewater the next section and we have launched a new Restore the Montgomery Canal!appeal to raise funds to provide them with equipment and materials.
"Supporters, both local and further afield, have generously donated for the bridge and are now supporting this next phase of the restoration. We are always pleased to receive donations."

More information on Canal & River Trust Charity, can be found here.