FOUR chefs set a high benchmark in the first heat of the National Chef of Wales final at the Welsh International Culinary Championships (WICC) yesterday (Tuesday).
Robert Cave, head chef at Rookery Hall Hotel, Crewe, Matthew Smith, chef lecturer at Cheshire South & West College who lives in New Mills, near Newtown, Dan Andree, head chef at Beach House Restaurant, Oxwich, Swansea and Sophie Rowe, chef de partie at Gaerwen Arms, Gaerwen, Anglesey who lives in Rhos-on-Sea, were the first finalists in the kitchen.
Today (Wednesday) it's the turn of Wayne Barnard, senior chef de partie at Holm House Hotel, Penarth, Jamie Tully, executive chef at Chartist 1770 at The Trewythen, Llanidloes; Matthew Owen, head chef at the Celtic Collection, Newport; David Williams, head chef at Cwm Gwendraeth, Llanelli and Dalton Weir, sous chef at The Cottage Loaf, Llandudno.
Dalton is seeking to complete the double by winning the Junior and National Chef of Wales titles in successive years.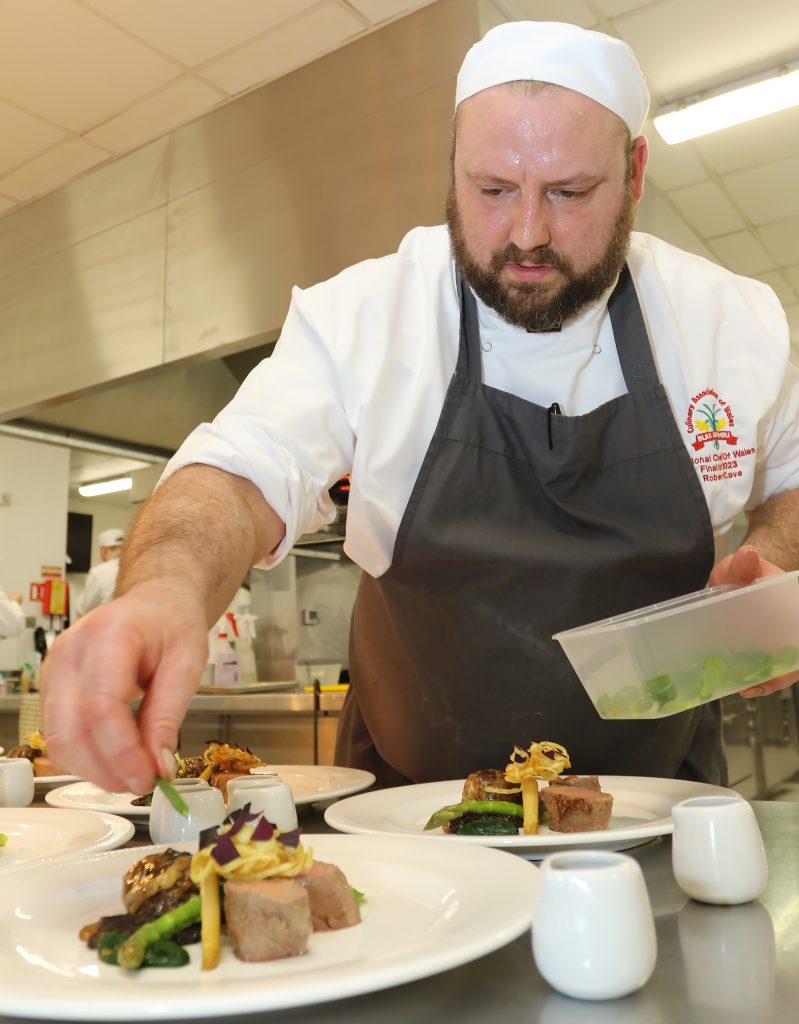 At stake is £500 for the winner, £300 for the runner-up and £200 for third place. The winner will also receive a set of engraved knives from Friedr Dick and £250 worth of Churchill products.
The chefs must cook their own creative menu for a three course dinner for 12 people within five hours, using a majority of Welsh ingredients. Their starter must be suitable for vegans, the main course must use two different cuts of PGI Welsh Lamb and the dessert must feature seasonal fruits, an ice cream, chocolate and biscuit or tuille.
Cave, who was runner up in last year's final, served up a starter of roasted butternut squash ravioli, cheese, seed tuille, Halen Mon and almond butternut squash. Main course was Rhug Estate lamb loin, crepinette. Potato crisp, asparagus, morels, foraged wild garlic and lamb gravy. His dessert was white chocolate namelaka, ginger shortbread biscuit, poached rhubarb, Aber Falls rhubarb gin gel, yoghurt sorbet and yoghurt crisp.
He was happy with his dishes, saying he thought they were an improvement on last year's final. "The dishes are what we do at work – clean seasonal and fresh."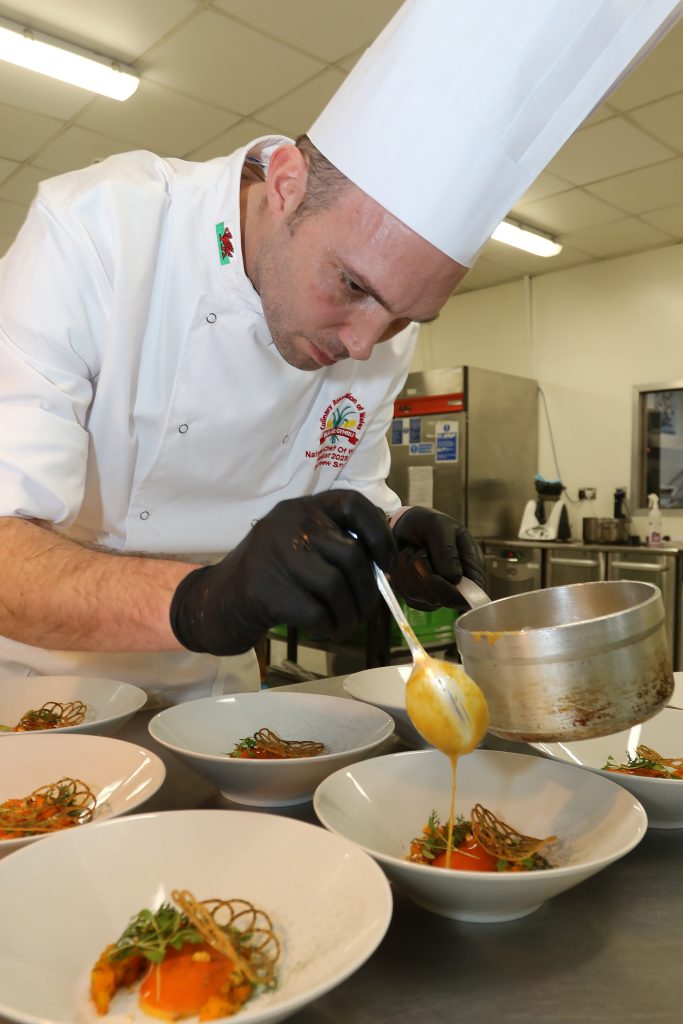 Andree, 29, making his debut in the competition, served up a starter of salt baked celeriac, pine, apple and winter truffle. Main course was Salt marsh lamb with lamb ragu, sweetbread, January king cabbage, barbeque carrot and Brefu Bach. Dessert was dark chocolate mousse, salted caramel, buttermilk and lime.
His verdict on his dishes: "I am really happy with what I put out. I did a couple of competitions at last year's Welsh International Culinary Championships and fancied come up and doing the National Chef of Wales.

"I did a lot of competitions when I was younger and I would like to get back to doing some more."
Rowe, 25, from Rhos-on-Sea, who was entering her first competition, served up a starter of broccoli, smoked cheese mousse, pear chutney and wild garlic. Main course was dry aged rack of lamb, boulangerie, lamb neck and caramelised onion. Dessert was dark chocolate, hazelnut ice cream and blood orange.
She said: "I did the best I could and I was really happy with the dishes." Andrew Tabberner, who was her commis for the final, said: "I thought they were really strong dishes at Sophie first attempt at a competition."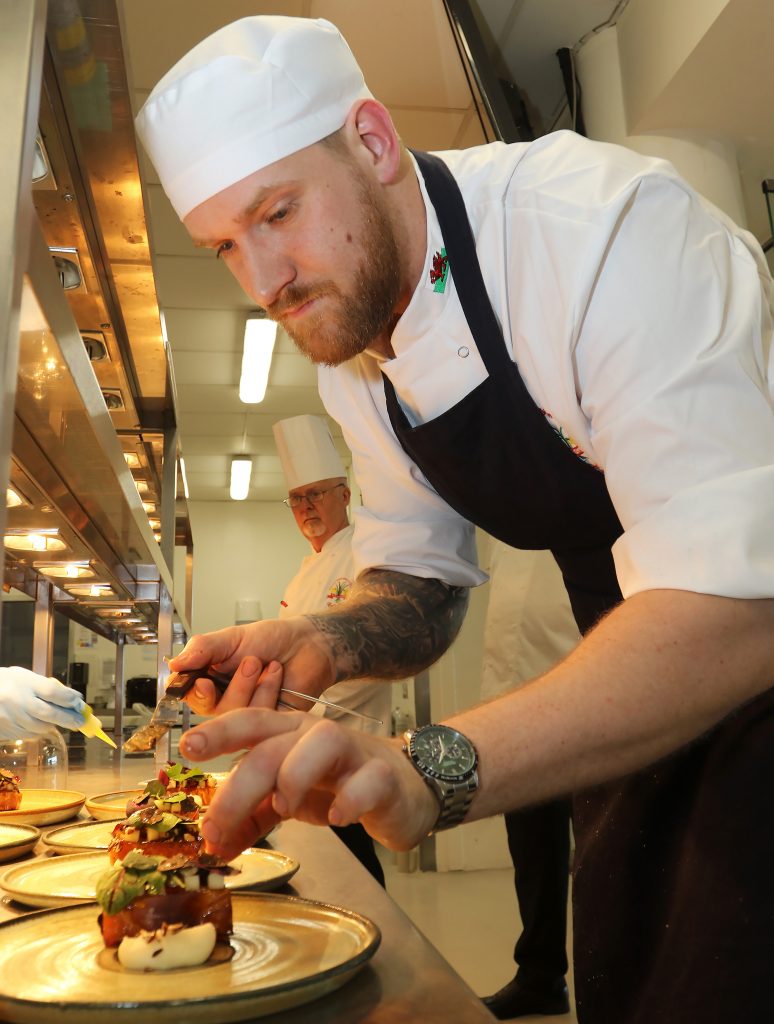 Smith, making a return to the final, served up a starter of baked carrot, pickled and creamed carrot, granola, tuille of carrot and carraway, cream of coconut and masala. Main course was loin of lamb, mousseline, tart if neck and chives, sheep's cheese, broccoli, sticky braised celeriac, leek top emulsion, crispy roscoff onion, pomme puree and jus. Dessert was milk chocolate delice, hazelnut biscuit, dark chocolate mousse, blackberry ice cream, meringue, blackberries, warm chocolate hazelnut financier and praline.
Smith, who lives at New Mills, near Newtown, said they were his best dishes he had served up in the competition. "We have done the full run through of the dishes seven times and today is the best they have come out," he added. "Everything just flowed."
The Junior Chef of Wales final on Thursday will be contested by five chefs, including three of last year's finalists. Falon Bailie, junior sous chef at Foyles of Glasbury, Katie Duffy, second chef at Llanelly House, Llanelli and Stephanie Belcher from Coast Restaurant, Saundersfoot, will be competing against Oliver Herrington, demi chef de partie at Celtic Manor Resort, Newport and Abigail Williams, a student at Coleg y Cymoedd's Nantgarw Campus.
The competitions, organised by The Culinary Association of Wales (CAW), are being held at Grŵp Llandrillo Menai's campus in Rhos-on-Sea. The winners will be announced at an awards dinner at The Imperial Hotel, Llandudno on Thursday night.
In addition to the showpiece finals, there is a host of other competitions for chefs and front of house staff to suit every level of experience.
The WICC's main sponsor is Food and Drink Wales, the Welsh Government's department representing the food and drink industry. Other sponsors include Castel Howell, Churchill, Major International, Riso Gallo, Dick Knives, MCS Tech Products, Hybu Cig Cymru/ Meat Promotion Wales and Grŵp Llandrillo Menai.