Sir Elton John, the legendary musician, delivered a stunning performance at the Glastonbury Festival, marking the final chapter of his touring career spanning over 50 years. The Rocketman set the tone right from the beginning, lighting up the sky with fireworks both at the start and end of his set.
Dressed in resplendent gold attire, Sir Elton chose to open his performance with his rendition of Pinball Wizard, a song he hadn't played in a decade, but a brilliant choice to make his mark. After performing The Bitch Is Back, the showman addressed the crowd, expressing his disbelief at playing Glastonbury: "I never thought I'd ever play Glastonbury. It's a very special and emotional night for me because it might be my last show ever in England, so I had better play well and I had better entertain you, you've been standing there so long and I really appreciate all the outfits and everything. Amazing."
The audience for Sir Elton's first-ever Glastonbury performance was immense, with fans gathering throughout the early hours of Sunday morning, ensuring their spots for the entire day. The crowd exhibited different eras of the musician's career through their dazzling and elaborate costumes, while others dedicated their famous Glastonbury flags to the star.
In an interview before the monumental performance, Sir Elton's husband, David Furnish, revealed that the musician would have four special guests, a tradition often seen at Glastonbury. Speculations were rife among festival-goers about potential appearances from Lady Gaga, Taron Egerton (who portrayed Sir Elton in the Rocketman biopic), Dua Lipa, Britney Spears, Harry Styles, Ed Sheeran, Dave Grohl, and Paul McCartney. However, Sir Elton, known for supporting emerging artists, opted to feature newer talents, with Jacob Lusk of Gabriels and The London Community Gospel Choir joining him for Are You Ready For Love?, Stephen Sanchez for a performance of his own song Until I Found You, and Rina Sawayama for Don't Go Breaking My Heart. Additionally, The Killers' Brandon Flowers, a frequent performer at Glastonbury, joined Sir Elton on stage for a rendition of Tiny Dancer.

Sir Elton delivered an unforgettable set, captivating the audience with hit after hit. The crowd erupted with enthusiasm as he performed Crocodile Rock, Goodbye Yellow Brick Road, Saturday Night's Alright For Fighting, I'm Still Standing, Your Song, and Candle In The Wind. During the performance of Cold Heart, his collaboration with Dua Lipa, the pop star appeared on screen, encouraging fans to sing along with her part.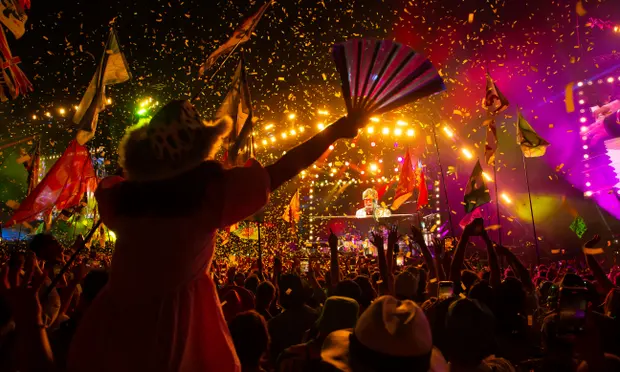 The music icon also paid tribute to his late friend and inspiration, George Michael, acknowledging that it would have been his 60th birthday. Sir Elton expressed his gratitude for the beautiful music George Michael left behind before performing a heartfelt rendition of Don't Let The Sun Go Down On Me.
The set concluded with an extended version of Rocket Man, accompanied by a dazzling display of fireworks. Before bidding farewell, Sir Elton expressed his gratitude to the crowd for their extraordinary costumes: "I want to thank you all for dressing up in your costumes, your glasses, and your outfits, it makes me feel so happy and so loved."
Finally, Sir Elton bid his fans farewell, thanking them for 52 years of amazing love and loyalty. He confirmed that Glastonbury would be his last-ever UK performance, as his final tour was set to conclude the following month. Reflecting on his incredible journey, he expressed his deep appreciation to the Glastonbury audience: "It's been an incredible journey… I will never forget you, you're in my head and my heart and my soul