ONE of Wales' finest actors, Richard Burton, had a love for words.
Although he is most famous for his Hollywood films, he was happiest in a small radio booth, performing for a fraction of what Hollywood paid him.
For nearly five decades, he commanded attention wherever he performed, and this is his story.
Richard Burton was born Richard Walter Jenkins on November 10 1925. He was the twelfth child of 13 children born to Richard 'Dic' Walter and Edith Jenkins. The Jenkins clan lived in the mining village of Pontrhydyfen set high in the valley of the River Afan. It was a tight community, forged together on the heaving copper works and shallow coal mines.
At school the Welsh boy made good progress by passing a scholarship to Port Talbot Secondary School in 1937 at the age of 11.
While Richard had an appetite to learn and later would find great pleasure in writing, it was the sports field that got his undivided attention at school. Rugby football (which he reached international standard) and cricket (of which he became team captain) were his obsessions.
Just when he should have been studying for his School Certificate he left school to work as a haberdasher's assistant and hated it.
At 15 he was an independent boy who liked smoking, drinking and girls – not folding shirts and selling socks. He exhausted his frustrations at a local youth centre founded by Meredith Jones – Richard's schoolmaster – and came face to face with the trade that took him away from the edge of poverty.
He played the role of a Count and was in a radio documentary about the Air Training Corps (ATC) of which he was a member. During this period, Meredith Jones persuaded the Glamorgan Education Committee to readmit Richard to grammar school. Eighteen months after leaving school, he was back with the new teacher, Philip Burton, to keep an eye on him.
Burton drilled schooling into Richard: Richard rewarded Burton by gaining his school certificate despite missing 18 months of term time. Richard was given every chance to act before an audience at school and the local YMCA. Years later, on being interviewed together, Philip Burton was asked: 'How did you come to adopt him?' Richard replied: 'He didn't adopt me; I adopted him.'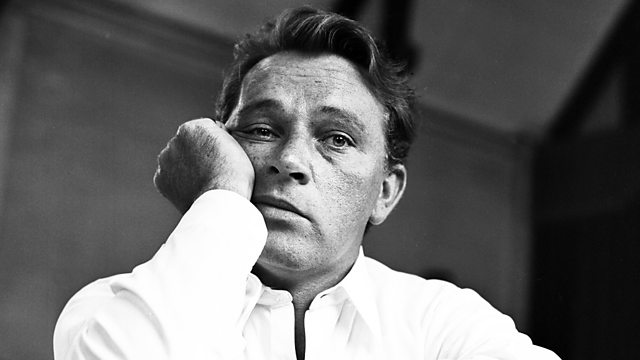 In 1944, before going to Oxford, Richard appeared in The Druid's Rest, a play by Emlyn Williams, the Welsh actor and writer. When the production moved to a London theatre, a critic wrote in the New Statesman magazine, that Burton showed, 'exceptional ability'.
Richard said later that these two words changed his life. At Oxford he played Angelo in Measure for Measure. It was his first big Shakespeare role, and was to be performed in front of important people such as John Gielgud, Terence Rattigan and Binkie Beamount.
After the play, Richard received his first professional offer from Binkie, who asked him to look him up after the war if he wanted to be an actor.
In 1946 Philip secured Richard leave from the RAF to play Morgan Evans The Corn is Green, for television. However, it was his next role that truly set his mind on acting as a career. In 1948 Douglas Cleverdon produced In Parenthesis for the BBC with parts for Richard Burton, Philip Burton and Dylan Thomas. Richard thought it was the finest thing he ever did.
In 1948 Richard made his screen debut as Gareth in The Last Days of Dolwyn, a part specially written for him by Emlyn Williams. With 'the startling looks, fearless green eyes set widely in a dramatic face', Williams knew the boy was going to be famous.
His second British film Now Barabbas Was a Robber had critics comparing him to Olivier.

His love for words and language was obvious through his work with BBC radio. Burton began narrating for radio in the early days of his career and would continue to do so for the rest of his life. His radio recordings included poetry, plays and school programmes – all for a fraction of the fees he could command in his film work.
A major turning point in his career came when he played the lead role in the play, The Boy with a Cart. Anthony Quayle, a leading actor and director saw Richard in the role. He was so impressed that he cast him as Prince Hal in Henry IV and the King in Henry V in the 1951 Shakespeare season at Stratford-upon-Avon as part of the Festival of Britain.
He received impressive reviews. Kenneth Tynan a noted critic of British theatre said of him: "A brimming pool running disturbingly deep…Burton's voice is urgent and keen… He turned interested speculation into awe as soon as he started to speak."
News soon reached Hollywood of this arrogant young talent and a year later he was starring opposite Olivia D'Havilland in My Cousin Rachel.
In the next four to five years he made three films under Fox: My Cousin Rachel, Desert Rat, and The Robe. On receiving £80,000 for the work, Burton was making it big. In 1953 Daryl Zanuck offered him a seven-picture deal for $1 million.
With a commitment to do Hamlet at The Old Vic (for £45 a week), Richard turned down the offer. Money was nice but it was not everything to the actor whose greatest joys were words, words, and words.
By 1957, with a third of his earnings going to the taxman, the Burtons moved to Céligny, Switzerland. The British press criticized his move, but it made financial sense – in 1957 he earned £82,000 but only kept £6,000.
While he continued to make films in Hollywood, some regarded as mediocre, Richard reminded the public of his outstanding talent when he returned to England to play George Holyoake in A Subject of Scandal.
Back in America he completed the narration of 26 episodes of The Valiant Years, and Camelot, a Broadway musical. His next project shaped the course of his life beyond prediction.
Cleopatra was the most expensive film of its time and Twentieth Century Fox needed the film to be a financial success. So, with Elizabeth Taylor playing Cleopatra, the studio was happy to attract publicity regarding her hairstyles, jewels, acting, figure and temper. It was not so happy when the publicity turned to gossip about her adulterous affair with her co-star Richard Burton who was playing Anthony.
The affair seemed to set the world press on fire, the Vatican spoke out and the American Congress sought to prevent them from entering America again. Initially the studio was anxious and angry with the couple, however, it soon became apparent that their pairing would increase box office sales – the couple was currency.
Their relationship continued throughout their next film, The VIPs, with Richard eventually divorcing Sybil in 1963. In 1964 Elizabeth got her divorce from Eddie Fisher, Richard began rehearsals for Hamlet in Canada and New York, and then they married.
His life changed by being with Elizabeth. Paparazzi followed them continually. Soon they owned houses in Mexico and Switzerland. Cooks, secretaries, hairdressers, bodyguards and dogs travelled with them everywhere. Their pay role also included a merry band of trusted agents, lawyers, accountants and doctors.
Their most successful picture together was Whose Afraid of Virginia Woolf? He persuaded her to play the part of Martha to stop anyone else doing it – she earned an Oscar. She cornered him into co-starring as George – he should have won an Oscar. In the film their hair-raising domestic slanging matches were performed with uncomfortable realism.
Richard continued to make films, at least two or three a year. These included The Taming of the Shrew, The Comedians, Doctor Faustus, Boom, Candy and Where Eagles Dare. He was charging $1 million per picture although he had written into all his contracts since he began acting that he did not work on 1 March – St David's Day.
On August 5 1984 Richard died of a cerebral haemorrhage in Geneva, Switzerland. He was 58. At his funeral four days later in Céligny, he was buried with a copy of the Collected Poems of Dylan Thomas.