This week Alzheimer's Society Cymru delivered an open letter (read here) to the Chief Executive of NHS Wales, Judith Paget CBE, asking the NHS in Wales to publish comprehensive, accessible dementia diagnosis data, on a local and national level. The open letter has been supported by 26 MPs, MSs from all four parties in the Senedd, and campaigners affected by dementia in Wales.
There are an estimated 50,000 people living with dementia in Wales, as many as half of them do not have a formal diagnosis. Dementia is the UK's biggest killer, but Wales is the only nation in the UK that does not report comprehensive national data on the number of people with a formal diagnosis.
Alzheimer's Society Cymru believes bringing Wales in line with the rest of the UK by publishing the data will enable organisations across Wales to act on and target their resources to better support people affected by dementia.
Laura Courtney – National Influencing Manager for Alzheimer's Society Cymru, said:

"We urgently need to know the rates of diagnosis in Wales. A formal diagnosis helps unlock treatment, care and support and helps families prepare for the future.
"Alzheimer's Society Cymru wants NHS Wales to commit to publishing comprehensive, accessible dementia diagnosis data, on a local and national level as a matter of urgency.
"We can't end up in a situation where there are new drugs being approved but people in Wales can't get them early when they work best – we need more accurate, earlier dementia diagnosis in the NHS."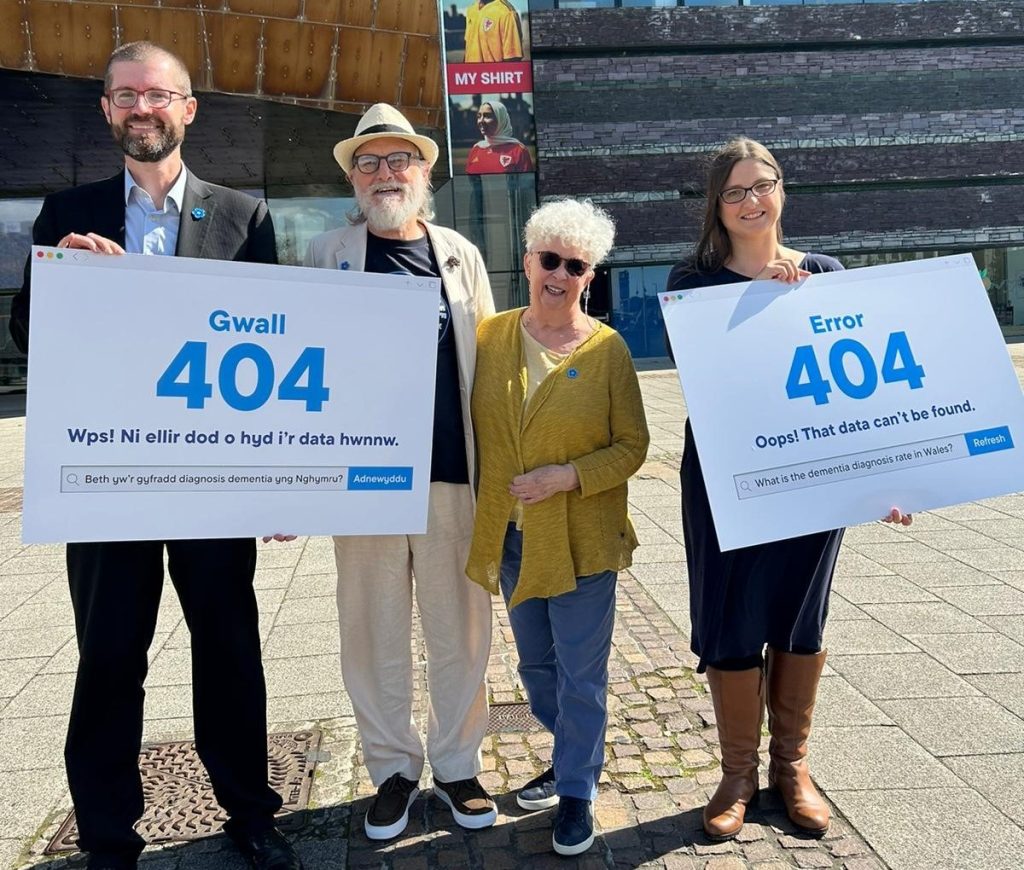 While many people find the idea of getting a diagnosis daunting 9 out of 10 people with a diagnosis have told Alzheimer's Society Cymru, they benefitted from their diagnosis. Alzheimer's Society has produced a free symptoms checklist, endorsed by the Royal College of GPs, to support people to get a vital diagnosis.

John and Sarah Bennett-Green who live in Swansea joined the Alzheimer's Society Cymru team in Cardiff to display 'Error 404' placards highlighting the lack of diagnosis data in Wales. John lost his father to dementia and Sarah lost her mother.
John said: "Sarah and I are here today as we know first hand the devastation dementia can cause. We both thought it felt only right to support the Alzheimer's Society Cymru's open letter to NHS Wales to help others who may be going through similar scenarios.
"We believe it is so important for people to get a timely diagnosis of dementia, particularly in the early stages, ensuring those living with dementia feel empowered to know and understand, exactly, what treatment is being offered to them and why."
If you would like to stand with John and Sarah and Alzheimer's Society Cymru in their campaigning work to support people affected by dementia in Wales, visit alzheimers.org.uk/campaign