TWO prominent Mid Wales businessmen triumphed at this year's Welsh Veterans Awards in Cardiff.
Peter Webber, 87, from Berriew, near Welshpool, who owns XXO2Cell Ltd and co-owns LunchLocker Ltd, won the new Contribution to Lifetime Entrepreneurship Award, sponsored by Vigilance, which is added to the Entrepreneur of the Year Award he won in 2019.
Arwyn Watkins, OBE, group executive chairman of Cambrian Training Company, Trailhead Fine Foods and Mid Wales Fayres, all based in Welshpool and Chartists 1770 at The Trewythen in Llanidloes, won the Leader of the Year Award, sponsored by Veteran Trees. He was also runner up in the Entrepreneur of the Year Award, sponsored by Pinnacle Document Solutions Group.
The award was in recognition of his role as Culinary Association of Wales (CAW) president in leading the successful Team Wales bid to bring the Worldchefs Congress and Expo to the International Convention Centre Wales (ICC Wales) in 2026.

Delighted to win his award, Peter, who lives in Berriew, near Welshpool, said: "I am 87 not out and still developing new business ideas. I believe that fate has driven me to become an inventor.
"Behind every successful man there is a good woman and I have been fortunate to have two good women in my life – my mum who was born in Pontllanfraith in 1912 and my wife, Elaine. We shall be celebrating our 64th wedding anniversary next month.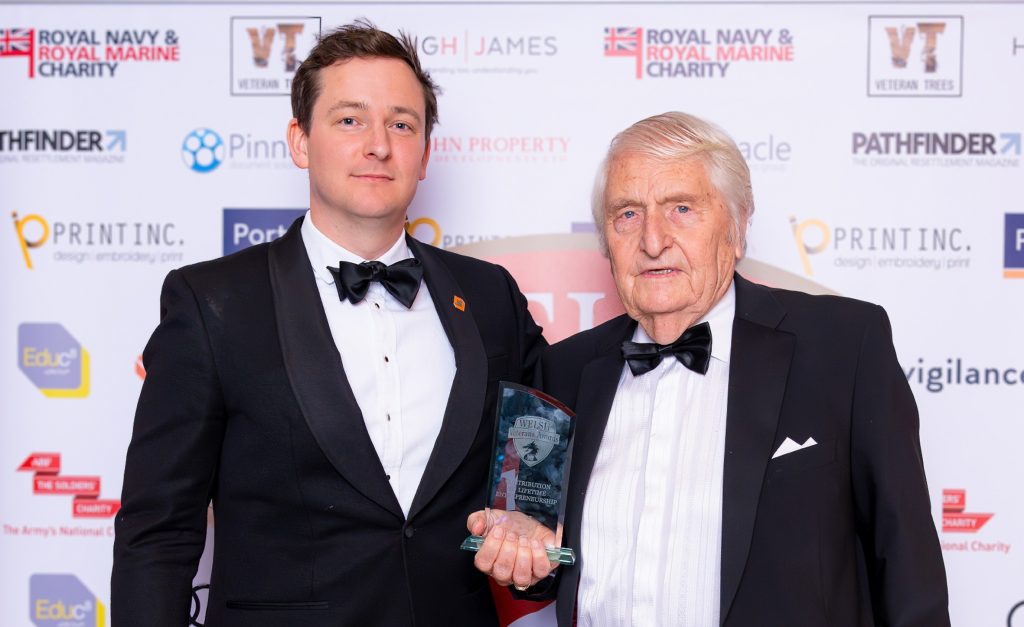 Arwyn, who lives in Llanfair Caereinion, said: "The award was unexpected and it's a great honour to be recognised in such a strong category. I do the voluntary job with the Culinary Association of Wales without thinking of accolades, but it's nice to be recognised.
"Many people wouldn't know that I am a veteran and it's only in recent years that I have reconnected with the veterans community. It's turning out to be memorable year, as I have been selected as one of 50 veterans from the Army Catering Corps for the Cenotaph March Past on Remembrance Sunday this year."

A serial entrepreneur, Peter is best known as the founder and former chairman of Newtown-based CellPath which specialises in cancer diagnostics consumables. He and his sons, Paul and Philip, sold the business to StatLab Medical Products from Texas last summer.
He continues to develop new products, having recently patented a new way of detecting cervical and ovarian cancer through blood samples.
Peter's current businesses are XXO2Cell Ltd, which specialises in HBOT, hyperbaric oxygen therapy chambers for patient therapy and LunchLocker Ltd, which has patented sealed trays that hold multiple food products in a foldable packaging system.
He did his National Service in the RAF, entering as a leading aircraftsman and being promoted to corporal junior technician.

A chartered engineer, he worked for several scientific instrument companies before, in 1966, setting up a joint venture with a US company that was bought by Thermo Scientific.
He sold his shares in 1970 and has worked for himself ever since, developing several ideas and forming a company which became CellPath, starting manufacturing in Newtown in 1982.
Arwyn, a farmer's son from Llanwrtyd Wells, joined the Army as an apprentice chef in 1978 and has maintained his commitment to apprenticeship programmes ever since.
On leaving the Army in 1992, he joined the Merchant Navy, working for Stena Line and became a catering college lecturer in Kent before returning to Mid Wales to join Cambrian Training Company in 1998.
In 2002, he led a management buy-out of the company which has enjoyed considerable growth and success under his leadership. He is a key figure in the work-based learning sector in Wales, having previously served as chairman and chief executive and currently as a board member of the National Training Federation for Wales.
In the New Year's Honours List in 2018, he received an OBE for his services to education and training in Wales.
Passionate about developing chefs in Wales, he coached the Welsh Junior Culinary Team to a Culinary Olympics gold medal in 2004 and was appointed CAW president in 2015. Three years later, he received the Worldchefs Presidents Medal for promoting the advancement and profile of the culinary arts and profession in Wales.