AN ANIMAL bedding company has unveiled ambitious expansion plans after a multi-million pound investment to buy a new eight-acre site.
Platts Agriculture, which is celebrating its 50th anniversary this year, is aiming to more than double annual sales to £20 million as part of a new three-year growth strategy.
The news was revealed during a visit by Welsh Government Rural Affairs Minister Lesley Griffiths to their headquarters and manufacturing plant on Llay Industrial Estate.
According to managing director Caroline Platt, the Welsh Government has played a key role in the company's growth in recent years.

The family firm was founded by Caroline's parents, Robert and Christine Platt, in 1973 and her son, Chris Whittaker, is a third generation director.
The company headquarters is called Parkleigh after the nearby pig farm where it all started.
Since then Platts, which was awarded a Royal Warrant in 2018, has grown into a market leader supplying customers across the UK and Ireland with animal bedding for cattle, horses, poultry and pets.
Last year the multi-award winning company was crowned the UK's Family Firm of the Year by the Federation of Small Businesses.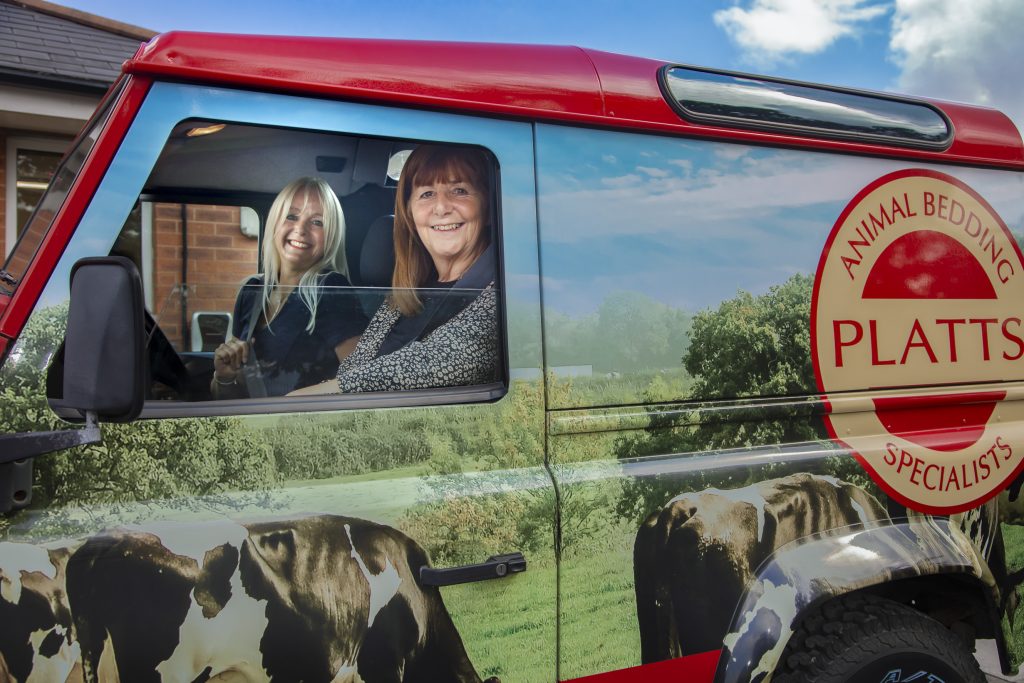 Caroline Platt said: "We are very lucky to have had support from the Welsh Government over the years, especially with the European social funding through the Welsh Government that helped us acquire Parkleigh offices.
"They also helped with the initiative to set up the garage which enabled us to create another business, Platts Commercial Services, to maintain vehicles, not to mention the funding we received towards our new weighbridge.
"The turning point for me in terms of support was the 20TWENTY business and leadership programme that I and a number of the senior management team did.
"That's been transformational for us as a company because it helped me create a three year growth plan to go from a turnover of £4.4 million to £6 million – and we hit the target a year early.

"Using those same business models, we have now mapped out our growth strategy for the next three years.
"We're currently turning over £8 million and we're hoping to achieve £20 million by the end of that period.
"To sustain our growth and support our storage and distribution, we have bought an eight-acre site on the industrial estate.
"It's really exciting and it's all down to the people who work at Platts and their core values and behaviours. Their passion and loyalty is invaluable.
"We're a family firm in the true sense of the word because the whole workforce is like our extended family."
The Minister was taken on a tour of manufacturing facility where the company has invested £1 million in two new baling lines.
That's led to a 30 tonne a year reduction in the use of polythene and more recycled material being used in packaging, along with an increase in the number of bales stacked on each pallet which means more can be delivered per lorry load.
Rural Affairs Minister Lesley Griffiths said: "Platts is a really impressive business. From humble beginnings they have achieved a lot and it's been really interesting hearing how the business has grown over 50 years and how they have kept up with innovation to make sure the company is so sustainable and employing over 60 people.
"They are market leaders and it was good to hear Caroline paying tribute to the support they have had from Welsh Government, particularly the 20TWENTY programme.
"Her son, Chris, is now also part of the business and showing real entrepreneurship to drive the company forward and stay one step ahead.
"It's great to hear about the sustainable methods that they use, not just in their factory but also in other parts of the business.
"In the process they are diverting thousands of tonnes from landfill – it's so important to reuse what we can. It ticks so many boxes.
"Platts is a great example of an indigenous company going from strength to strength – reaching 50 years is a great achievement and here's to the next 50."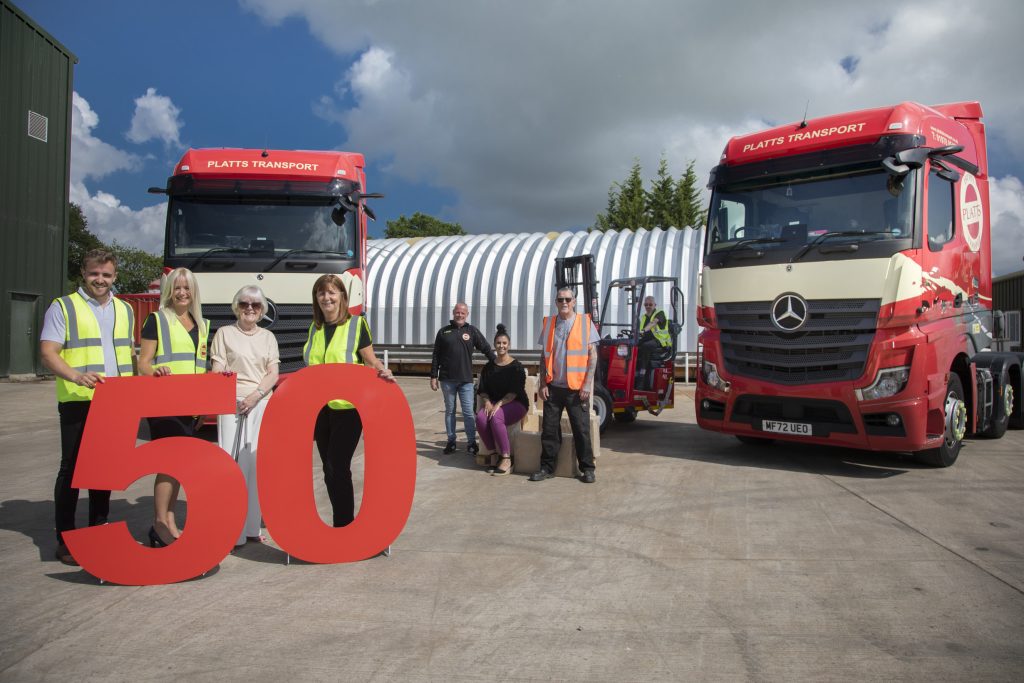 Somebody who was there on day one was Christine Platt who set the company up with husband Robert after they sourced a load of wood shavings from Merseyside, bagging and selling what they didn't need for their own farm.
Christine said: "When we started the company we never imagined it was going to be so successful.
"Caroline has done exceptionally well and we are very proud. She has been brought up to it and even when she was a young girl she always helped out. It came naturally to her.
"It's marvellous that Chris has joined. It's what his Granddad wanted all along but it had to be Chris's decision. It's pleased Rob no end.
"It's wonderful because the company is in safe hands going forward into the future. It couldn't have worked out better."
The entrepreneurial gene has clearly been inherited by Chris who is a director of Platts Agriculture and MD of associate company Platts Transport.
He's also established two new start-up companies, one promoting fitness and nutrition for HGV drivers as well as a video-marketing content agency.
Chris said: "I want to carry on the success with my generation going forward, with diversification and growing the business.
"The aim as always is to keep providing our customers with better service and better products.
"I knew I always wanted to be in the business at some point and I am thoroughly enjoying it."
During the visit the Minister also met the longest serving member of staff, Brian Evans, aged 74, a former driver who's now a member of the maintenance team.
He said: "I love it here. There's a really good crowd who work here and Caroline is a first class boss – just like her Dad before her. She's a chip off the old block."